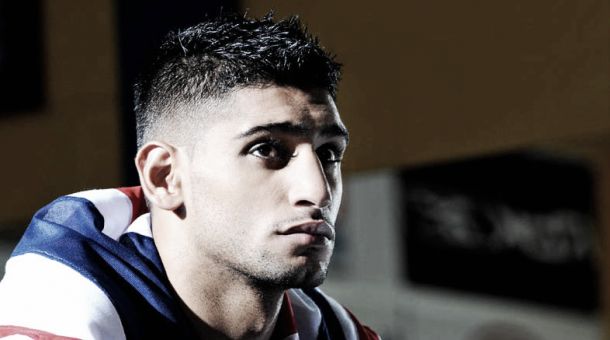 Amir Khan's fight with former world champion Chris Algieri has been confirmed.
The Bolton, England born Khan (30-3, 19 KOs) recently announced his desire to fight Algieri (20-1, 8 KOs) - Manny Pacquiao's most recent takedown - but stated it was not a done deal.
Heavy criticism was shot Khan's way; fans disappointed and wanting a 'bigger challenge' after Algieri was knocked down six times against Pacquiao in November.
The fight is set to take place on May 29th at the Barclays Center in Brooklyn, New York.
"I have happy memories of New York having made my successful US debut there against Paulie Malignaggi in 2010," Khan explained. "I'm delighted to now be fighting there once again against another champion in Chris Algieri.
"Algieri has shared the ring with some tremendous fighters and shown great skills in those fights so I know I will need to be at my very best when we meet. In all my fights I bring excitement, speed and skill and can guarantee more fireworks."
Algieri was undefeated in his first 20 career fights in the ring, but his loss on points to Pacquiao ended that streak. A native of New York, he says he looks forward to the fight and the challenge ahead in Khan
"I am very excited to get back into the ring and to be fighting here in New York," the 31-year-old American stated.
"Fighting where I won my world title just under a year ago is an added bonus. Amir Khan is a tested champion and is the match-up that I wanted. I believe this is a fight that will bring the best out of me."