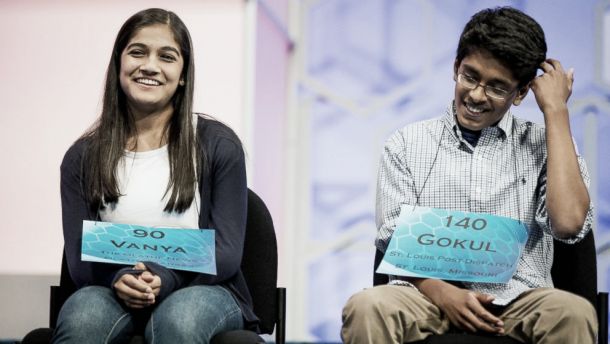 Round after round past, and neither Gokul Venkatachalam or Vanya Shivashankar could be fazed by the pressure of the hundreds of cameras set on them and the thousands watching from across North America.
The two were crowned as co-winners of the 88th annual spelling bee. The 2015 Scripps National Spelling Bee finals took place Thursday evening in Maryland.
The popular bee had not ended in a tie for 52-years, and now amazingly, has done so the past two years.
Vanya becomes the first sibling of a past winner to win the competition. Her sister Kavya Shivashankar, who was on hand to witness her championship run, won the event in 2009.
The 13-year-old's final word was "scherenschnitte" and spelled it without any hesitation. Gokul followed that up with an impressing showing of his own. After the pair were informed they'd be crowned co-champions with the championship word bank running down, Gokul stepped up and delivered a masterful final performance.
"Nunatak" the announcer stated. Without even asking a single question, "n-u-n-a-t-a-k" the St. Louis, Missouri native Gokul confidently replied with a smile.
Shivashankar dedicated the win to her grandmother afterwards, saying she passed away two years ago and just wanted to see her grandchildren be successful.
Gokul said he's "finally happy to have success" following his disappointing 3rd place finish from 2014.
Both competitors have been competing since the 2012 spelling bee.
After the bee started the day with 283 competitors, ten were headed to the finals. Six of those were eliminated after the eight remained. The final four included Cole Shafer-Ray, 14, and Siddharth Krishnakumar, 13.
Krishnakumar was out in the ninth round and Shafer-Ray in the tenth, sitting the stage for the final two.
A deserving co-championship with two of the most impressive performances the event has seen. Neither of the two at any point in the final looked as if they were nervous or were set to bow out. They exchanged answers and could have gone at it for another couple hours, but ultimately there had to be an end.