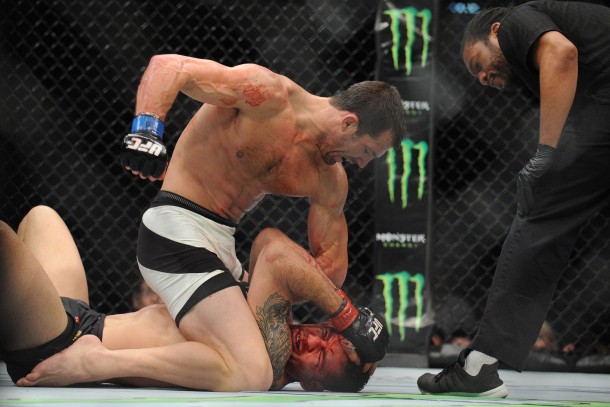 LAS VEGAS, NEVADA---"I think he (Chris Weidman) knows he is in trouble."
---Luke Rockhold
Entering the octagon to "Won't Back Down" by Tom Petty, UFC Middleweight Champion Chris Weidman had no doubts that the belt he seized on July 6, 2013 against legend Anderson Silva would be wrapped around his belt at the end of the night.
Not this time!
Although Weidman won the 1st round (through this journalist's eyes), Luke Rockhold bloodied and battered the champion until referee Herb Dean put a stop to the contest in Round 4.
Immediately stealing momentum with kicks, the undefeated Weidman took the back of his opponent and started whaling on his head in a stand-up position. Even when Rockhold tried to escape, "The All-American" put the fight back on the ground (takedown) and threw knees to the body and elbows to the head. Ultimately, this did not deter the California native, for he was able to get top position and act with a guillotine choke. However, Rockhold's legs were not in the right position, meaning he was unable to put maximum force on the neck of Weidman.
Surprisingly, with Rockhold's guillotine in place but legs not, he didn't act any further. Really, he just held the position as precious time ran off the round clock. Or, he did until referee Dean saw no progress was being made and stood the fighters' up. Advantage Weidman.
At the end of Round 1, Rockhold connected with a couple kicks to the champion until Weidman landed a takedown. Though, the challenger actually capitalized from this move by scrambling and putting the Hofstra University wrestler in a choke again. But with this attempt, the bell sounded, and a 2nd round was on the way.
With a great kickboxing background, some were surprised by the fact that Luke Rockhold didn't use arguably his best skill to begin the fight.
In Round 2, he let it all ride on his kickboxing ability.
Starting the five-minute segment with a very solid right hand hook, that in fact "hurt" Weidman, Rockhold started using a tactic made famous by José Aldo: back leg kicks. By offering a heavy dose of kicks to the body and legs of Weidman, Rockhold was able to send a high kick at the head. Blocked!
After Weidman induced a clinch session, Rockhold ensued with a landed head kick. Next, he continued to edge forward while throwing, if landed, big-time strikes. The problem was, he could not land them as the champion dodged punch after punch despite being up against the side of the octagon! Yet, it was just a matter of time before one landed. And it turned out it would be less than a minute later before Rockhold threw a nasty left hand straight. Pop!
Although Weidman was stunned, he quickly recovered like the champ he is while more offerings came his way. Unfortunately for the New York native, even when he landed a very nice body kick, Rockhold sent back a left hand straight, which nailed the head, and another leg kick. There was no doubt, Rockhold was winning the fight.
Exiting his corner knowing he needed a great Round 3, Chris Weidman immediately showcased his skills. Beginning with a pair of kicks, the champion caused damage while even catching one of Rockhold's. Continuing to attack, he added two more kicks to the ribs and his third successful takedown of the night with 3:35 remaining in the round. Rockhold seemed to be getting tired. Yet, all that changed when a wheel kick was attempted.
Gaining previously lost momentum, Weidman made a somewhat risky move by firing a wheel kick. Big mistake! When Weidman was just turning around to send it, Rockhold dove and took down "The All-American" for the first time inside a UFC octagon! Then, the challenger mounted and began to initiate "ground and pound" as a part of his Brazilian jiu-jitsu. The face of Weidman gradually, then profusely, began to spew blood as elbows, and then a series of unopposed strikes were made by Rockhold! Weidman was not defending at full strength as Herb Dean inched closer and closer to putting a stop to the massacre. Luckily, the bell sounded as Dean stepped in, and Chris Weidman had survived...for now.
In his corner between the 3rd and 4th rounds, Weidman's coaches tried to encourage their fighter by emphasizing that he was winning Round 3 before everything turned ugly.
Their morale booster did not work.
With all the confidence in the world, Rockhold landed his second takedown of the night. Despite Weidman trying a guillotine choke, Rockhold slipped out swiftly and threw haymakers that re-opened the cuts of the champion.
Then, starting at the four-minute mark, Luke Rockhold started his championship seizing attack with his 87th head shot of the fight. From the standup game, he transitioned to another "ground and pound" session that Weidman could not even get a hand up to block. This time, referee Herb Dean stepped in (3:12 remaining in 4th round), and Luke Rockhold was the new Middleweight Champion of the world!
He Said It (Part I)
"It's indescribable! Are you kidding me?"
---Luke Rockhold on how it sounds/feels to be the new UFC Middleweight Champion.
He Said It (Part II)
"That's just never going to happen again Joe (Rogan). Not even close. Yeah, I was a little tired, but he shouldn't be trying that kind of stuff on me."
---Luke Rockhold when asked about his 3rd round takedown and Weidman's wheel kick.
He Said It (Part III)
"I'm going home. I got a beautiful family that loves me. The fans love me. God is still good."
---Chris Weidman's post-fight thoughts.
He Said It (Part IV)
"Yeah I remember throwing that. He caught me and broke me down a little bit. Probably wasn't the smartest move, but I go out here and give everything I have. You know, all I can do is work hard and keep a positive attitude. If I lose, it's my day to lose."
---Chris Weidman when asked about his wheel kick.
He Said It (Part V)
"And this is still my boy!"
---Chris Weidman's father