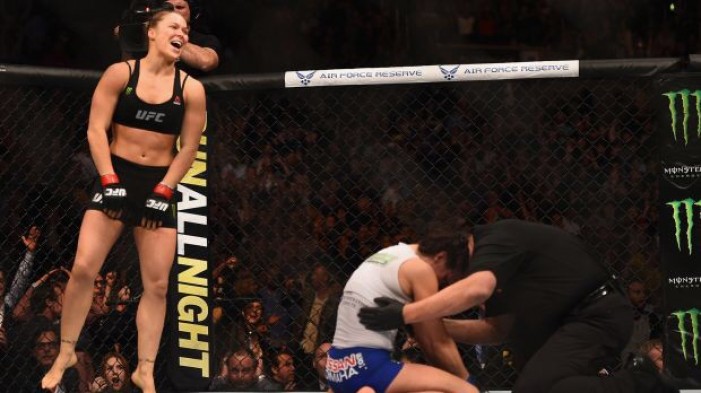 14 seconds. It took Ronda Rousey 14 seconds to, not knockout Cat Zingano, but submit her via an arm bar! Some fighters cannot even get an arm bar situated in that amount of time!
In a fight that made Ronda Rousey seem invincible and officially rang in the 2015 UFC season, "Rowdy" ending number 1 bantamweight contender Cat Zingano to defend her title for a fifth time is VAVEL USA's "Submission of the Year."
With the challenger coming out with guns blazing and throwing a running knee, Rousey calmly took the fight to the ground and contorted her body in a favorable position, while taking her opponent with her, before mounting the back. Next, she isolated Zingano's arm between her hips, and locked in the famous arm bar. Game! Set! Match! Zingano had tapped out! And the bout was over in a (then) UFC title fight record 14 seconds!
A Preface to Future Fights
Following her swift sweeping under the rug of Zingano, Ronda Rousey was asked by Joe Rogan, where defeating all the top challengers in the division leaves her from a competitive standpoint. She said, "Obviously, I was impressed by Holly Holm tonight. She is a world champion boxer, I would always like to test myself against that level of striking. And Bethe Correia. She is undefeated, I would like to take that 0 (losses) away from her."
Ironically, the first bantamweight champion in UFC history would face both of those opponents in her next two fights. And while she knocked out Correia in the first minute of Round 1, Holm presented a challenge never seen before. Relive Rousey versus Holm tomorrow as their fight was one of two to claim "Knockout of the Year" honors.
---
More VAVEL USA's UFC Year in Review...
December 26 - Fight of the Year (Lawler - MacDonald II)
December 27 - Submission of the Year (Rousey - Zingano)
December 28 - Knockout(s) of the Year (Rousey - Holm & Aldo - McGregor)
December 30- Soaring to the Top (Luke Rockhold, Holly Holm, & Conor McGregor)