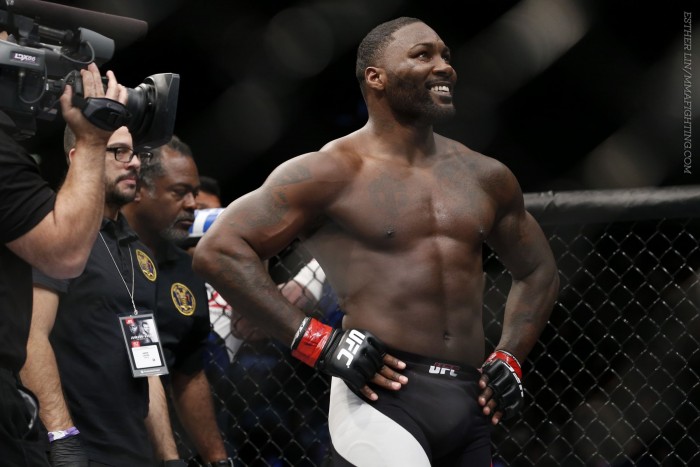 NEWARK, NEW JERSEY---In a matchup that resembled his UFC light heavyweight championship match with current champion Daniel Cormier at UFC 187, the division's second ranked contender Anthony "Rumble" Johnson was more than motivated to put an end to fourth ranked contender Ryan Bader's two-year, five-fight win streak while solidifying himself to be the challenger for the winner of the inevitable return of Jon Jones to the octagon versus Cormier.
Mission accomplished!
Despite being tested for a takedown right out of the gates, Johnson swiftly slipped out of an isolated arm lock attempt before getting on top in full mount and dropping right handed "bombs" in route to an 88-second knockout victory.
With the action quick early, "Darth Bader" (what a great nickname) immediately dove at his higher ranked opponent with a takedown in mind.
Stuffed!
"Rumble," then taking the back, began to look for a kimura submission attempt.
Forget that! Where are the haymakers?
Unable to get the submission to go, Johnson transitioned from the back to on top. But there was one thing keeping him from complete domination: Bader had a hold of his arm, making it impossible for "Rumble" to "ground and pound."
However, it was just a matter of time before the airplane with bombs started to be unleashed as Johnson slipped free, meaning sledge-hammer fists were to follow.
And ensue they did, for moments later it was all over and Anthony "Rumble" Johnson had made quick work of Ryan Bader.
He Said It (Part I)
"I want to say thank you to everybody for coming out. I love you guys."
---Anthony "Rumble" Johnson
He Said It (Part II)
"There was either going to be two things: He was going to play it safe or go in and come right after me. And he did one of the two, and came right after me."
---Anthony Johnson
He Said It (Part III)
"People can say whatever they want to say about me. I am going to always train hard, always do my best, and always come out here and perform at the best of my ability. I just want to have fun when I am out here. I am not trying to prove anything to anybody."
---Anthony Johnson
He Said It (Part IV)
"I will be waiting for whoever has that belt."
---Anthony Johnson