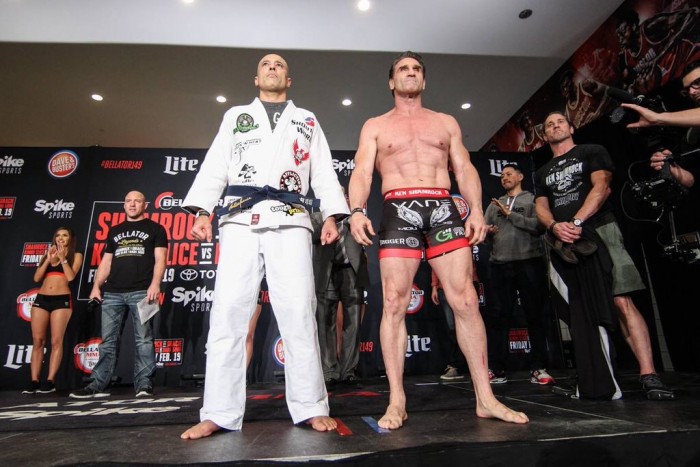 HOUSTON, TEXAS---On November 12, 1993, the sport of mixed martial arts was born with UFC 1, an eight-man tournament with no weight classes nor judges. In fact, there was only two rules: No biting and no eye gouging. It was during this birth of the "most exciting live sporting event in the history of television" that UFC Hall of Famers Royce Gracie and Ken Shamrock met in a semi-final with a spot in the championship on the line. It ended in controversy, for the referee did not see Shamrock tap with his neck in a tight rear-naked choke, and would have let the bout continue, if it was not for the American admitting he submitted.
This evening, the referee also did not see "something," leading to Shamrock's second defeat at the hands of Gracie, this time via a TKO less than halfway into the first round.
Both showing their classiness and respect for one another, the two living legends touched gloves at the center of the ring before their third head-to-head match began.
The two, who have a combined age of 101 years old, felt each other out in the first minute by keeping great distance between one another. During this time, Gracie specifically attacked with a plethora of side kicks while "The World's Most Dangerous Man" refrained from a strike until the 4:15 mark. Because of this fight ensuing Kimbo Slice versus Dada 5000, which was a big disappointment to MMA fans everywhere, the slow action induced boos inside the Toyota Center. However, the action soon heated up as Shamrock inched closer while unleashing multiple strikes.
But none landed.
The Brazilian jiu-jitsu specialist had dodged all punches thrown!
Continuing to be the aggressor, Shamrock clinched with Gracie, resulting in knees flying from both.
Then all of a sudden, the American winced in pain prior to his opponent landing a takedown. Furthermore, hammer fists, six to be exact, began to rain upon Shamrock's head before the referee stepped in to end the fight.
Royce Gracie had done it again! Or had he?
Controversy
"He did it on purpose."
---Ken Shamrock immediately following the conclusion.
As soon as the fight ended, Ken Shamrock was in a state of pure anger although no one knew why. Actually, even the announcers were unsure of why he was so adamant! Then, we comprehended the reason.
Just moments before Shamrock became filled with pain, leading to a successful takedown by Gracie, he was struck by a left knee that landed hard in his "man section." Current MMA rules state that anyone hit in that certain area is granted a stop in action to recover from the "low blow." Though, there was no break apart.
Despite the aforementioned fact, Bellator 149 was over and Ken Shamrock's record versus Royce Gracie dropped to 0-2-1.
He Said It (Part I)
"I am a fighter. I'm here to fight."
---Royce Gracie
He Said It (Part II)
"We come from the beginning. There was no gloves, no rules, no time limit, no weight division."
---Royce Gracie
He Said It (Part III)
"I'm disappointed. I came here to fight. And I was ready to go however long it went."
---Ken Shamrock
He Said It (Part IV)
"I was wrong for getting upset because it wasn't Royce's fault. Just the way--I really wanted this."
---Ken Shamrock