 The penultimate giant slalom and slalom races of the Women's Alpine Skiing World Cup take place in the upcoming weekend in Jasná, Slovakia.
Season over for overall World Cup leader Vonn
The overall World Cup leader Lindsey Vonn injured her left knee last Saturday when she fell in the super-G of Soldeu. The initial diagnosis was a hairline fracture in the tibial plateau, and she raced in the alpine combined on Sunday, finishing in 13th place. However, a further examination showed there are three fractures in Vonn's knee, making it too risky for her to continue racing this season. Despite having to miss the final three weeks of the season, Vonn had already secured her eighth downhill World Cup title in the second downhill of La Thuile.
Lara Gut is now in a great position to win the overall World Cup. Catching the 28-point gap to Vonn should be easy in her final six starts, while the gap of 293 points is quite a safe lead to Viktoria Rebensburg. With clean performances in the final races, Gut should celebrate the overall World Cup title.
Brem and Rebensburg frontrunners in GS standings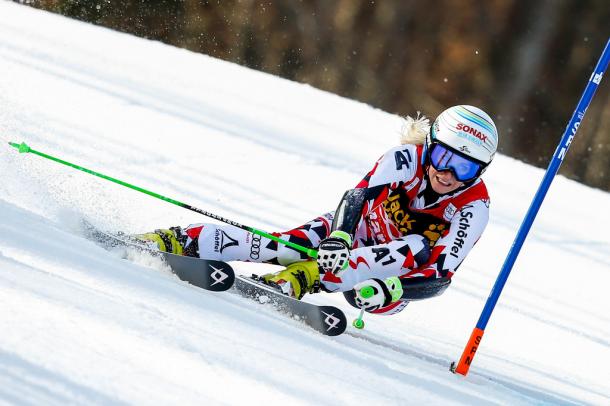 Eva-Maria Brem leads the giant slalom World Cup by 32 points to Viktoria Rebensburg and 80 points to Lara Gut. Also within 200 points are Federica Brignone, Tina Weirather, and Nina Løseth, yet they need to reduce the gap to lead to under 100 points to retain a title chance in the final giant slalom of St. Moritz.
Viktoria Rebensburg found a great form in January and has won the last two GS races. On the other hand, the standings leader Eva-Maria Brem has had a bit of a slump after her last win in Courchevel in December; she finished fourth in the last three GS races. While she has been consistent, fourth places probably aren't enough in the remaining races if Rebensburg continues her good performances.
Lara Gut had a great start to in her giant slalom campaign but the last two races badly hurt her title chances; she was 19th in Flachau and didn't finish in Maribor. Now she can race without much pressure of the overall standings, yet Rebensburg's slim overall title chance may discourage Gut to take risks.
Of the three outsiders in the GS title battle, Federica Brignone in fourth place is worth mentioning. She started the season very well but some inconsistency and not finishing races seems to have cost her title chance. 117 points is a big gap to catch; she would need poor results from Brem and Rebensburg to get a real title chance.
---
The giant slalom takes place on Saturday. First run starts at 10:30 am local time (4:30 am Eastern time), second run starts at 1:30 pm local time (7:30 am Eastern time).
Hansdotter closing on the slalom title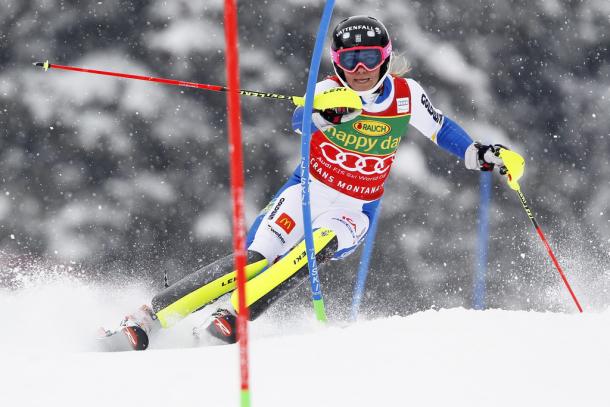 Frida Hansdotter has a chance to secure the slalom World Cup title in Jasná. Her remaining title rivals are Veronika Velez-Zuzulová 139 points behind, Šárka Strachová 193 points behind, and Wendy Holdener 192 points behind. If none of the rivals can reduce the gap to under 100 points, the last two year's runner-up Hansdotter will secure the title before the final slalom of St. Moritz.
Strachová's and Holdener's title chances seem only theoretical, very much requiring Hansdotter to finish neither of the last two races. That is very unlikely as Hansdotter has finished all slalom races of the past three seasons inside top 10. If Hansdotter finishes inside the top two in Jasná, then not even a win can keep Velez-Zuzulová's title chance alive.
Still, the biggest favorite in the slalom race isn't any of the title contenders but Mikaela Shiffrin. The last three seasons' slalom World Cup champion injured her right knee during a warm-up run in Åre and missed the following two months of racing. She made her comeback in the slalom race of Crans-Montana where she immediately achieved a win.
---
The slalom takes place on Sunday. First run starts at 10:30 am local time (4:30 am Eastern time), second run starts at 1:30 pm local time (7:30 am Eastern time).