 CLEVELAND, OH- The Cleveland Gladiators and Orlando Predators did whatever they wanted on offense, scoring on almost every drive through three quarters. However, turnovers proved to be key in the final quarter as the Gladiators lost 76-56, spoiling Northeast Ohio native Arvill Nelson's first start under center for Cleveland.
Turnovers prove costly
The game was neck and neck, the Predators scored on their first possession of the game and would trade scores with Cleveland until Orlando missed a PAT on their third touchdown. The Gladiators would then take a one-point lead to close out the first quarter on a 30-yard touchdown pass from Nelson to wide receiver Collin Taylor.
The Gladiators would then enter halftime with a 42-41 lead when Nelson hit wide receiver Quentin Sims on a 22-yard touchdown pass with 17 seconds left. Nelson would find Taylor in the endzone from 22-yards away to end the 3rd quarter with a 56-55 lead.
Nelson, who had already thrown an interception in the third, would throw an interception and lose a fumble in the final quarter to seal their fate. The Predators would capitalize on both turnovers and outscore Cleveland 21-0 to capture the 76-56 victory and improve to 5-0.
Orlando did not hesitate for one drive on offense, scoring touchdowns on every drive except for a drive in which they started with 17 seconds left in the half.
Orlando wide receiver Brandon Thompkins made plays the entire game, finishing with 337 total all-purpose yards and seven touchdowns. Five receiving, one rushing and a kickoff return.
Another 4th Quarter Meltdown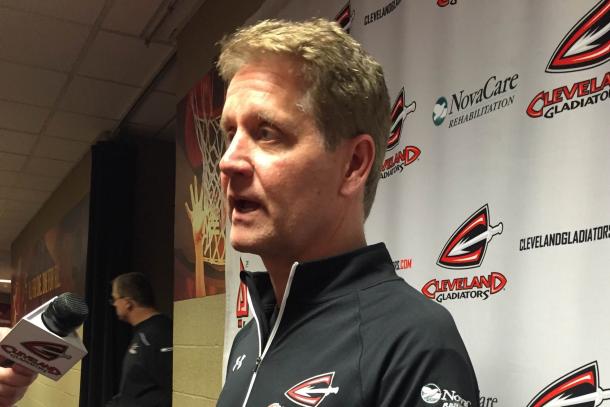 The city of Cleveland is no stranger to the old-fashioned, 4th quarter meltdown. And the last two weeks, the Gladiators have been no exception. Last week, Cleveland lost to the Philadelphia Soul after leading 28-26 at the half and this week leading Orlando all three quarters and coming up short.
After the game, Head Coach Steve Thonn said, "When you give turnovers, you have to get turnovers to even it out, and we didn't do that tonight."
The Gladiators look to bounce back next week and improve their 1-4 record when they host the 1-3 Jacksonville Sharks.