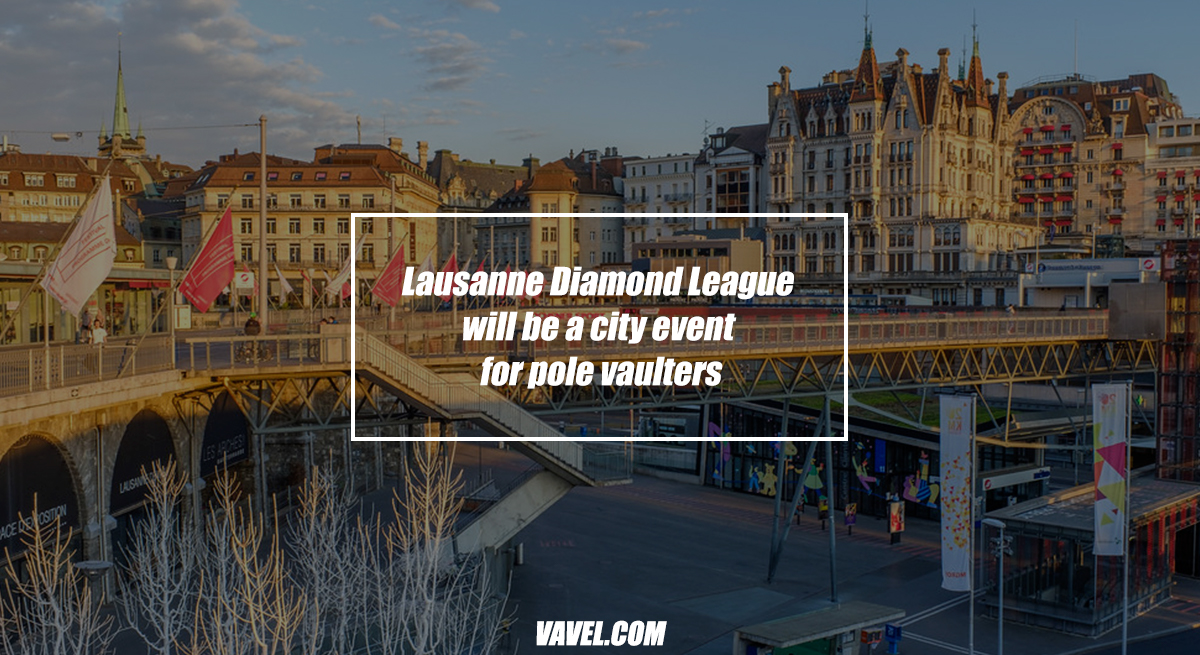 Diamond League comes back again to Switzerland.
After the "Inspiration Games" last July, the Wanda Diamond League brings back again more athletics to Switzerland. This time athletes compete outside the stadium and it will be a unique event: Pole Vault. Athletissima has decided to host a city event for men and women pole vaulters that will take place next September, 2nd at Place de L'Europe. A thousand spectators will be able to see a competition full of some of the most important pole vaulters nowadays.
Following the sanitary measures, Athletissima has planned a safe way to attend the city event as they used to be before the pandemic. The public will be divided into zones with optimal viewing with limited seating of 250 people. They will be able to get free tickets at each entrance on the day of the event at 17.00h. The event will start at 18.00h and it is expected to last 2 hours.
This Pole Vault event will be 2x1: Men and women will jump alternately at Place de L'Europe. There will be two events that will take place in parallel. Women will jump in one couch and men in another, as it happened last week in Stockholm Diamond League's meeting. It is expected to be the most important pole vault event of the year considering that many of the principal pole vaulters will attend it.
At the Pole Vault Men's event, nine athletes will participate next September, 2nd:
It is expected to see the bar above 6 meters in this event. Olympic champion in Rio 2016, Thiago Braz (27); double world-champion, Sam Kendricks (27); European champion and current world record holder, Armand Duplantis (20); Seven-times Diamond League winner and former world record holder, Renaud Lavillenie (34); and world medallist, Piotr Lisek (28) are the athletes that stand out for beating the 6 meters barrier at some point of the career.
However, there is only one who has a season-best above 6 meters. Swede Mondo Duplantis jumped last week at Stockholm Diamond League's meeting 6.01, setting a new SB and breaking some records.
It is expected to be a great battle between the prodigy pole vaulter, Kendricks and Lavillenie. The Frenchman comes back to the couch after two months off the game because of thumb surgery.
The focus is not only on this battle. Christopher Nilsen joined the event at the last minute. The American pole vaulter and high jumper achieved in the past the privilege of winning three times Armand Duplantis. "Only the last one count", said Nilsen to Athletissima on an interview. It seems that this time is going to be hard for Duplantis to try to beat Sergey Bubka's record as he is been trying at the pass meetings.
At the Pole Vault Women's event, also nine athletes will participate. Three athletes will see their faces again in Lausanne as they did in Stockholm: Swede Michaela Meijer (27), with a season-best and PB of 4.83; sixth qualified in Doha 2019 and runner-up last week in Stockholm, Swede Angelica Bengtsson (27); and third European medalist and winner at Stockholm meeting, Holly Bradshaw (28). Canadian Alysha Newman, with a PB of 4.82, will also attend the event.
A windy 20.61 for @Adam_Gemili!

The 🇬🇧 star takes the men's 200m.

Meanwhile his compatriot @HollyBradshawPV is confirmed winner in the PV as #Bengtsson bows out at 4.69m. #StockholmDL pic.twitter.com/OzOJHDZW0I

— Wanda Diamond League (@Diamond_League) August 23, 2020
Lausanne will be again a place for athletics next Wednesday, September 2nd. A full pole vault event with the most important men and women athletes nowadays will be celebrated at La Place de L'Europe from 18.00h to 20.00h.