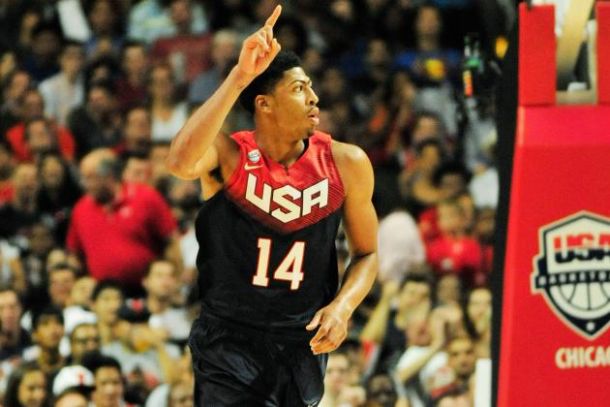 Team USA took on the Dominican Republic Wednesday evening in New York City and won the game in a blowout fashion with a final score of 105 to 62.
USA came out the gates with smothering defense with James Harden leading the charge as he had seven points to go along with two steals in the first quarter. Dominican Republic earned a 6 to 4 lead the first minute of the game, but Team USA went on a 14-0 run from there and never looked back.
However, in the first quarter, Dominicans Francisco Garcia and James Feldeine were the catalysts. They combined for 15 of Dominican Republic's 17 first quarter points.
USA continued with their defensive intensity in the second quarter. On offense, Stephen Curry ignited the team with two quick threes as they doubled up on the Dominicans with a 34 to 17 lead. USA was actively forcing turnovers and blocking shots.
DeMarcus Cousins, who missed the team's last game with a minor knee injury, played in this one and provided excellent size and physicality on both ends of the floor. Though, he finished the game with only two points.
USA took a 53-31 lead into halftime while allowing Dominican Republic to only shoot 35 percent from the field. James Harden and Klay Thompson led the US in scoring at the half with 10 points apiece.
The third quarter was much of the same. USA's dominance on defense continued as they only allowed Dominican Republic to score three points throughout the first seven minutes of the second half.
Andre Drummond, who did not play at all against Brazil on Saturday, scored the team's final 10 out of 11 points at the end of the third quarter, helping the US take a commanding lead of 80 to 45.
With the game out of reach in the fourth quarter, some of the young US players such as DeMar DeRozan, Drummond, and Gordon Hayward got the opportunity to take over offensively to finish out the game.
Team USA was well balanced offensively led by DeRozan and Rudy Gay with 13 points each, Harden, Irving, and Drummond with 12. Thompson had 11 points. Curry chipped in with eight, while Anthony Davis, who was coming off a monstrous game on Saturday, added 7. Damian Lillard, having only played a minute on Saturday, saw plenty of time with Derrick Rose (knee soreness) out and put up 7 points as well.
Dominican Republic was led by Francisco Garcia and James Feldeine, who had 14 points each. Edgar Sosa added 11 points while Victor Liz scored 7.
For Wednesday's game, Chandler Parsons, Mason Plumlee, and Kyle Korver did not see any action on the court. Kyle Korver received a second consecutive DNP and as final cuts to the roster near, it will be interesting to see who Team USA keeps.
Andre Drummond played a fantastic game Wednesday, making it tougher for Jerry Colangelo to decide on his big men.
After the game, Kyrie Irving spoke to NBATV's Matt Winer about tonight's game. "We wanted to come out and compete," Irving said. "We wanted to set a standard for ourselves [tonight]."
Team USA's next game will be August 22nd against Puerto Rico at Madison Square Garden at 7 pm Eastern Time on ESPN2.

Derrick Rose is expected to return to practice on Thursday after missing Wednesday's game along with Monday's and Tuesday's practice. He is also expected to play Friday.