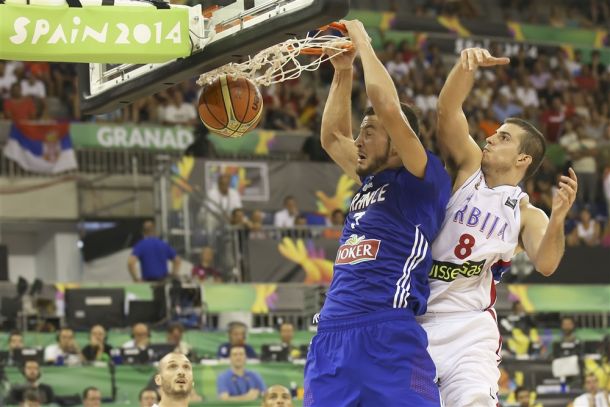 France defeated Serbia 74-73 in a thrilling game during the group stages of the 2014 FIBA World Cup at Palacio Municipal de Deportes de Granada in Granada, Spain.
Serbia's Miroslav Raduljica fouled France's Joffrey Lauverge with one second remaining in the game. Both teams were tied at 73.
Lauverge, the 55th pick in the 2013 NBA Draft whose draft rights are owned by the Denver Nuggets, made one of two costless throws awarded to him, but that is all France needed as they escaped with a 74-73 win.
France held the lead for just 1:06 of the 40 minute game, while Serbia led for 32:42.
Despite making the game-losing play for Serbia, NBA costless agent Miroslav Raduljica put together a pretty nice game with 21 points and 7 rebounds. Phoenix Suns draftee Bogdan Bogdanovic added 12 points.
Not only did he make the game-winning costless throw, but Joffrey Lauverge was arguably France's best player with 19 points on 7-10 shooting. Antoine Diot added 15 points, while the Portland Trailblazers' Nicholas Batum scored 12.
France shot 68% on two-point shots and 30% on three-point shots, while Serbia shot 60% and 22% , respectively.
Serbia, 1-1, takes on Iran tomorrow, September 1st, at 9:30 am ET.
France, also 1-1, takes on Egypt at 12:00 noon pm ET.