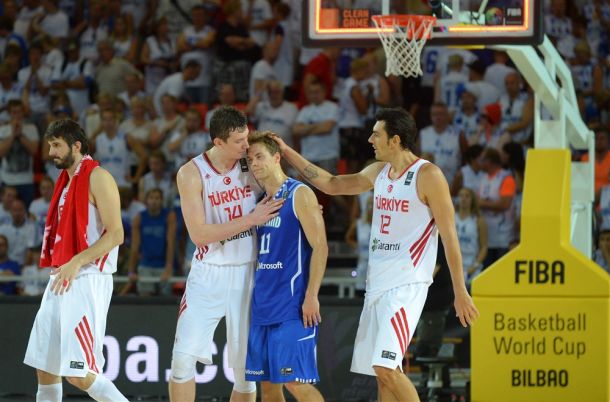 Turkey defeated Finland 77-73 in a thrilling game that would need to be decided in overtime in group stages of the 2014 FIBA World Cup at Bizkaia Arena in Bilboa, Spain.
Neither side was consistent. Finland outscored Turkey 41-27 in the first half, but the Turkish outscored the Finnish 41-27 in the second half.
The game headed to overtime knotted at 68, and Turkey had a 9-5 edge during the extra session to win the game.
Turkey's Cenk Akyol drilled a three pointer with four seconds left in regulation to tie the game.
The 30th pick in the 2007 NBA Draft, Petteri Koponen, who's draft rights are owned by the Dallas Mvericks, had a chance to nail a buzzer beater to win the game for Finland but missed, sending the game to overtime.
Turkey jumped out to a 5-0 run in overtime, but Finland soon tied it up at 73. That would be last time the Finnish scored, as Turkey scored the game's final 4 points.
New Orleans Pelicans center Omer Asik played 37 minutes for Turkey and made the most out of each minute, scoring 22 points and pulling down 8 rebounds. Emir Preldžić added 13 points, while Ender Arslan contributed 12 points.
Petteri Koponen led the way with 17 points for Finland, while Sasu Salin was right behind him with 15.
Finland made 53 percent of its three-point shots while Turkey shot just 25 percent. Turkey, however, generated 28 points off turnovers while Finland generated just 6. The Turkish also used their 40-29 rebounding advantage to score 12 second chance points, compared to Finland's 6.
Turkey is now 2-2 and will play its final game in group stages on Thursday against a 2-2 Dominican Republic at 3:30 pm ET.
Finland, 1-3, takes on New Zealand, also 1-3, at 3:00 pm ET on Thursday as well.