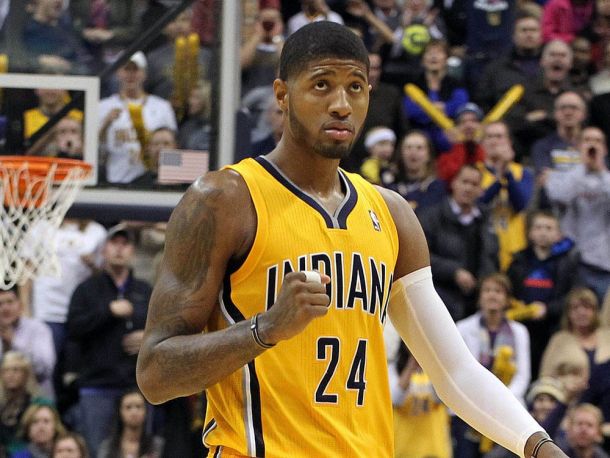 It's good to hear that Indiana Pacers swingman Paul George hasn't suffered any setbacks as he continues to recover from a gruesome leg injury he sustained during a Team USA scrimmage game last summer that, at the time, looked so serious it was fair to wonder if he would ever be the same player again.
Things are going so well, in fact, that George and team president Larry Bird are leaving open the possibility of the two-time All-Star returning to the court before the end of this season, something that figured to be impossible when a despondent George was hauled from that scrimmage game on a stretcher.
The Pacers desperately need George back. Rushing him back this season, however, isn't necessary, nor would it be wise.
The Pacers (20-32) are now just two games out of the eighth seed in the Eastern Conference following their come-from-behind 103-102 road victory Sunday night over the Charlotte Hornets. They've won three straight games and five of their last seven overall.
Speculation about George's return will only increase with each Pacers victory down the homestretch. But they aren't merely a Paul George away from being thrust into title contention by spring. They aren't in a situation like, say, the Chicago Bulls were in during the 2012-13 and 2013-14 seasons, when the Bulls won 45 and 48 games, respectively, and even managed to win a playoff series without Derrick Rose, but still needed their homegrown star to expedite his recovery from serious knee injuries to realize the championship potential many believed they had.
Making the playoffs is the best the Pacers can hope for this year. Their win Sunday night in Charlotte, and their 103-99 victory Friday night over the red-hot Cleveland Cavaliers, which halted the Cavs' win streak at 12, showed they can achieve that – without George.
The Pacers would be a tougher out in the postseason with George. But they cannot upset one of the top four seeds in the East and make a deep playoff run while George is still working off the rust. Imagine if the Pacers were locked into a first-round matchup with the ascending Atlanta Hawks. Atlanta nearly eliminated Indiana in the first round of last year's playoffs without Al Horford, and the Pacers had a healthy George, Lance Stephenson (who now plays for the Hornets), and home court in that series.
Why risk the possibility of George suffering a setback at the tail end of a season that will end with a first-round playoff exit at best? It'd be better to give George, the face of the franchise, a full training camp and some playing time in the preseason before adding him to a regular season lineup. Look at how long it's taking Rose to figure out how to consistently be the MVP-caliber player he was before he suffered his first major knee injury in 2012. There's no guarantee Indiana would even benefit from a late-season return by George, nor is there any guarantee he'll return to All-Star form.
Then again, sitting out the entire 2012-13 season didn't prevent Rose from suffering another season-ending knee injury the following year. And after being limited to six games last season because of Achilles and knee injuries, Los Angeles Lakers guard Kobe Bryant played in just 23 games this year before having season-ending surgery to repair a torn right rotator cuff in his right shoulder.
The safe, patient approach doesn't always work. Still, it's worth trying here. The 24-year-old George presumably still has some prime years ahead of him. The Pacers aren't a top-four seed. And needless to say, it wouldn't make much sense to have George play in a few games at the end of the season if the team is already eliminated from playoff contention, which is what the Los Angeles Clippers did with former All-Star and current Hawks reserve forward Elton Brand in 2007-08.
The Pacers can afford to play out the rest of this season with their current group. And if they end up missing the playoffs, so what? At least they'd have another asset in the form of a high draft pick.
Take all the time you need, Paul.