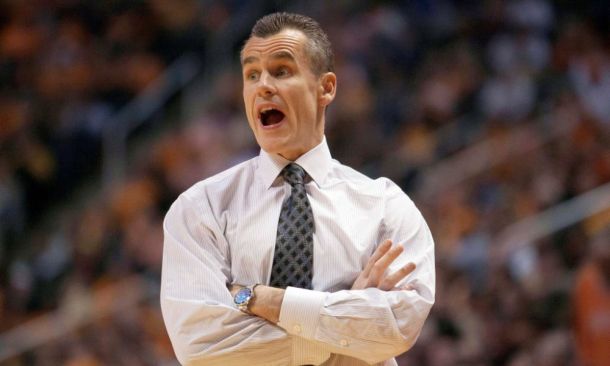 According to published reports by Marc Stein of ESPN, the Oklahoma City Thunder are formally in discussions with University of Florida men's basketball coach Billy Donovan for their head coaching vacancy. The news comes as no surprise to those who have followed the Thunder head coaching search. From the beginning, the rumors were abound that either Donovan or University of Connecticut head coach Kevin Ollie were the front-runners for the job.
With Kevin Ollie officially bowing out from contention for the job last week, Donovan's name was the one that was most linked with being the next in the line for the Thunder's coaching vacancy. Donovan would leave Florida as their winningest coach, with a 467-186 record and two national championships under his belt (2006, 2007). Donovan has produced a bevy of productive NBA players such as Al Horford, Joakim Noah, Mike Miller, Corey Brewer, Bradley Beal, Chandler Parsons, Marreese Speights, and David Lee.
Donovan once flirted with the NBA after his second national championship in 2007. The Orlando Magic hired Donovan in late May to replace the recently fired Brian Hill. Two days after the official press conference to introduce him as head coach, Donovan began to have regrets about the decision and decided to return back to Florida.
Thunder general manager Sam Presti has a very good rapport with Donovan, having hired two of his assistants last offseason (assistant coach Mark Daigneault to coach the Oklahoma City Blue (OKC's D-League affiliate) and video coordinator Oliver Winterbone to serve as the Thunder's basketball information analyst). In addition, and likely very important for this organization, Donovan is very family-oriented, which fits well in the Thunder's culture.
Donovan's system will work well with the Thunder's current personnel. He ran a pro-style offense in college (lots of spacing and pick and rolls) and relies on depth to dictate or adjust to matchups. Defensively, Donovan's system is similar to Scott Brooks', in that it focuses on being tough on the inside, while having the wingspan to contest open jumpers.