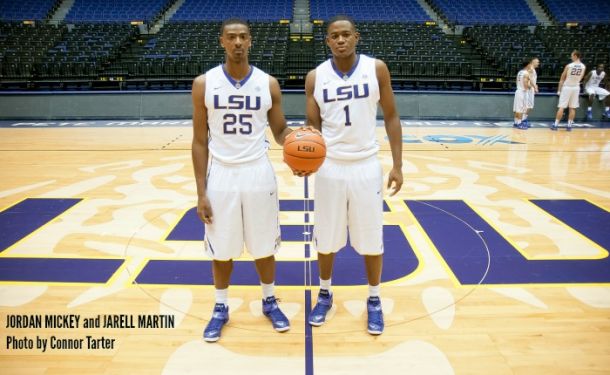 Jordan Mickey:
Position: PF
Height: 6'8"
Weight: 235lbs
Offensive Compariosn: Kenneth Faried
Mickey recieves the Faried comparison due to the fact that he can impact an offense without scoring the ball all that much. Mickey's high energy and rebounding effort and ability to go inside would give an offense a chance to have multiple possesions since Mickey isn't afraid to go inside and crash the glass. Mickey also recieves this comparison because what he lacks in size, he makes up for with athletisism. As a power forward, Mickey can run the floor and jump very well for his size. These attributes make him a threat on fast breaks since he can catch lobs with the best of them. With all of that being said, Mickey does also have a work in progress faceup game in his aresenal. Mickey has shown that he is capapble of knocking down 17 footers when he has his feet set. Mickey can also put the ball on the floor when he's comfortable and likes to use spin moves when attacking. Being an athletic forward with a faceup game in the works, Mickey looks like he could be a contributer off the bench for a team that could work him into their game.
Defensive Comparison: Draymond Green
A Draymond Green comparison may seem like high praise for a guy who hasn't played a single minute in the NBA, but the two are more alike than you might think. Muck like Green has done at times for the Warriors this season, Mickey was asked to play quite a bit of center during his time at LSU. At only 6'8" Mickey not only accepted the role, but thrived in it. After Washington center Robert Upshaw was dismissed from the team, Mickey actually took over as the nations leding shot blocker with over 3.5 a game. In an interview with DraftExpress, Mickey stated that in the NBA he felt like he can guard two through four. That statement seems quite acurate and Mickey might be selling himself short as he gaurded many a center at LSU. With the lateral quickness to guard the perimeter, and the strength to battle inside with players his size or bigger, Mickey very well could become a very veratile defender much like Defensive Player of the Year runner-up Draymond Green.
Jarell Martin
Position: PF/SF
Height: 6'10"
Weight: 235lbs.
Offensive Comparison: Tobias Harris
Again, this may seem like a stretch. Martin, like Tobias, is a combo forward who is closer to power forward size wise, but has more of a small forward offensive game. Martin did seem to go into somewhat of a slump offensively at LSU. While he still contributed, his shooting ability that helped him dominate in high school seemed to be non-existent at times. At times the bad shooting came from bad shot selection, which is something Martin will have to improve as he makes the transition to the NBA. The other times the bad shooting seemed to be bad luck. Good selection and mechanics but it just didn't want to seem to fall. As long as he continues to work, I see no reason why Martin couldn't be a great mid range shooter and even be fairly consistent from NBA 3 as well. To stay in the league Martin will have to be like Harris in the sense that he needs to do everything, and do it pretty well. Score, rebound, run the floor, space the floor, play multiple positions; these are all things Martin should look to do as he makes the jump into the NBA.
Defensive Comparison: James Harden
While this writer wanted to find a big to use for this comparison, he felt like James Harden fit best. The reason why? While all the tools are there, the effort has to be as well. Just like Harden could be a good defensive shooting guard, sometimes he lacks the effort on the defensive end. This would be something Martin would have to avoid at all costs. For a rookie big with some offensive ability, not playing defense could have you stuck on the bench when you could be contributing. If a coach lets you come off the bench and you score 12 but give up 14, you hurt more than you helped. For Martin, it will all come down to effort. Use the same length, jumping ability, athletisim, and energy you use on offense to be a good defender. Martin will have to show he is willing to help on BOTH ends of the floor in order to have a spot in the league. Theres not doubt he has the tools, he just has to set his mind to it.
For us LSU hoops fans, seeing these two get drafted will be a proud moment. Much like we watched Glen Davis, Brandon Bass, Anthony Randolph, Johnny O'Bryant, and a few select others do before will give us a good feeling knowing they came from Baton Rouge. As far is the future is concerned, I have a feeling that these two might not be the last forwards drafted out of LSU.