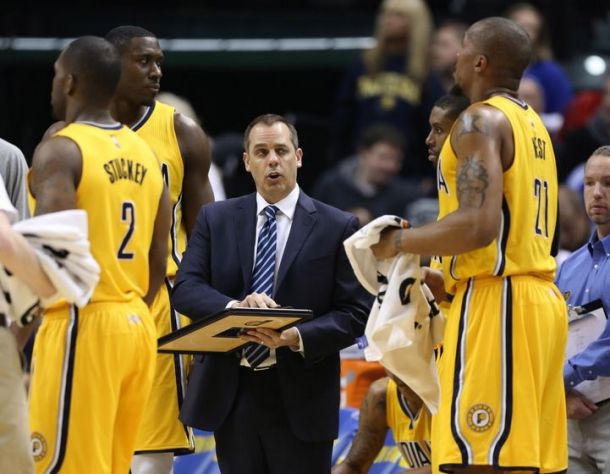 ORLANDO -- The Indiana Pacers have officially announced the participants for their 2015 Rookie/Free Agent Camp Roster. The official schedule for the Orlando Summer League has been released as well. Indiana's first game will be on July 4th at 9:00 AM., against the Miami Heat. Indiana will have four 'regular-season' games, then they will have a 'championship-day' game as their final opponent.
The roster is headlined by two Pacers veterans, Solomon Hill and Shayne Whittington. Indiana's two draft picks (Myles Turner and Joseph Young) from the 2015 NBA Draft are also on the roster. Some former collegiate stars from local Indiana colleges will be participating, such as Jon Octeus (Purdue) and Christian Watford (Indiana).
Indiana's roster also contains some international prospects, such as Mantas Kalnietis (Lokomotiv Kuban Krasnodar/Russia), Trent Lockett (Lowen Braunschweig/Germany), James Nunnally (Maccabi Ashdod/Isreal), and Romero Osby (Indios de Mayaguez/Puerto Rico). Another player with previous NBA experience was Arinze Onuaku from the Minnesota Timberwolves. Other players include Jarrell Eddia (Austin Spurs/D-League), DaVonte Lacy (Washington State/NCAA), and Matt Steinbrook (Xavier/NCAA).
This will be Solomon Hill's and Shayne Whittington's best opportunity to showcase the hard work that they have been putting in this off-season. They have had nearly 3-months to improve their skills; the summer league will be a great opportunity for both of them to show it. Solomon Hill is going to be a big part of the Pacers next season, and his development in particular is crucial. If Paul George wants to play more power forward, someone has to play more small forward. The most likely of all candidates to fill that void would be Solomon Hill. As for Shayne Whittington, he hasn't fully secured a roster spot for next season. Although Whittington will likely be re-signed regardless, nothing is for sure. In recent history, this is the longest off-season that the Pacers have had, which will drastically help player development.
Myles Turner and Joseph Young will get their first opportunity to play for the Pacers' coaching staff in a competitive and structured atmosphere. Both Myles Turner and Joseph Young have had from the end of March Madness up until now to improve their skills, so they should be much improved. This will be Pacers' first look at how these new skills will adapt to a real game situation. The competition might not be what it would in a real NBA game, but the talent is good enough to measure player development.
For this year, player development is the only important aspect of the Pacers' summer league. Based off the current landscape of the roster, it will be nearly impossible for one of their summer league players to make the roster. That doesn't mean that they can't make their D-League affiliate and then develop, but it is almost certain that none of these players will be able to get a spot on the actual Pacers' roster for this upcoming season. This is especially the case for the center, point guard, and small forward positions.
Schedule:
July 4: Pacers - Miami (9:00 AM)
July 6: Pacers - Orlando White (1:00 PM)
July 8: Pacers - Detroit (3:00 PM)
July 9: Pacers - Orlando Blue (1:00 PM)
July 10 (Championship Day): Pacers - TBD (Time TBD)
Roster (via Twitter: @Pacers):