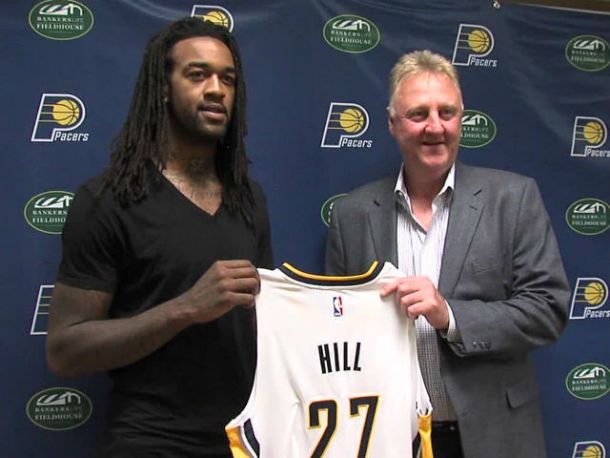 ATLANTA, GA -- Indiana Pacers center Jordan Hill was arrested Tuesday for reckless driving, according to WSB-TV reports. Hill was allegedly driving 107 MPG on GA400 an Atlanta, Georgia highway. This isn't necessarily the greatest first impression for Jordan Hill with the Pacers.
Jordan Hill getting pulled over was a strange scene. He wasn't wearing a shirt when the police officer asked him to get out of the vehicle. The officer also asked him why he was driving so fast, Hill responded by saying that he was 'in a hurry'.
Indiana Pacers' President of Basketball Operations [Larry Bird] made a statement regarding this situation:
"We have been informed Jordan was arrested for allegedly reckless driving in Atlanta, Georgia. It is obvious we don't condone this. We will address this with Jordan. This is a major concern of safety, not just for Jordan, but for others."
Don't be surprised if Hill doesn't receive a punishment from the league or the Pacers organization at all. This wasn't a felony, didn't involve drugs, resisting arrest, assault, or anything major. In the worst case, Hill would likely receive either a small suspension or a fine, potentially even both.
Jordan Hill is expected to be a big part of the Pacers' frontcourt in the upcoming season with the departures of David West, Roy Hibbert, and Luis Scola. According to a league source, Hill is expected to be the 'front-runner' for the starting center spot, but that may change if he continues to have off-the-court problems.
Indiana has more than enough talent to be fine without Jordan Hill starting. Newly drafted big man Myles Turner showed at the Orlando Summer League that he is indeed ready to contribute right from day one. Indiana still has Ian Mahinmi as well, so the Pacers could manage to pull of a role reduction as a potential punishment.
This problem is easier to deal with since it is during the offseason and isn't a distraction to the team. Jordan Hill will get his opportunity to prove himself to the organization once the team gets to training camp. Until then, Hill will need to remain on his best behavior. If there is one thing that Larry Bird doesn't like, it's off-court problems.