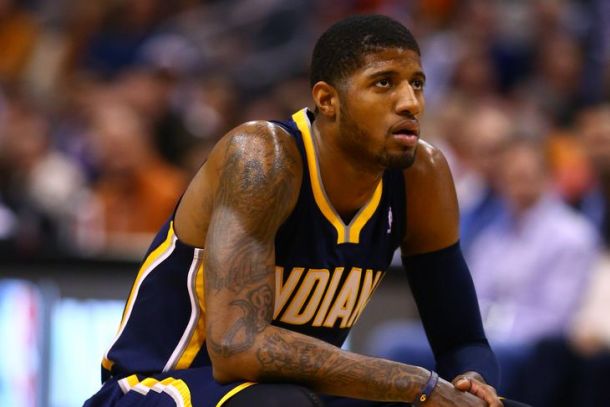 INDIANAPOLIS, IN -- Various members of the Indiana Pacers organization were participating at the Pacers Foundation Golf Outing at the Brickyard Crossing Golf Course. At the event, Frank Vogel confirmed that the Pacers will start Paul George at the power forward position next season. Vogel also discussed his "on paper" projected starting lineup for the 2015-2016 season.
Frank Vogel stated that his projected starting lineup is George Hill, Monta Ellis, C.J. Miles, Paul George, and Ian Mahinmi. Indiana's goal is to score a lot more points per game and play at a faster tempo next season. The Pacers do want better offensive production, but they don't want to lose any defensive effectiveness. However, Paul George isn't so sure about this transition just yet.
Paul George on learning about starting at power forward (via IndyStar):
"That's kinda new to me. We talked about it some (but) for him to say it in the papers, I guess he's pretty confident on me starting as the power forward. So that was new to me."
Paul George on playing the power forward position (via IndyStar):
"I don't think I'm at that point in my career where I should be changing positions. I think guys do that later in their career. They put on weight, lacking physical attributes as far as being quick. So I don't necessarily feel the need to play a different position, especially coming back into a new season and starting fresh again. So it's a change, it's definitely a change. We'll see how it goes.
"I told them I'm open for a change. I wasn't extremely thrilled about it when they first presented it to me, but the way the league is going and my playing style, I think I can fit right into it. We'll see how it goes during camp whether I'm comfortable with it or not, then we'll just make that decision from there. But to start it out, I'm open for the change.
"I hope a lot. I hope my happiness comes first in this whole ordeal but, again, I'm not someone that's going to kill a locker room. I'm open to it so I just want to see how it goes."
Larry Bird on playing Paul George at power forward (via NBATV):
"I'm the one who thinks he can play the four. I think the mismatches on the offensive end are greater than the defensive liability he'll have. I think he can handle it."
Paul George on playing with the new additions and the talent level of the current team (via IndyStar):
"I think we are capable of changing the East. We've got a lot of scorers, great playmakers, great ball handlers. Our whole makeup has changed and if we have success in playing the small-ball game, we can really change the East."
Frank Vogel on how the lineup could change during training camp (via IndyStar):
"They're all variable in terms of how things play out during camp," Vogel said. "Not just with certain positions but we intend to go in and be effective playing with a small lineup. Obviously, training camp tells you a lot about your team. We'll see how it plays out."
The Pacers believe that using Paul George at power forward is best for not only his individual offense, but for the team's overall offense as well. The only concern is about how well George can defend traditional power forwards in the low post and stay out of foul trouble. But George has been working on his all-around body strength so it is a good risk to play him at power forward. The goal is to make a traditional power forward too much of a defensive liability against George since he will be able to use his athleticism and guard skills to beat them in space. That would force the opposing team to take out their traditional power forward. Once that power forward is out of the game, George will be able to use his size and skill against a smaller player, the same type of players that he earned All-NBA Honors against. Not many teams would have answers defensively for George.
Depending on how the flow of an individual game goes, George could actually turn traditional power forwards into defensive liabilities with foul problems. When the Pacers run a 4-out, 1-in offense and George gets a clear out to isolate on a traditional power forward, he will be able to use his quickness and guard skills to blow past that man, or shoot a jump shot from the perimeter or mid-range off the dribble. The man will have the choice to either foul to prevent a clear lane at the basket, or simply get beat. The typical power forward is not athletic or skilled enough to defend a player like George on the perimeter. If he sets the tone early, it would turn the traditional power forward into a massive liability.
Note: VAVEL-USA will have an article in the near future describing in detail how playing Paul George at power forward will benefit the Indiana Pacers.