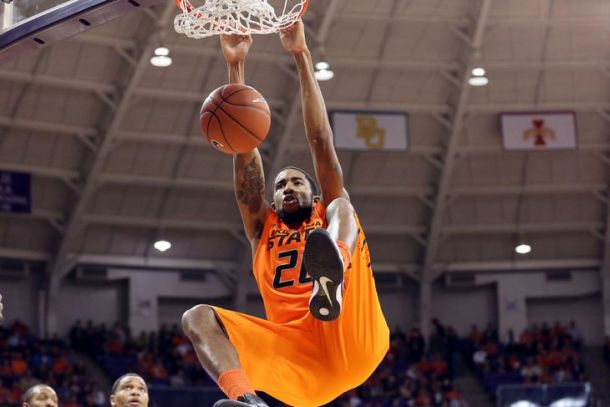 The Oklahoma City Thunder announced on Thursday the signings of former Oklahoma State forward Michael Cobbins and D-League player Mustapha Farrakhan Jr. As per team policy, terms of the contracts were not disclosed. The move brings the roster back up to 17, a day after they trimmed the roster down to 15 with the waiving of Michael Qualls, Dez Wells, Julyan Stone, and Talib Zanna. Qualls, Wells, and Zanna are expected to go through waivers and be signed by the Thunder D-League affiliate, the Oklahoma City Blue. With the roster already loaded with 15 guaranteed contracts, that fate likely awaits the brand new signees.
Cobbins, a 6'9" forward/center out of Oklahoma State, went undrafted in the last NBA draft. Known as an energy guy, Cobbins does a good job of playing to his strengths, rarely venturing outside of the paint on offense and protecting the rim on defense using his 7'1" wingspan. He averaged 6.8 points, 5.9 rebounds, and 1.8 blocks per game his senior season after suffering an Achilles injury in the middle of his junior year. He was a fan favorite in Stillwater for his hustle and energy.
Cobbins also played for the Thunder summer league team this year, averaging 3.0 points and 2.7 rebounds in his three games in Orlando.
Farrakhan, a point guard out of Virginia, who has played in the D-League and in Australia the past four seasons, will likely be in competition for a guard spot on the Blue. The 6'4" lefty, who also happens to be the grandson of Nation of Islam leader Louis Farrakhan, has played for three D-League teams and was out of basketball last year. He has averaged 8 points and 2.5 assists per game in his D-League career.
The Thunder's D-League team is slowly taking shape with the Thunder's last few transactions. Thunder players Josh Huestis and Cameron Payne are also likely to see time with the Blue this season, as the team grooms and develops Payne to be Russell Westbrook's back-up and Huestis to be a 3 and D guy off the bench. With the salary cap spiking and the Thunder looking at possibly re-signing three max or near max players in the next 2 years (Kevin Durant, Serge Ibaka, and Westbrook), the need for cheap role players will be tantamount. The Thunder have always been the model franchise for how they use their D-League affiliate, and these series of moves will likely produce dividends in the future.