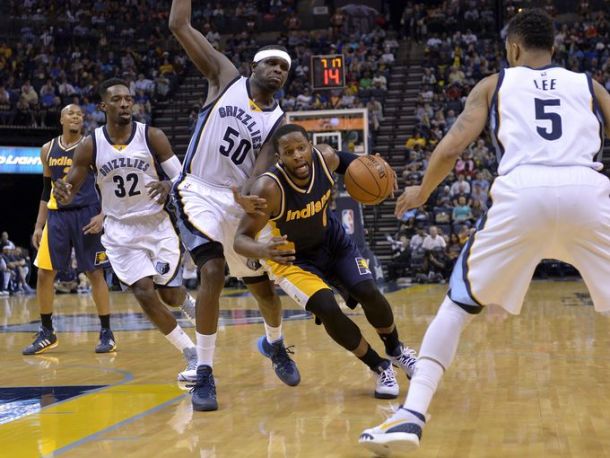 The Indiana Pacers dropped their first game of the regular season Wednesday night in Toronto by a final score of 106-99. Paul George and Monta Ellis shot just 7 of 28 combined, and the Pacers struggled as a team at 37.2%. Although George could not find his shooting rhythm, he led the Pacers with 17 points, 12 rebounds, and 8 assists. George Hill and C.J. Miles added 19 and 18 points, respectively. Rookie Myles Turner did not play with a sore ankle.
Tonight, the Pacers will return to Indianapolis for their home opener and look to bounce back against the Memphis Grizzlies – who eliminated the Pacers from making last year's playoffs.
The Grizzlies, also coming into the game 0-1, lost 106-76 last night at home against the Cleveland Cavaliers. The Grizzlies were led by Zach Randolph who scored 12 points and pulled down 8 rebounds. Marc Gasol also scored 12 points.
Tonight's matchup will be one that is very fun for Pacers fans as they get to watch three hometown players on the opposing side: Mike Conley, Courtney Lee, and Zach Randolph.
The Grizzlies' Zach Randolph and Marc Gasol are expected to cause the biggest problems for the Pacers. These two big men have historically given the Pacers a hard time on the glass and in the paint as they combined for 22 rebounds and 51 points in the last meeting. Ian Mahinmi, Paul George, Jordan Hill, Lavoy Allen, and Myles Turner (questionable) will have to make it a priority to rebound the ball and limit second chance opportunities for the Grizzlies. The Pacers were outrebounded last night 50-40.
A factor that led to the Pacers being outrebounded was foul trouble. The Pacers committed a total of 30 fouls against the Raptors, which led to 39 free throw attempts and limited minutes for starters Ian Mahinmi and Monta Ellis.
On the offensive side of the ball, the Pacers will need to continue to be aggressive. They shot 31 free throws last night while drawing four fouls on Jonas Valanciunas and fouling out Raptors' Bismack Biyombo. This could change the makeup of the game if Randolph and Gasol find themselves in foul trouble.
With the Pacers' small-ball lineup and the Grizzlies' large front court, look for mismatches such as Paul George and Zach Randolph and how each coach plans to counter the other's strategy.
Projected starters:
Pacers: PG – George Hill, SG – Monta Ellis, SF – C.J. Miles, PF – Paul George, C – Ian Mahinmi
Grizzlies: PG – Mike Conley, SG – Courtney Lee, SF – Jeff Green, PF – Zach Randolph, C – Marc Gasol
Injury status:
Pacers: Myles Turner – questionable (ankle), Glen Robinson III – questionable (shoulder)
Grizzlies: Jarell Martin – out (foot)
Tip-off for this game is at 7:00 ET and will be available on FOX Sports Indiana and 107.5 FM.