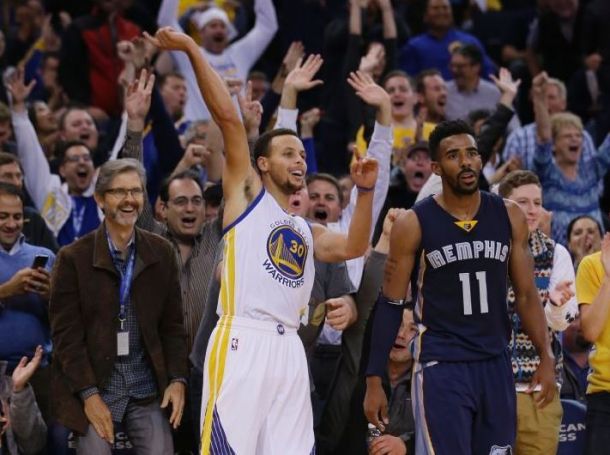 Oakland, CA -- Stephen Curry tallied 30 points and the Golden State Warriors dominated the Memphis Grizzlies by 50, 119-69.
We thought we saw it all when Curry dropped 53 last weekend, but we didn't. The Warriors are on a rampage and in a game that this writer thought would be a close, tough test for them, turned into a game that was over by halftime. The Warriors defense was electric.
"It's surprising," Curry said. "I don't remember the last time that's ever happened to any guys on this team, being on the winning side of a 50-point game."
The Warriors forced the Grizzlies to shoot just 27% from the field, 13% from behind the arc.
"That's a championship team. They're not 40-50 points better than us, we know that," Memphis forward Zach Randolph said.
They may not be 50 points better, but the Warriors figured out how to beat the Grizzlies. They attacked them defensively, running the floor, getting the tempo going. Klay Thompson scored 14 points, 7 rebounds, and 2 assists. Draymond Green, who tallied a +/- of +41, scored 11 points, 9 rebounds, and 8 assists in the win.
"I don't think anyone is intimidated by us, nor do we expect it," Golden State's Draymond Green said. "We've just raised our level of play."
1 unsung hero of the game was Festus Ezeli, who grabbed the starting nod for an injured Bogut. Ezeli dominated the boardsm scoring 11 points and 10 rebounds. He also tallied in 3 blocks. He really made Marc Gasol work. Gasol shot just 5-12, only scoring 13 points. Tony Allen shot 0-6 on the night.
Bogut is completing the NBA concussion protocol, and according to Walton, had a workout on Sunday but still needs to get through a contact practice.
"There's a little bit of an intimidation factor when we start making shots and we start locking up on defense," interim coach Luke Walton said. "It can cause some teams to fold. Memphis I do not think is one of those teams. I just think they had a poor shooting night."
Luke Walton is getting this team to play. The Warriors were not expected to start 4-0, especially after their interesting preseason. It doesn't matter if Bogut goes down, or what, but the next man up chips in minutes. The best part about the blowout wins are that the starters get to rest. The teams all complain about back-to-backs but when you dominate a game and your players only have to play 25-26 minutes, you're set. The Warriors play the Grizzlies again in a week after the Grizzlies come back from a big road-trip.
Memphis is at Sacramento tomorrow night, while the Warriors host the Clippers on Wednesday.