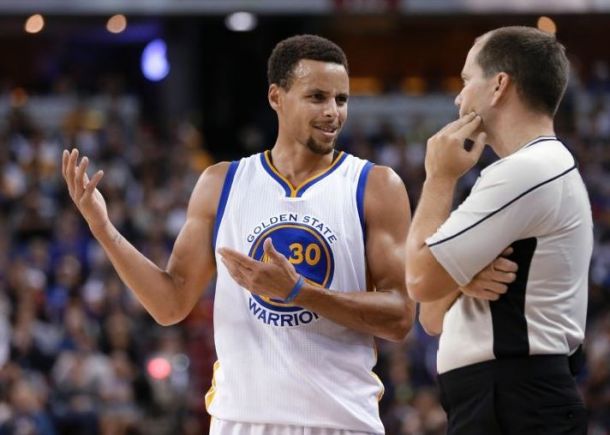 Sacramento, CA -- Stephen Curry's 21 points in the second half to help push the Warriors past the Kings 103-94 in Sacramento.
Curry had a below-average game compared to his season thus far, but his 21 points helped give the Warriors a 7-0 start to the season, which is their best start since moving to the West Coast. In 1960, the Philadelphia Warriors started 9-0, the franchise-best start.
The Warriors really struggled in the game shooting the ball, just 41% in a game that should have been a cake walk. The Kings were missing star Center DeMarcus Cousins.
"We couldn't get our shots to go in tonight -- it happens," interim coach Luke Walton said. "But we found a way to grind it out. We had some wide open looks that wouldn't go down. It was one of those random nights."
Curry shot 8-18 from the field and 2-10 from behind the arc.
"Never too high, never too low; that's my motto," Curry said. "I'm not expecting to shoot lights out every game."
The Kings looked good. Rudy Gay contributed 22 points, 7 rebounds, on 10-25 shooting. Kosta Koufos contributed 12 points and 10 rebounds in place of DeMarcus Cousins, and Rondo had 14 points, 12 rebounds, and 15 assists. He also had 4 steals to go along with it.
"I thought our leader was Rondo. He was first class and incredibly into the game," coach George Karl said. "His defense on Curry was first class. I just wished we had a little more gas in the tank to finish off the game."
Rondo looked great. He did only shoot 7-20, but he facilitated and piled up the stat sheet. Some of the rebounds stats could be contributed to Cousins being out but Koufos stepped in well.
"I would love to have DeMarcus back. That's my running mate," Gay said. "We need him back. That's reason why I've been playing terribly."
Klay Thompson grabbed a bit of his shooting form back with 18 points on 7-16 shooting, 4-11 from three. Festus Ezeli and Draymond green both totaled 10 points and Harrison Barnes had 13. The Warriors shot just 8-39 from three.
It's a good sign for Golden State, as even when they're on an off shooting night, they'll still beat the teams they're supposed to be. The may have taken Sacramento lightly without Cousins, or just may have been on a rough night, but either way the Warriors look primed to do amazing things this year. Steph mentioned he's not expecting to shoot lights out every game but the people watching seem to be thinking otherwise. It seems that 24 points isn't good enough for Curry anymore, as he has a big ceiling he is expected to hit. Though this could be a bad thing for most players, this writer is sure Curry is excited for the task.