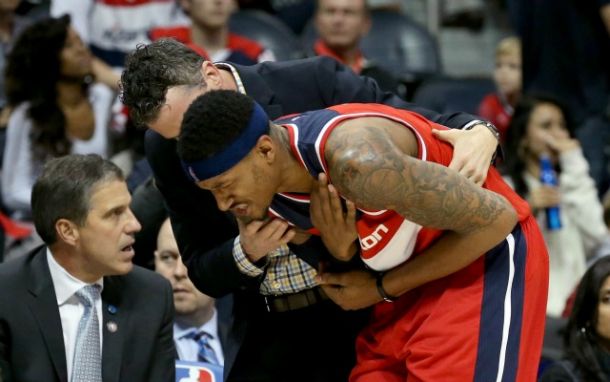 Washington Wizards shooting guard Bradley Beal left Saturday night's game against the Atlanta Hawks with what appeared to be a serious shoulder injury. Rest easy Wizards fans, after several tests including X-rays, it seems Beal bruised his left shoulder and will not miss significant time.
However, he is questionable to play against the Oklahoma City Thunder on Tuesday night.
Saturday night against the Hawks, Beal was kneed in the shoulder by Jeff Teague when the two players banged into each other as they were both going for the ball. Beal tried to play through the pain but would come out in the latter stages of the fourth quarter grabbing his shoulder when he went to reach for the ball on defense.
Beal wasn't able to practice on Monday, but the Wizards and their training staff will monitor him and see leading up to the game if he'll be able to give it a go.
"Everything is good. He's sore. He didn't do anything today. We'll see," Wizards head coach Randy Wittman said after practice. "He made good with his strides from yesterday today. He'll be questionable for tomorrow."
Bradley Beal talked with the media following Monday's practice to give an update on his injury. (Link)
The Wizards stand as a .500 team and wouldn't be there without him. In six games, Beal has averaged 22.7 points, 4.8 rebounds and 2.5 assists. On the young season, Beal ranks 11th in the league in scoring and 13th in the league in three-point percentage at 47.1 percent.
If Beal misses a couple games, you could see Wittman going to Gary Neal as the starter and extended minutes for Garrett Temple, who started in place of Beal last year when he suffered a fractured left wrist in the preseason. If those two don't get the job done you could see rookie Kelly Oubre get an opportunity to find minutes in the rotation.