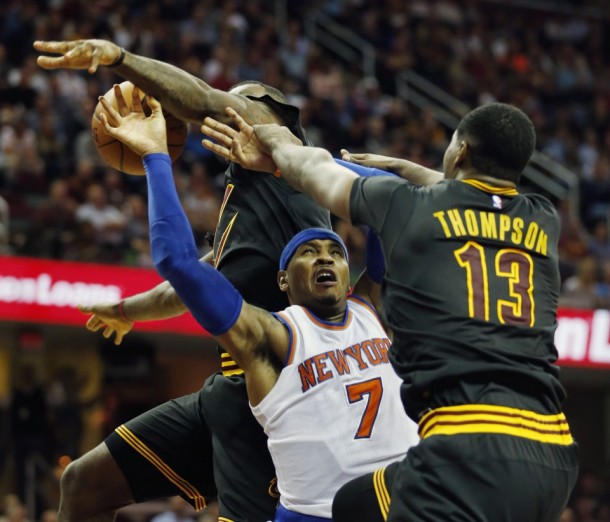 The Cleveland Cavaliers and New York Knicks will play tonight at 7:30 on NBA TV. The Knicks suffered a tough loss in their last matchup against the Hornets. Rookie big man Kristaps Porzingis nailed a 3 point shot as time expired but the play was later reviewed and it was ruled that he did not get the shot off in time. A heart breaking loss for Knicks fans, but, it was sure nice to see that the young man can hit a big shot. As for the Cavs, they are rolling. They have won their last 7 games including their last win, on Tuesday night against the Utah Jazz. Tonight begins a 3 game road trip for the Cavs.
The last time the Cavs and Knicks played was last week in Cleveland. The Knicks got off to a very hot start and jumped out to an early lead. The Cavs showed resilience and made a nice come back and beat the Knicks 96-86. The Cavs are coming off a bit of rest and should start a bit stronger tonight.
A huge bright spot for the Knicks this season has been their first round pick Porzingis. When Porzingis was drafted, most Knicks fans were not happy. Through 9 games he is averaging 11.6 points and 9 rebounds. He may not look like a budding star yet, but Knicks fans can definitely see that he has a bright future.
Both teams have simple road maps to winning this game. For the Knicks, you can not try to contain LeBron James, he is going to do what he does. But, they must contain his role players and sidekicks. Mo Williams is off to a hot start this season and scored 29 points in the Cavs last game against the Jazz. If the Knicks want to give themselves the best chance to win, they will try to limit Williams' production. As for the Cavs, in order to be successful they need to begin the game hot and move the ball efficiently, which is something they have done very well this season. Ball movement is very important to the Cavs offense and when they are moving it effectively, they are at their best. Look for the Cavs to avoid iso ball and spread the wealth tonight in New York.
The key matchup to keep your eye on tonight is Kevin Love against Porzingis. Love is obviously a very good rebounder, but it will be interesting to see how he handles a much longer opponent than he is used to seeing. It will also be worth watching how Porzingis tries to defend Love's ability to play inside and out.
Tonight's matchup between these two Eastern Conference teams should be a good one. LeBron James always comes to Madison Square Garden with his best and JR Smith surely anticipates his returns to the Big Apple. Carmelo Anthony being healthy this year has given the Knicks playoff aspirations. Although, the team has improved, I expect them to fall to the extremely powerful and loaded Cavaliers.
Prediction: Cavs 109 Knicks 97