Well the Chicago Bulls did make a move at the trade deadline and it wasn't one many predicted. The Bulls moved point guard Kirk Hinrich to the Atlanta Hawks in a three-team deal that included the Utah Jazz as well.
Chicago received guard Justin Holiday and a second round draft pick from the Jazz. This was more of a money saving deal for Chicago as they were able to move Hinrich's $3M salary.
But can Justin Holiday bring to the table for Chicago? Given Chicago's injury issues, most specifically to Jimmy Butler, it seems that Holiday could and should be in line for some playing time. The Bulls aren't very good right now and Fred Hoiberg should be looking for a potential from every single player on the roster.
It was evident against their win against the Toronto Raptors when he inserted youngster Cristiano Felício. Felicio rewarded Hoiberg with a good game of eight points and three assists. It was good for a player that averages four minutes for Chicago and Hoibeg should give Holiday the same chance.
Holiday has played in 26 games for Atlanta this season and has only averaged 10.1 minutes per game.
Let's take a look at what he can add to the Bulls.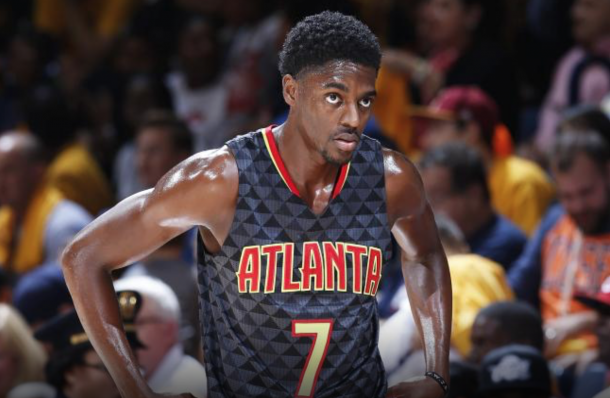 Depth at shooting guard
With the injury to Jimmy Butler, E'Twaun Moore is now the only healthy shooting guard on Chicago's roster.
Believe it or not, Moore is now a crucial part to Fred Hoiberg as he has seen a big jump in minutes this season. By playing solid defense and showing an ability to knock down open jumpers, Moore has gained the trust of Hoiberg. He is what Keith Bogans was to Chicago back in the beginning of the Tom Thibodeau era but Moore is a little more athletic.
Hinrich used to be able to slide over to the 2 spot and fill the void for Chicago but now he's gone. Butler will be out for 3-4 weeks so Holiday will be able to get some minutes and prove his worth to Fred Hoiberg. He can also play the point guard position and fill in for Derrick Rose and Aaron Brooks.
Some scoring, but not a lot
Although Holiday can bring some minutes to Chicago at the guard spots, don't expect a lot of scoring from the guard.
In his two and a half years in the NBA, Holiday has only averaged 3.8 points per game. Granted he's only averaged 11.3 minute per game but you should not expect a performance like the one you saw Doug McDermott pull against the Raptors.
Maybe Holiday can be like an E'Twaun Moore type of guy where he can provide some spark for the team when they need it the most but we won't know until we see him get good minutes. The problem is that we don't know if Hoiberg will give him enough minutes. He had two minutes of action against Toronto, grabbing a rebound and scoring two points.
Right now the Bulls are not very deep considering the injuries they have currently. This is an opportunity for Holiday to maybe get some quality minutes and prove his worth to the coaching staff. He is under contract till 2017 so he will be here for a while.