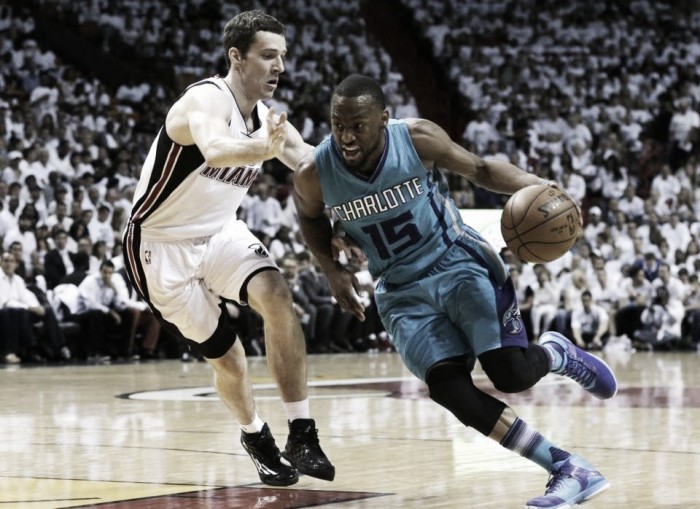 After relinquishing a 26-point lead in a loss to the Boston Celtics to conclude the regular season, the Miami Heat were all business entering Sunday afternoon's first round opener against the Charlotte Hornets, and it showed.
The Heat were firing on all cylinders from the opening tip, outscoring the undermanned Hornets 41-22 in the first quarter alone en route to a dominant 123-91 victory in front of a raucous Miami crowd at AmericanAirlines Arena.
Deng leads Heat attack
Miami never trailed in the contest, which can be primarily accredited to the performance of small forward Luol Deng, who set the record for the most points by a member of the Heat making their playoff debut with a 31-point outburst on 11-13 shooting from the field and 4-6 shooting from three-point range.
Deng compiled a monstrous +26 plus-minus rating. However, that was not even the highest plus-minus on the team. That honor would belong to shooting guard Dwyane Wade, who garnered a rather solid +28 while racking up 16 points, seven assists, and four rebounds.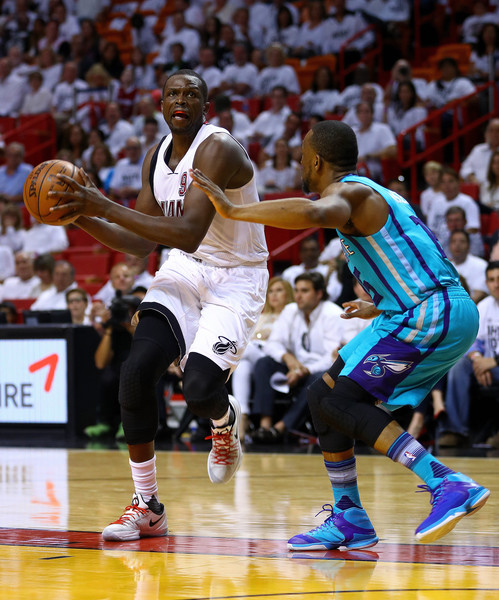 Center Hassan Whiteside was also effective down low, scoring 21 points on 9-11 shooting to accompany his 11 rebounds and three blocks, while veterans Joe Johnson and Amar'e Stoudemire showcased their playoff experience with double-digit scoring performances as well with 11 points apiece.
For the Hornets, still searching for their first postseason victory in franchise history, small forward Nicolas Batum led with 24 points despite a porous -33 plus-minus while point guard Kemba Walker scored 19 points while recording a -32 plus-minus.
The only other double-figure scorer for Charlotte was big man Al Jefferson, who poured in 13 points and five rebounds off of the bench.
Miami dominates stat sheet
Miami, whose 123 points was a franchise playoff record, was dominant in all facets of the contest, getting up 85 field goals to Charlotte's 65 while converting on 58% of their attempts compared with the Hornets' disappointing 43% conversion rate.
While Charlotte shot just 6-17 from three-point range, the Heat hit nine of their 18 attempts from deep while garnering 27 assists relative to the Hornets' 11, 42 rebounds to Charlotte's 28, and forcing 11 Hornets turnovers while coughing up the rock on just six occasions themselves.
Early surge propels Heat to win
The Heat shot out of the gate to an 11-3 lead just three minutes into the contest, riding that momentum for the majority of the game. The Hornets responded to cut the deficit to just 13-11, but an 18-4 Miami run proceeded, putting Charlotte in a 31-15 hole with 2:45 left in the first quarter.
Miami maintained their advantage throughout much of the second quarter, entering the second half leading 67-50, and a quick 7-0 run to begin the third quarter quickly buried any chance of a Charlotte revival.
The Heat will look to build on their momentum in Game 2 of the series, which will take place on Wednesday night in Miami.