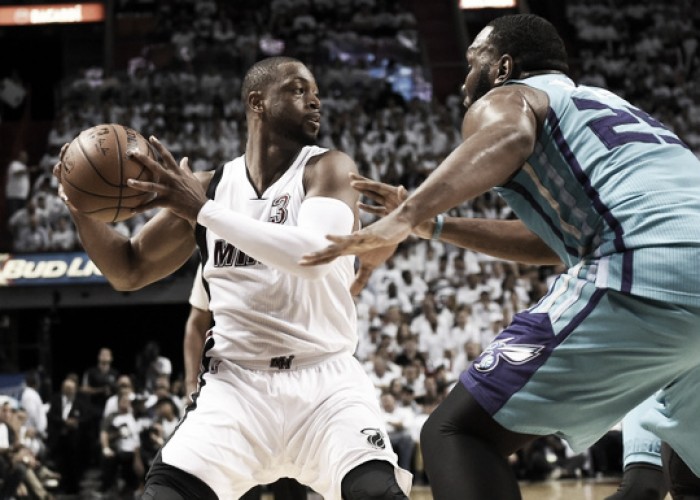 The Charlotte Hornets sought a victory on the road against the Miami Heat to tie the series at one apiece before heading home for games three and four.
A close first quarter
Charlotte got off to a more aggressive start compared to game one. They shot 43 percent and went 10-of-14 from the free throw line in the opening 12 minutes of the contest. Kemba Walker started hot, scoring 11 points while Jeremy Lin dropped eight off the bench. Meanwhile, Miami got their offense by shooting 65 percent from the floor and Dwyane Wade scoring nine points. The Hornets did not commit a single turnover in the period while Miami had five early on. At the end of one, both teams recorded 29 points.
High scoring second period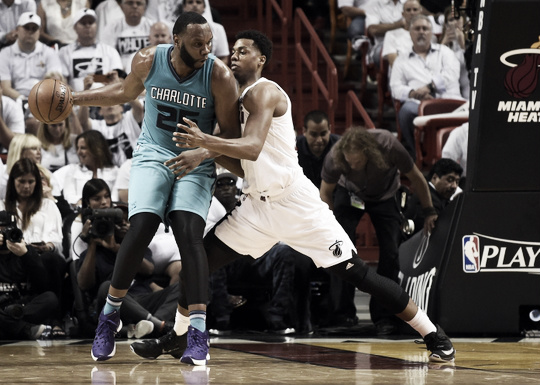 Al Jefferson, who was held scoreless in the first stanza of the game, exploded for 16 points. The Heat did not back down and retaliated by boosting their shooting to 74 percent. They outscored Charlotte 43-31 in the frame and took a 72-60 lead at halftime. The 72 points were the most scored in a half in franchise history after shattering the record of 67 points which was achieved in game one.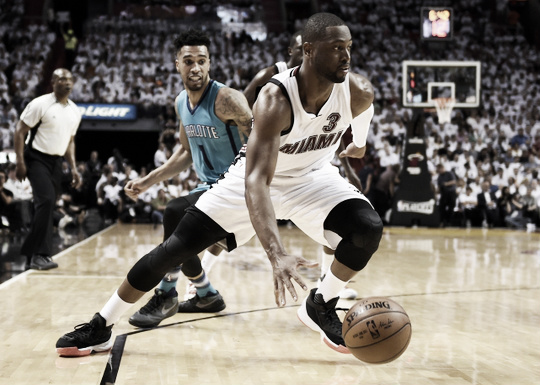 Charlotte struggles to contain Miami
The Heat continued to have their way offensively in the second half and showed no signs of slowing down. They also displayed some lockdown defense in the third quarter and held Walker to a 1-of-7 shooting. Charlotte continued to battle in the final quarter and although they outscored their opponents 25-24, the lack of defense is what prevented them from coming out with a victory.
Top performers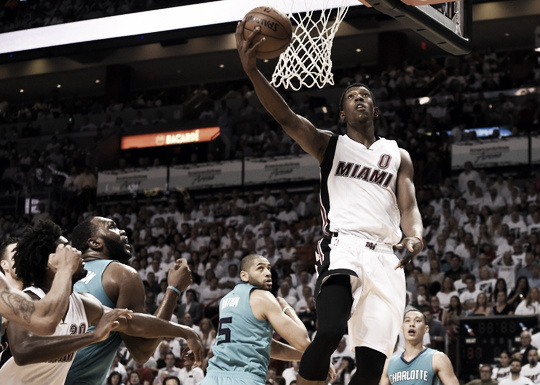 Wade notched 28 points and eight assists. Hassan Whiteside notched a double-double with 17 points and 13 boards. Goran Dragic had 18 points and Luol Deng added 16. Both Heat rookies Josh Richardson and Justise Winslow contributed big off the bench in 31 minutes of action. Richardson scored 15 points while Winslow had nine. Walker lead all scorers with 29 points and Jefferson finished with 25.
Other things to note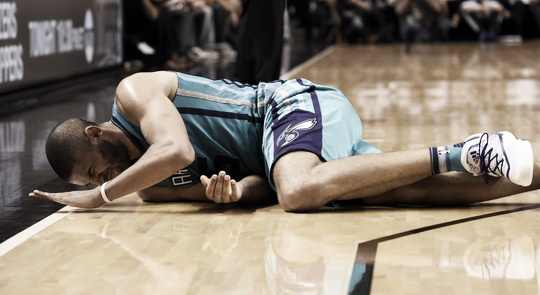 -At the 10:43 mark of the fourth quarter, Nicolas Batum sprained his left ankle and was sent back to the locker room. He was quickly ruled out for the remainder of the game.
- Starter Marvin Williams went 0-of-10 from the floor in 28 minutes of action.
-Charlotte has lost six straight playoff games against Miami.
Quotes from postgame press conference
Head coach of the Heat Erik Spoelstra, commented "We understood the style of play we have to play. Our spacing is so critical. We have get to places quickly. And if we don't, we really suffer. We take shots that aren't in our will house".
Head coach of the Hornets Steve Clifford, said "We've got to find a way to be able to put together 48 good minutes of defense. If we can do that we'll stand a chance".
Jefferson said "The Heat did what they were supposed to do, protect home court. Now we have to go do the same".

Up next
Game three will be on Saturday, April 23 at 5:30 P.M. EST.