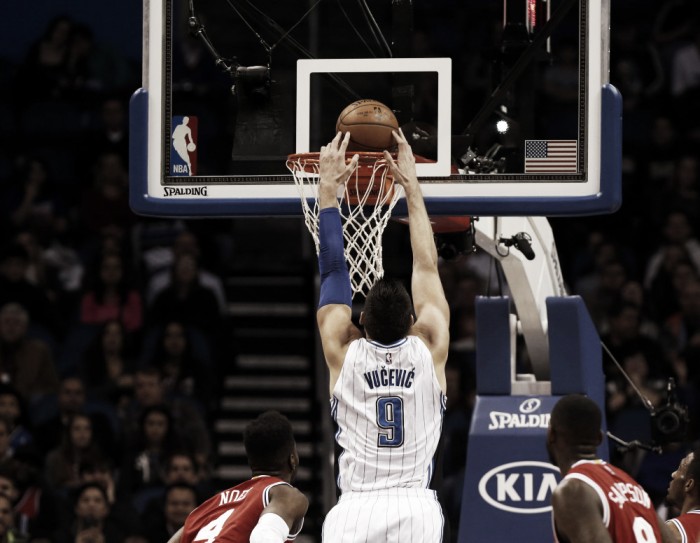 The Orlando Magic had a lot of positives to withdraw from its 2015-16 season. Orlando won 10 more games than it did in 2014-15, and the team was markedly improved on both ends of the court. Even so, opposing frontcourts battered the Magic this year, and if Orlando wants to assert itself in the Eastern Conference it needs to fortify its rotation in at the 4/5 spots.
Nikola Vucevic is an outstanding scorer and rebounder, but he falls short on the defensive end. He has his limitations athletically, and he is neither good with rotations nor a rim protector. When the Magic insert Dewayne Dedmon the issue reverses itself, as Dedmon can play strong defense along the baselines all the while being an offensive liability.
Jason Smith kind of split the middle ground, but the Magic are certainly not planning to make a journeyman much more than a spot reserve as the team moves forward. Andrew Nicholson is something of a mystery, at times playing like a valuable bench cog and at other times looking as though he does not belong in the league. The only real intriguing asset is Aaron Gordon, who proved himself to be a starting-level power forward in the latter half of the 2015-16 season.
Dedmon, Smith and Nicholson are all free agents this summer. But, each current frontcourt defender comes with liabilities.
Vucevic allowed 52.5 percent on contested looks at the rim. Gordon was far better at 44 percent, and this mark led the Magic by a considerable margin. Jason Smith saved the most points (4.91 per-36), but he allowed the highest percentage on contested looks.
Smith sometimes appeared to be a shot blocking eraser, but that was sporadic and the fact he appeared so good on defense may be more a reflection of how accustomed Magic fans were with the likes of Channing Frye (who was dealt to the Cleveland Cavaliers in February at the trade deadline).
Whatever the case, the Magic are not a team that will go into next season looking identical to this year's iteration. The matter of who sticks around is something that GM Rob Hennigan will have to carefully consider. He will have options in the free agent market.
Orlando has enough cap room to sign two max-deal free agents, and there are a few names that will require a max-deal to sign. Beyond that, though, there are a number of bargains that could help Orlando.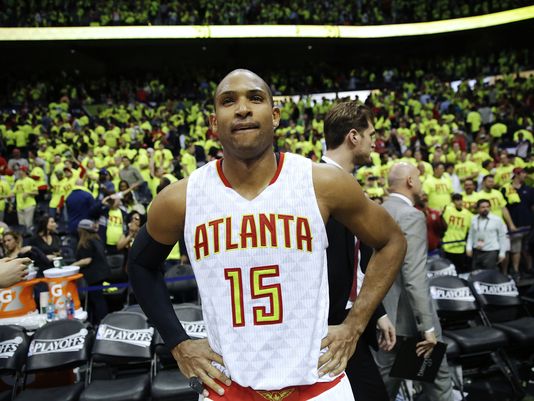 Tier One: Al Horford, Dwight Howard, Hassan Whiteside
The Orlando Magic are only likely to sign a max-contract center if Nikola Vucevic is moved. Some will counter that these options could be slid in at the 4, alongside Vucevic, but that is simply not a realistic model in today's NBA. As teams have gone smaller and smaller, the Magic would have circles run around them if they essentially started two centers. For that reason alone, it is highly unlikely the Magic roll out any sort of twin towers look in the near future. Apply that statement league-wide.
So, the next question to ask is, "Are these three players better than Vucevic?" The affirmative may only be the answer for two of the three options. While Dwight Howard certainly has a luster from his prime days in Orlando, at this point it is doubtful that he represents a huge upgrade over Vucevic, overall.
Howard allowed 50.4 percent at the rim, which is only sightly better than Vucevic who is considered a poor defender by most. Howard also saved fewer points at the rim (3.59) than Jason Smith, to put his decline properly into perspective. Moreover, we have already had reports surface that the Magic are likely uninterested in any sort of reunion with Dwight.
That leaves Al Horford and Hassan Whiteside, both of whom are upgrades in a big way on the defensive end. Horford has been a reliable and consistent player for nine seasons now, four of which have been All-Star seasons. Adding to that, there has been speculation that he and the Magic do in fact have mutual interest.
Horford is still only 29 and very much in his prime. This season he averaged 15 points, seven rebounds and 2.3 blocks/steals per game. His offensive role may expand in Orlando, but Horford is a highly efficient player who does not need a ton of touches to make an impact. He is a lot like a poor man's Tim Duncan.
Whiteside is the best shot blocker and rim protector in the league, but expect more than a few teams to be throwing their lot in to land him this offseason. At nearly four blocks per game, he ran away with the league lead in shot blocking. The criticism here may be that Whiteside plays for defensive stats, but at least those are stats he is capable of getting. He is the best shot blocker in the league and that is sure to command a max-contract.
The Magic have few things that would set them ahead of the pack of teams chasing Whiteside, while Horford still may remain the most realistic option of the first tier of NBA bigs. That said, the Magic could seek to add another big to the rotation and retain Vucevic. Nothing is certain at this point, except the fact that what has been fielded as a frontcourt thus far is not sufficient.
Tier Two: Festus Ezeli, Ian Mahinmi, Timofey Mozgov, Donatas Motiejunas (R)
Tier two offers another five players all of whom could improve the Magic's big man rotation. Each of these guys comes with perhaps more serious blemish than the top tier. However, that is not to say there is not sufficient upside in each one of these options. They just all come with risks.
Of these players, the three that most fill what the Magic need are probably Festus Ezeli, Ian Mahinmi and Timofey Mozgov. Though all will likely receive significant paydays, it seems unlikely any get a max-deal. That means the Magic could likely seek to sign another guy rather than restrict this offseason to chasing two max free agents.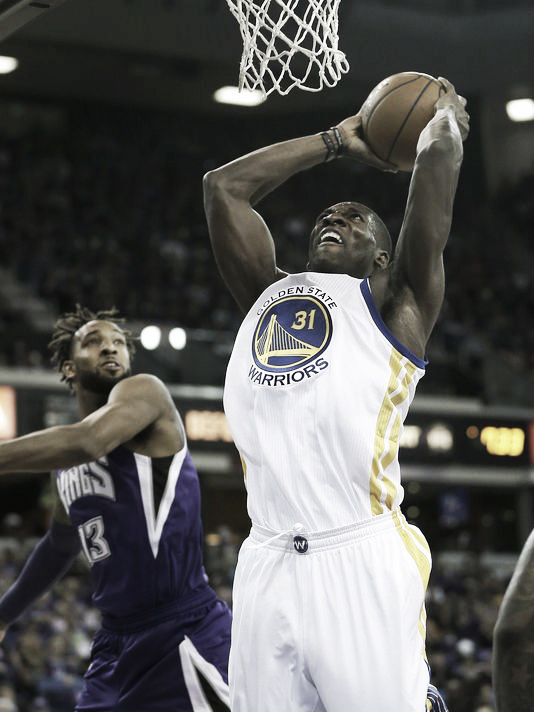 Ezeli is an attractive target because of his age, and also because the Golden State Warriors cannot pay everyone. They may have to let him go on to flourish elsewhere. He is not a big impact statistically, but the legions of fans who have tuned into the Warriors have seen clearly what he can do defensively. He would not be splitting time with Andrew Bogut were he not an equally premier defender in his own right.
Mahinmi may feel some sense of being indebted to the Indiana Pacers, as that is where he has spent the majority of his career and developed into the effective tool he is. His most glaring weakness is his free throw shooting (53.6 percent over his career), but he is a strong defender and can finish well around the basket offensively. He started in all 71 of his appearances this season while averaging 25 minutes a game. Because the Pacers have Myles Turner, they may let him walk. He made $4 million this past season, but his pay is likely to at least double given the increase in cap and also how valuable he is. He also seems like the kind of guy Hennigan would value, for whatever that is worth.
Mozgov and Donatas Motiejunas are both exceptionally gifted, but also both could stick where they are. Motiejunas has been starting for the Houston Rockets in the playoffs and his court stretching is of course valued in this era. Mozgov's fate may hinge largely on what happens with LeBron James, and that statement perhaps applies team-wide to the Cleveland Cavaliers. He is a good rim protector and rebounder, and he would challenge Vucevic for the starting role if both were on the team.
Eventually, a decent time share could be formed as Scott Skiles adjusted his lineups based on the opposition.
Tier Three: Terrence Jones (R), Roy Hibbert, Joakim Noah, Nene
Terrance Jones is a restricted free agent who may be available to a team willing to put down a nice down payment. He made $2.4 million this season and is a potential career starter at the 4-spot. He did have a down season this year, but he can stretch the court and block shots. He is a good athlete and strong finisher who would fit in well in Orlando. It remains to be seen if a team can drive a bargain on him or whether the Houston Rockets would just match. Daryl Morey is also one of the more difficult GMs around the league to actually predict.
Roy Hibbert appears to have little left, and his sulky attitude that accompanies it makes him less attractive still. However, some team will be willing to wager some funds to have a 7-foot-2 backup center who still possesses enough gifts to be dangerous on the blocks. Hibbert seems to have his best ball behind him, but as a bargain backup teams could do a lot worse. He also had a pretty poor season in Los Angeles this year, and the Lakers certainly have enough other options that it is unlikely he is kept around on a team in a full rebuild.
Joakim Noah is an attractive option, but he is coming off severe injury to his shoulder. According to Rotoworld, he is expected to be 100 percent by the start of next season, but that really does not mean the Chicago Bulls are set to part ways with him necessarily.
Given that Pau Gasol is highly unlikely to return to Chicago, Noah may be a priority for the Bulls. He can block shots and is one of the best high past passers (possibly ever). He brings enough skills to the table that he will be a key part of some team's rotation next year, but as to whether he can ever be a full-time starter or not again is less certain.
Nene Hilario is one of the big bodied strong defenders who fills a definite need for the Magic. Orlando lacks guys capable of covering the better back to the basket players, and Nene excels at that. He is a good mid-range shooter, and perhaps the biggest downside really with him is that he is injury prone. He is now 33 years old and appeared in just 57 games this season while averaging only 19 minutes per night.
Nene has hardly positioned himself well given that he averaged under-10 points per game for the first time in a decade. Nene may come at a huge bargain because not a lot of teams will want to throw their lot in on a guy who has not appeared in more than 61 games since the 2011 season.