Scott Skiles is resigning from his role as Orlando Magic head coach after just one season. The Magic made a 10-game improvement in winning 35 games this season, but many considered the season a disappointment since the Magic did not make the postseason. Skiles certainly gave no hint of his resignation in exit interviews.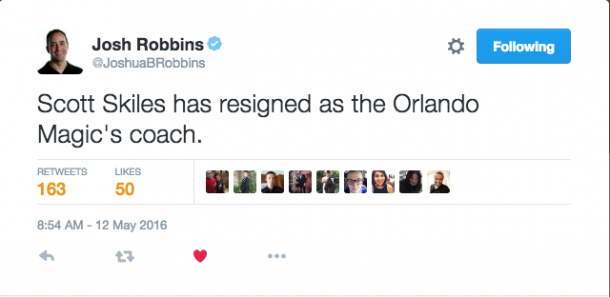 Where will Orlando go from here?
It is unclear where the Magic will go to find its next head coach. The roster is only loosely shaped and the Magic have missed the playoffs for four consecutive seasons. That matches the longest drought in team history. The Magic are certainly at a crossroads now, having to decide which coach is best to proceed in this rebuild.
Ideally, the Magic make the playoffs in 2017, or it may cost GM Rob Hennigan his job with the team as well. Orlando has some talent and can clearly become a formidable team. But as to why Skiles resigned remains somewhat shrouded in mystery given his relative success with the team in 2015-16.
Skiles history as a coach
Skiles had led the Milwaukee Bucks, Phoenix Suns and Chicago Bulls to postseason berths, but that clearly now will not happen in Orlando. His 35-47 record with the Magic leaves it unlikely Skiles goes on to take another job in the immediate future. But the path for Orlando is very muddy at best. The Magic have a glut of young talent but the team needs some veteran leadership. The Magic will have a pick most likely in the late lottery, and Orlando seems all but destined to shop that pick in exchange for an experienced player to guide its young roster.
Many became aware of how much talent was on this roster throughout the year, be it from watching Victor Oladipo score 45 points on 16 of 22 shooting or seeing Aaron Gordon sit in a lounge chair six feet in the air in the 2016 Slam Dunk contest.
There are no real good reasons that the Magic have to accept mediocrity, even if the roster is hardly in a finished state. Evan Fournier also asserted himself as a premier marksman and top scorer, while Nikola Vucevic has his own value as a big rebounder and dangerous inside scorer. Elfrid Payton is an interesting work in progress.
The Magic are not without talent, but they are now without a coach. Hennigan will have to begin looking soon because ideally the Magic have their next head coach in place before the draft.
As to whether that can necessarily happen or not is far less clear. Hennigan has his work cut out for himself this summer.