The Miami Heat have a chance to tie up the series Friday night at the American Airlines Arena.
Wade has the team on his back
Dwyane Wade has effectively taken the reigns for his team so far. He's 34 years old, but he looks as healthy as he did when he won his first championship in 2006. Wade will likely be the primary option for Eric Spoelstra in the next game, considering his ability to take over when the game is on the line. Wade's had a few opportunities where he's taken game-changing shots in the last few games against the Raptors, and that says a lot for someone who has had an injury-ridden career.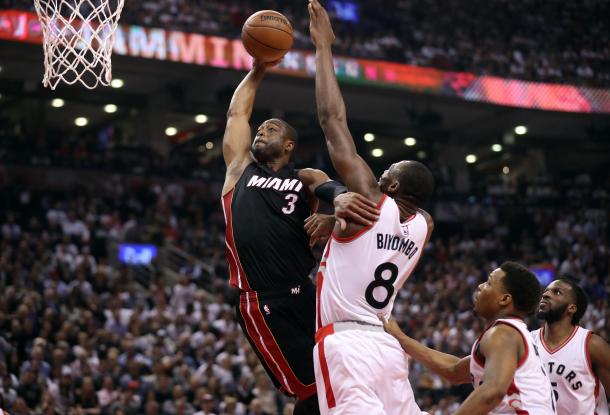 Goran Dragic has been another force for Miami, averaging 17 points per game in the series. He's an impressive scorer, and the Heat will, without a doubt, need him to be aggressive in order to make Game 6 a success. Hassan Whiteside is going to need some sense knocked into him as well, because his defense is a key cog to Spoelstra's rotation. Whiteside is a gifted shot blocker, but he doesn't quite adjust to defensive switches properly, and it has cost the Heat precious stops.
Raptors at a slight disadvantage
The Toronto Raptors are at a loss with DeMarre Carroll potentially being sidelined with a wrist injury. He's their best perimeter defender, and with Luol Deng, Dragic, Joe Johnson and Wade manning the floor, the Heat can be dangerous. Let's not forget the bench players that Miami has in Justise Winslow, Gerald Green, Josh Richardson and Dorell Wright. Miami has some good depth to combat Toronto's lack of perimeter defenders, so there is a lot riding on defense in this coming game.
I'd imagine Dwane Casey isn't too worried about that aspect of his roster, though. Despite Carroll being injured, and Jonas Valanciunas missing the rest of the series, players like Terrence Ross and Bismack Biyombo can fill in and make immediate impacts on both ends of the floor. They're both extremely athletic and are capable of possessing the basketball and fighting to get the rim. Toronto just happens to have lost a bit of its depth with the loss of Carroll and Valanciunas.
Cory Joseph and Norman Powell, though, have more than proven themselves as quality bench players. Both players can score and distribute, which invites all sorts of attention from the Heat's defense.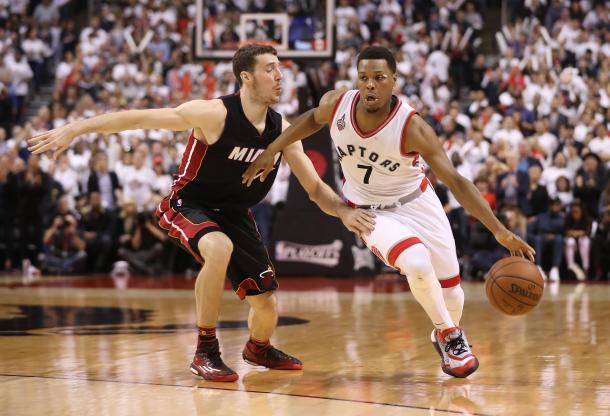 One necessity for Toronto, too, is Kyle Lowry. He's struggled with shooting throughout the playoffs and aside from one game where he shot 11-19 to score 33 points, he's had otherwise poor shooting performances. Granted, Lowry's assist numbers have been consistent, which displays his ability to read his team's movement off of drives and screens. His streaky shooting could cause some problems for Toronto, especially when the opposing team faces elimination at their home court.
Prediction: Raptors to edge Heat in a hard-fought battle.