The Chicago Bulls' Fred Hoiberg experiment was, by and large, a failure—at least thus far. Criticism was high over his irregular player rotations, and the same accountability factors the team had under Tom Thibodeau evaporated into thin air.
The Bulls were lethargic in the latter half of the season, and forward Taj Gibson even complained the team was losing to "trash opponents." That judgment came following a bad loss to the Orlando Magic.
The Bulls will be faced with a wealth of decision regarding its roster. Joakim Noah and Pau Gasol are both free agents (or at least Gasol will be if he fails to exercise his player option). Chicago may let both walk if it seeks to add some younger talent. Rookie big man Bobby Portis, formerly of the Arkansas Razorbacks, showed enough signs that the Bulls can faithfully attempt to develop him.
But even losing Gasol and Noah will not fix the Bulls' cap issues. Naturally, owing the decrepit Derrick Rose two more seasons of 20-plus million is a bit of a setback, but Chicago has not been shy about seeking out deals.
The Bulls were engaged in talks with Orlando centered around Jimmy Butler at the trade deadline, but the Bulls reportedly simply asked too much for the swingman. It is hard to imagine how that could be the case given Butler's status as a top backcourt player.
One can only assume Chicago wanted both Victor Oladipo and Aaron Gordon.
But just because that trade did not come to fruition does not mean that it might not still happen.
Who might the Bulls seek to move?
The Bulls will have options because teams are willing to pay the price for a two-way player as good as Butler. Outside of him, the Bulls also have a few other chips that could be parted with.
Can the Bulls benefit from dealing Butler or even one of its other young players?
Forwards Taj Gibson and Nikola Mirotic certainly have their value. Gibson is one of the best defenders at the 4-spot, and Mirotic is a lethal shooter despite having a bit of a sophomore slump. It might be hard to sell low on either or both of those talents, but Chicago will certainly look to fill some glaring deficiencies in its roster.
All the while, the Bulls will try to outfit Hoiberg with enough talent to regain its foothold in the Eastern Conference.
Chicago owns the worst chances of all lottery teams and is likely to select No. 14 overall in the 2016 draft. That will give Chicago some options to add good talent, and Hoiberg should be able to develop it fully. The Bulls still could benefit from a top guard in this draft. Journeyman E'Twaun Moore had a great season, but the Bulls can gracefully upgrade in the draft. Of course, Moore could stick around as a valuable second unit scorer. It is hard to guess how the Bulls may value his contributions last season.
Accordingly, adding either a point guard or a young big should be on Chicago's checklist.
That can be done via the draft, too.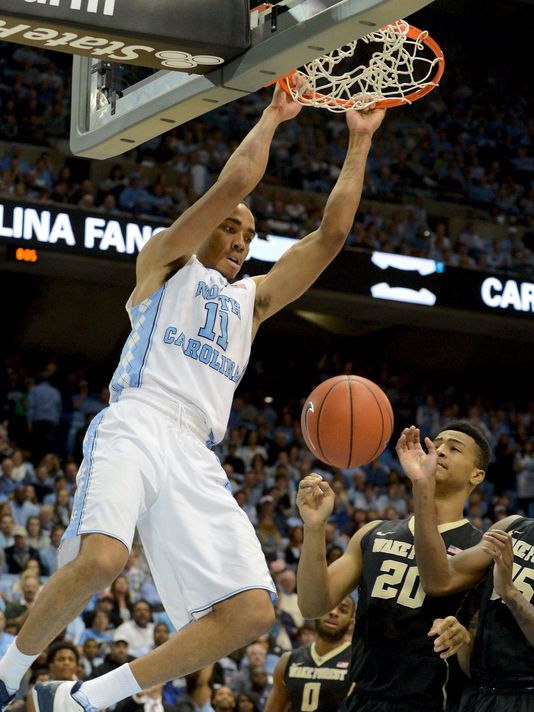 What will be available when Chicago is 'on the clock?'
That means names like Domantas Sabonis, Jakob Poeltl, Brice Johnson and Deyonta Davis will be the top big men likely still on the board.
Sabonis is an interesting pick because he is the son of all-time legend Arvydas Sabonis, who spent his twilight years in the NBA with the Portland Trail Blazers. His son is much the same as him, though not quite as big (6'10" compared to 7'3"). Poeltl could be a nice replacement for Gasol. He is a strong defensive center not unlike Andrew Bogut.
Johnson had a terrific tournament run, showing amazing defensive potential. He seems like a guy who could climb draft boards as the date nears. He also spent four years at UNC, so he should be as NBA ready as a prospect can be.
Davis is a Tom Izzo product and has an NBA body that should allow him to shine quickly.
It is not as though the Bulls will not have some great options for its pick.
If searching for a point guard, the Bulls could go with Dejounte Murray or even trade up for Kris Dunn. Murray is a 6'5" combo guard from Washington and Dunn is considered the top point guard in the class.
Dunn is likely to go in the top-six, so Chicago would need to jostle to obtain him in the draft. He seems to have that "it" factor and teams are salivating at his leadership.
There is also the possibility that the Bulls simply deal this pick. A .500 team can more easily take the leap back to being a playoff contender by simply plugging a couple team needs. Identifying those needs is cathartic enough: Chicago needs strong guard play and replacement big men.
As to how Gar Foreman and Jim Paxson seek to answer those issues is yet to be seen.
But the Bulls are a team certain to make some moves.
Perhaps Holberg takes a foothold in 2016-17 and gets the most out of his roster. Chicago simply is too talented to just blow up the roster, but without the right moves the Bulls will find itself in the dreaded land of "NBA Limbo," or in other words: Too good for the lottery and not good enough for the playoffs.
The same applies to Aaron Brooks. Chicago got blood from oranges.
But can the Bulls add the right pieces and avoid being in NBA limbo?
Avoiding that will prove Chicago's biggest challenge moving forward.