With an opt-out clause in his contract this summer and the dysfunction of his current team, Dwight Howard is being expected by many to leave the Houston Rockets this summer. The former Los Angeles Laker and Orlando Magic player is expected to be in a new uniform next year and teams are expected to hand him a max contract in free agency, no matter how controversial it will be. The salary cap will reportedly extend to about 90 million for the 2016-17 season and teams will be looking to spend.
A lot of teams have been linked to Howard as potential targets to land the center. According to ESPN's Calvin Watkins, some of those teams have already been established as the front runners. Let's take a look at those teams and their chances of landing D-12 and how he could fit.
Charlotte Hornets
Having the Hornets linked to Dwight Howard might come as a surprise but they have the need and the money to sign him. Charlotte has around 35 million coming off the books this summer as the likes of Al Jefferson, Nicolas Batum, Marvin Williams, and Courtney Lee all become free agents this summer. With Jefferson not getting any younger and the two backups in Frank Kaminsky and Tyler Zeller not showing any signs of being post players, the Hornets will have to look for some post options in the summer. That is where Howard comes into play. But it all depends on how the Hornets feel about Jefferson. If they feel that he is still good enough to put up good enough numbers and bounce back from a tough year, then getting Howard doesn't make sense. But if they want to go another route, Howard is a good option for a young Hornets team. Imagine a Kemba Walker and D-12 duo.
Portland Trail Blazers
Although they lost to the Warriors in five games, the Portland Trail Blazers were one of the most fun teams to watch in the NBA this year. Damian Lillard showed he can take over a team as a number one scoring option. Allen Crabbe, Mason Plumlee, and C.J. McCollum all took leaps in their game and took a team that was supposed to be lottery bound to the second round. It was the greatest comeback story in the NBA.
The Blazers have a bunch of cap space coming off the books. Even with Lillard signing a max contract, the Blazers had some players playing on expiring contracts (Crabbe, Gerald Henderson, and Chris Kaman) and with the increased salary cap, could sign some of them to smaller deals and bring in Howard on a max contract as well.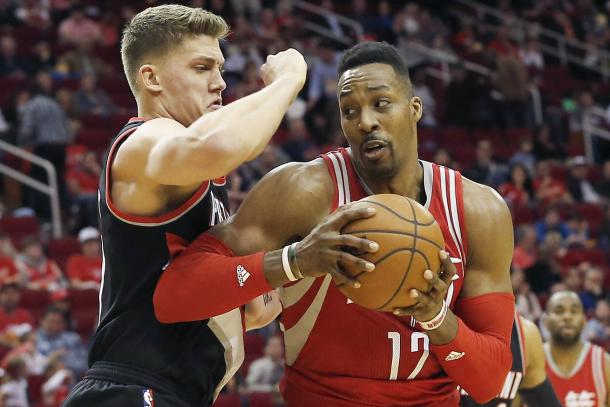 Plumlee and Meyers Leonard, who are the two main options for the Blazers at center, are not post up players and have a very limited offensive game. Granted Portland's offense doesn't run through the center but it always helps if you have a center that can score. Bringing in Howard will change up the offensive scheme as it will take looks away from McCollum and Lillard. Does Portland really want to do that? That will be the question worth asking of the Blazers as they head into free agency this year.
Orlando Magic
Could a reunion between Dwight Howard and the team that drafted him be in place this summer? It could happen. Orlando will be undergoing a change this summer as they have to find a replacement for head coach Scott Skiles who resigned last week. Reasons are relatively unknown to why he left his post but signs point to his rocky relationship with GM Rob Hennigan. The Magic are all geared up for a big free agent signing this summer. They moved Tobias Harris for Brandon Jennings and Ersan Ilyasova expiring contracts at the trade deadline in a clear cap saving move. Almost half of Orlando's salary will come off the books this summer and the best part is that their young core is already locked up. Aaron Gordon, Elfrid Payton, and Nikola Vucevic all have contracts up till the 2018-19 season. Victor Oladipo is locked up till 2017 and Mario Hezonja up until 2020.
Orlando can certainly offer a max contract to Howard but honestly, it may not be the best fit for them. The Magic have a solid player at the five spot with Vucevic and he has played for well for them in his time there. He is locked under contract and deserves some playing time next year. Having Howard there would create a logjam at the center position and possibly push Vucevic to the bench. If he's fine with that, then it may work for the Magic. But it would be hard to imagine a scenario where he would be. In terms of Howard, this would work well. He would be the number one option there and the Magic could feed him the ball in the post all game. But Orlando would have to get some solid three-point shooters for that and that is something they don't really have. A reunion would be nice but who knows if it's the right thing.
Milwaukee Bucks
It's no secret that the Bucks are not exactly happy with Greg Monroe. He hasn't played up to his 16 million a year he is slated to earn next season and shipping him seems like the best option. The Bucks don't have a lot of cap space coming off the books, but with an expanding salary cap and possibly moving Monroe, they could make this work. Milwaukee will be one of the teams to watch next year as the Greek Freak takes another step in his progression to becoming an NBA superstar. He is complemented by Khris Middleton and Jabari Parker. Don't forget about John Henson who also played pretty well for the Bucks when he wasn't injured. Rashad Vaughn could also be thrown in there as well. They are serious contenders to get Howard.
Having Howard would give the Bucks a solid post presence, something they lacked last year with Monroe. With the Greek Freak slated to play point guard, a pick and roll combo of him and Howard would be a nightmare to defend. This would be a huge reach for the Bucks but if they want to contend in what seems like a tough central division, they need to go big.