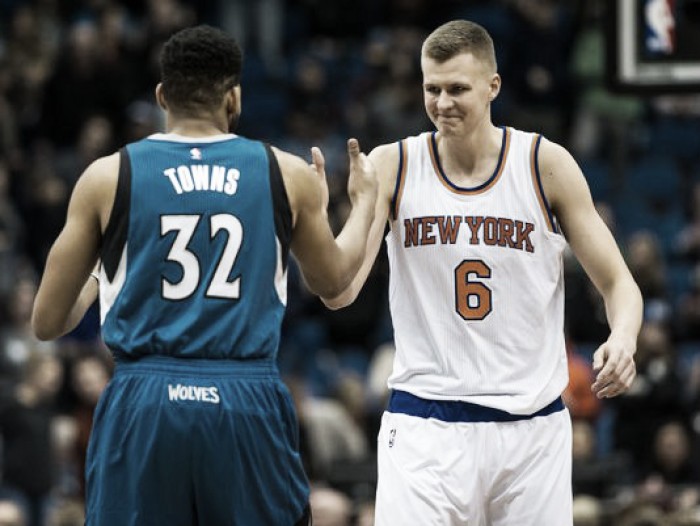 Hindsight is 20/20 we are told. Re-evaluating the way the 2015 NBA draft unfolded can be cathartic.
Not all high picks pan out, nor do all low ones only become mere role players. The 2015 draft was better than most expected, and it may contain a couple true franchise cornerstones.
The Minnesota Timberwolves added possibly the next Tim Duncan with the No. 1 overall pick, and the New York Knicks hit gold with a Latvian prospect who could become a perennial All-Star.
But what of the rest of the lottery? Do the top-14 picks resemble the way it unfolded or were some guys substantially devalued by sub-par rookie years?
Naturally, the situation these rookies landed in had everything to do with their successes (or failures). Let us delve into a redraft to see how it all shakes out.
Pick No. 1 Minnesota Timberwolves: Karl-Anthony Towns
Originally drafted: 1st overall
The 2015-16 Rookie of the Year naturally clocks in at No. 1 in these rankings. Karl-Anthony Towns so vastly performed the average rookie that he boasted a PER of 22.59 (15.00 is the average for the position). Towns posted averages of 18.3 points 10.5 rebounds and 1.7 blocks per game. Comparisons to NBA legend Tim Duncan are not inappropriate.
Towns is only 20 years of age, as well, meaning the progression to evolve into a franchise cornerstone is there. The Minnesota Timberwolves are in the luxurious position of having two top-flight youngsters with Andrew Wiggins being the other half of an equation that even lured Tom Thibodeau into coaching them.
The future is very bright in Minnesota, and Towns is already a superstar, really. A telling Twitter poll revealed that 80 percent of voters would prefer Towns to mega-star Anthony Davis of the New Orleans Pelicans.
That speaks volumes, even if the poll was an informal sampling of random Twitter heads.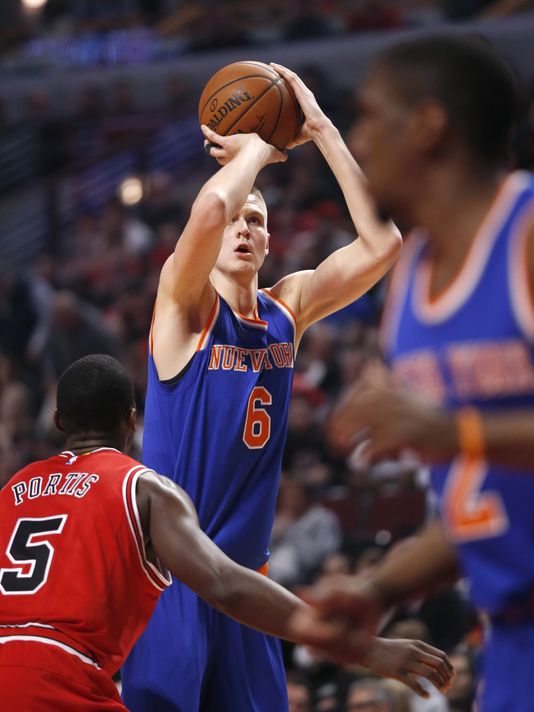 Pick No. 2 Los Angeles Lakers: Kristaps Porzingis
Originally Drafted: 4th overall
Kristaps Porzingis quickly established himself as both a freak of nature and a future superstar in his rookie season. In many senses, watching Porzingis harkens highlights of Andrei Kirilenko and Ralph Sampson. Porzingis is 7-foot-3 and his length can absolutely devastate opposing teams trying to find passing lanes. Porzingis is also an excellent rim protector.
The chance for him to make First-team All-Defensive is there.
Porzingis also has a beautiful jumper. He averaged 14.3 points, 7.3 rebounds and 1.9 blocks per game this season. He connected on 33 percent of his triples, but that figure will likely improve given the fluidity and form he possesses.
Porzingis at times tried to do too much, but that is more admirable than a guy who passes on shots. He kept his turnovers down (just 1.7 per game) and became an effective second-chair next to Carmelo Anthony. The Knicks had a disappointing season, but Porzingis' future could not be any brighter.
Pick No. 3 Philadelphia 76ers: Jahlil Okafor
Originally Drafted: 3rd overall
The Philadelphia 76ers go with their actual choice in this draft, too. Jahlil Okafor almost seems like a better fit for a previous era, because his classic post game has the chance to go unappreciated in today's era of the three ball. Okafor is a great scorer but notoriously poor defender, which also is the reason he falls behind both Towns and Porzingis in this redraft. He led the Sixers in scoring this season but is still said to be on the trade market now that Philly has landed the No. 1 overall pick.
Should Philly fall in love with the sky-high ceiling of Ben Simmons, Okafor may be on the way out.
Joel Embiid's apparent clear bill of health could only accelerate the dealing of Okafor. That perhaps is unfortunate, but he could be a key fixture in an inside-outside offense. Is his talent befitting of structuring a team around him? That is uncertain, but Okafor is too talented not to remain a fixture on some team, be it Philly or wherever he ends up.
Pick No. 4 New York Knicks: D'Angelo Russell
Originally drafted: 2nd overall
The New York Knicks were said to covet D'Angelo Russell prior to the draft, but they opted to go with Porzingis obviously. Russell would be a good fit in New York and the Knicks do need a point guard given that this season was stop-gap play of the aged Jose Calderón.
Russell seems like he would be a good fit for the triangle offense, perhaps even as a secondary ball handler, given that Carmelo Anthony commands so much usage. The Knicks could benefit from having an explosive scorer, and Russell could be that in time.
There is the negative that he snitched on teammate Nick Young, and that looms as an issue because he basically now has proven himself to be untrustworthy as a teammate. If he overcomes that, Russell can still be a top player in this draft.
To be clear, this No. 4 pick is about what he has done, not what may or may not come in the future.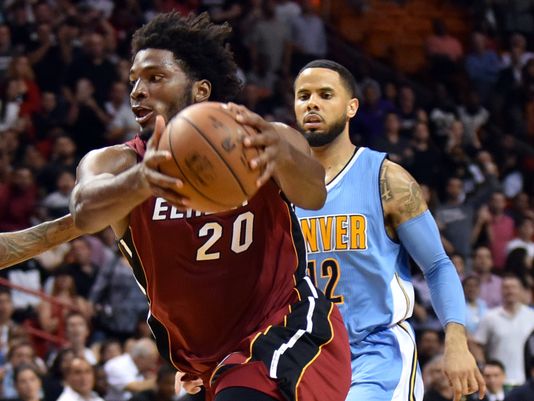 Pick No. 5 Orlando Magic: Justise Winslow
Originally drafted: 10th overall
Duke phenom Justise Winslow showed himself to be a lock-down defender from day one. Winslow stays within himself and is so good that the Miami Heat opted to play him at center in its series with the Toronto Raptors. Winslow looked like a player mature beyond his years, and his poise is no doubt one of his best attributes, especially on the defensive end.
Winslow will be a candidate someday for the Defensive Player of the Year award. That is almost a sure bet.
Comparisons to a version of Kawhi Leonard "lite" are certainly plausible given Winslow's great two-way potential. Perhaps he could even pan out to be a No. 2 option on a contending team in a handful of years from now. His jumper needs refining, but his form is not bad, despite shooting just 28 percent from behind the arc this season. Winslow nevertheless deeply impacts games without gaudy stats to back him up. That is often the mark of a defender who plays sound, only making defensive plays when the opportunity arises.
Winslow is a smart player and will be a career starter at the very minimum. Luol Deng is absolutely on his last legs, and Winslow is the heir apparent.
Pick No. 6 Sacramento Kings: Mario Hezonja
Originally drafted: 5th overall
Mario Hezonja would just be one more scorer on a dysfunctional Sacramento Kings team. In all seriousness, he is an easy upgrade over a disappointing Ben McLemore. The Kings have been searching for an answer at 2-guard and Hezonja's promise indicates he could be a major scorer in the future. He took time adjusting to the NBA, and the argument could be made that Scott Skiles held him back for most of the year.
When Hezonja started to get minutes he shined brightly, even if he did make the typical rookie mistakes. He is the best Croatian player since Toni Kukoc, and Croatia has produced some legendary talent like the late Drazen Petrovic and Euro legend Arvydas Sabonis.
Can Hezonja be that good? Yes. He absolutely can be.
Pick No. 7 Denver Nuggets: Emmanuel Mudiay
Originally drafted: 7th overall
The Denver Nuggets loved Emmanuel Mudiay so much that they parted with a highly-productive Ty Lawson after drafting him. Denver made the right move. Mudiay is a strong defender and can lead in transition as well as any guard in the league.
He shot a poor percentage from the field, just 36.4 percent, but Mudiay also led the Nuggets in field goal attempts, putting up 13.3 a game. He is a guy who is best with the ball in his hands, but if the Nuggets play their cards right they could align the pieces necessary to make a playoff push.
Mudiay certainly lived up to the high billing he had, but given the team needs of the previous picks, he still would fall to Denver as a bargain at No. 7 overall. Finding point guards that are natural and gifted is not easy to do, and the Nuggets now just start moving the pieces and tinkering to find a way to get Mudiay more athletes and wing players to feed.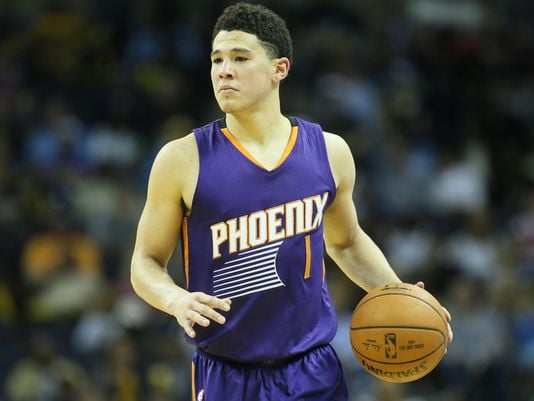 Pick No. 8 Detroit Pistons: Devin Booker
Originally drafted: 13th overall
The Phoenix Suns absolutely struck gold late in the lottery when they drafted Devin Booker. He now could be the 2-guard of the future, and once again the Suns have a glut of talent in their backcourt. Eric Bledsoe and Brandon Knight are both quality starters on a good team.
So, Phoenix may seek to move one of its guards, but there is also no harm whatsoever in keeping a great 3-guard rotation.
Booker absolutely lit it up after the All-Star break, showing that the Suns offense can facilitate a great shooter. People knew he could shoot, but most had no idea he could be a fixture in an offense. It might be that Phoenix moves Knight, but the Suns really seem to accelerate guard development. Booker, however, is talented enough that he could start on the Pistons instead of Kentavious Caldwell-Pope. Detroit also needs shooting badly and Booker's best trait is his ability to fill it up as a gunner.
Pick No. 9 Charlotte Hornets: Myles Turner
Originally drafted: 12th overall
Myles Turner drew comparisons to LaMarcus Aldridge prior to last year's draft, but the reality is that Turner is a rim protecting defensive demon. Aldridge is not.
Turner earned himself a starting role late in the season with the Pacers, and it looked as though he and Ian Mahinmi could be a great duo, especially defensively.
Turner has terrific shooting range and can easily play the stretch-4 role that has become so common in the league now.
When asked whether he was a 4 or 5, he simply said "I'm a basketball player. Positions don't matter."
That proved true, and the Pacers now have the option of letting Mahinmi walk in free agency and then simply plug Turner in as the 5 next season. Indy got a good one, and the Hornets would benefit similarly.
There is absolutely no argument to be made that Turner is not far better than Frank Kaminsky. He is just as gifted offensively and his feet can actually move laterally to cover quicker players on defensive switches. Really, as good as Turner can be on the offensive end, his defensive potential is what makes him drive up three spots in this redraft.
Pick No. 10 Miami Heat: Stanley Johnson
Originally drafted: 8th overall
Arizona product Stanley Johnson essentially is the pick based on team needs and the fact that Winslow is not available in this particular scenario. Johnson is going to be a defensive pest, and Stan Van Gundy even had to dial him back after he started running his mouth about covering LeBron James.
We love the confidence, though, and Johnson has plenty of it. His defensive efforts are stronger than his actual talents, but since defense is mostly effort he should thrive in due time. It is doubtful Johnson ever becomes more than a really good role player, but we are past the point where the draft is producing sure-fire career starters. Johnson still may be one, too.
Pick No. 11 Indiana Pacers: Trey Lyles
Originally Drafted: 12th overall
Given that Myles Turner is no longer on the board, the Indiana Pacers simply do the next best thing and fill the 4/5 gap that exists with former Kentucky Wildcats forward Trey Lyles. Lyles is a prototypical stretch-4 and his shooting proved to be far better than expected as he hit 38 percent from three-point range in his rookie season.
Lyles saw just 17 minutes per game, but he averaged six points and three boards while showing the flashes of talent that could render him a career starter.
That jury is still out. What Lyles is though, is a lot like Thaddeus Young, who has proven to be an interesting power forward whose skill set and stature is much like Lyles. If he ascends to that level of success, he is certainly worth the late lottery pick that would be expended here.
Pick No. 12 Utah Jazz: Cameron Payne
Originally Drafted: 14th overall
The Utah Jazz are searching for answers at point guard. On an otherwise well-rounded roster, the 1 spot is the last thing left for the Jazz to solve.
Trade acquisition Shelvin Mack showed he has the talent to be a rotation player, but the Jazz would benefit a lot from having a top point guard prospect. Dante Exum is still a mystery box, and Trey Burke is likely already at his ceiling.
Payne's development has been slower, too, because he plays behind Russell Westbrook. But he would be the best healthy guard in Utah's rotation.
The Jazz have been waiting on an injured Dante Exum, but in the meantime, they could have tried their luck with Payne. He spent his college years at mid-major program Murray State and that caused him to fly under the radar in the 2015 draft, but his ball handling and basketball IQ keep him in the lottery.
Pick No. 13 Phoenix Suns: Jerian Grant
Originally Drafted: 19th overall
Jerian Grant is the son of former NBA player Harvey Grant, and he is totally different from both Harvey and his uncle Horace Grant. Jerian is a 6'4" point guard with the size to shift to the 2-spot if the Suns went small. He can even play small forward in a pinch.
Grant would be a perfect fit in Phoenix's crowded backcourt, but as the fourth guard in the rotation, the Suns could be patient with his development.
Grant averaged 5.6 points and 2.3 assists per game in 16 minutes per night. But he closed the season firm and strong, averaging 30.8 minutes per game over the final two months of the season. He averaged 14.5 points and 3.7 assists per game over that span. Grant is a rotation guard whose value in a second unit could become indispensable. It is not hard to imagine Grant becoming one of the better sixth men in the league.
Pick No. 14 Oklahoma City Thunder: Frank Kaminsky
Originally Drafted: 9th overall
Frank Kaminsky is the pick here simply because the Thunder both need more shooting and because he would be able to hide defensively behind Serge Ibaka and Steven Adams, depending on who had the duty of remaining in the game in the second and third quarters. Kaminsky is a good stretch-4/5, but he is certainly limited defensively by his slow feet and "short" stature as a seven-footer whose wingspan barely is his height.
Kaminsky is mature though, and he would be a rotation player fighting for time with the also poor-defending Enes Kanter in this situation.
Of course, the Thunder have long extracted production from the likes of Nick Collison, so picturing Kaminsky thriving in their offense is not hard.
He is a steady and solid player with limited upside, but that is fine on a contending team.