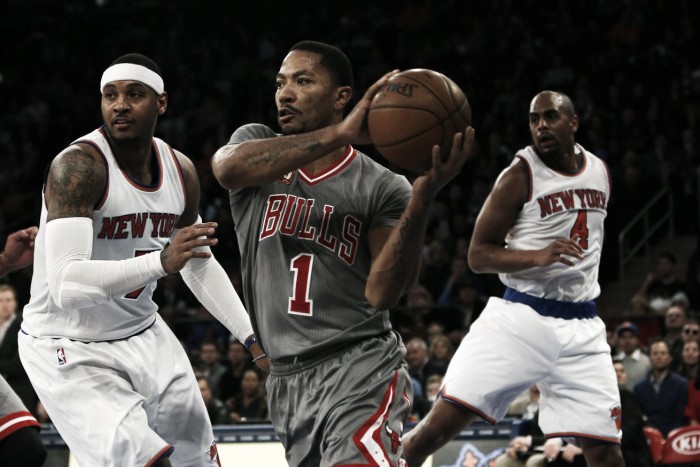 Derrick Rose, once one of the league's best players, and one of the league's superstars has had his career derailed by injuries.
The New York Knicks have had a similar fate. Carmelo Anthony signing with the team gave New York some hope for the long term, but the team has continued to struggle. Anthony, like Rose, has faced injuries in recent years that have highlighted the struggles the Knicks have had.
So now the two will combine. The Knicks agreed to acquire the injury prone Rose as well as Justin Holiday and a 2017 2nd round draft selection for Robin Lopez, Jerian Grant and Jose Calderon.
Chicago Bulls burning bridges, building roads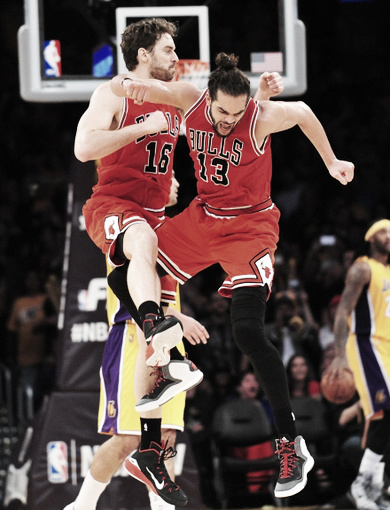 The Chicago Bulls, now Rose's former team, are once again rebuilding, after emerging from the Rose era fruitless. The team will almost certainly be letting either or both of Pau Gasol and Joakim Noah hit the open market, Jimmy Butler may still be on the block as has been rumored in recent days and weeks, and Rose is now officially off of the team.
Arguably the four best players left on the Bulls (assuming each of the other three leave) would be Bobby Portis, Doug McDermott, Tony Snell and Spencer Dinwiddie. They also have Nikola Mirotic and Taj Gibson, who have been bench players on the team the last couple of years, and could be passing their primes.
Chicago is undoubtedly going through a rebuild, and they should have a lot of a lot of money to hand out in free agency should they choose to do so, but where do they start? The team is still a place that free agents may want to go to due to it's rich history, but since Tom Thibodeau was let go, the team has struggled, even missing the playoffs this past season behind the rival Detroit Pistons who captured the eight seed this season.
This trade signifies the beginning of a rebuild that the Bulls likely hope to be centered around Jimmy Butler, but will he be able to lead Chicago back to the playoffs with a weak supporting cast, let alone another championship?
It doesn't seem likely at this point, however getting some value from Rose in Lopez, Grant and Calderon is a start. If Chicago can develop the former Notre Dame prospect into a starting point guard, Lopez can produce better in Chicago than New York, and Butler stays, Chicago could be much closer than we realize if they make good draft decisions.
Knicks need Carmelo and Rose to stick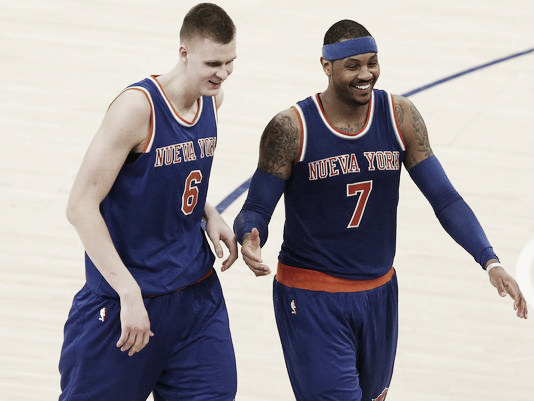 The New York Knicks need Carmelo Anthony, Derrick Rose, and Kristaps Porzingis to be injury free in order to contend for a playoff spot next year. It's quite simple really, but it seems to be too much to ask in recent years.
Rose is a solid fit in New York, where he has someone to share the scoring touch with - like he did Jimmy Butler in Chicago. He has a solid post scorer in Porzingis like he did with Gasol and Noah, and he is in a place that appears to be improving after struggles in recent years.
If the Knicks can get Anthony to stay, Rose to stay healthy, Porzingis to continue to develop, and acquire another player for the shot guard position via the draft or free agency, the Knicks may be able to return to relevance and contention for the first time in years.