 The Atlanta Hawks took care of business on Wednesday night with a 117-106 victory over the recently-successful Denver Nuggets. Atlanta improves to 31-22 with the win, which places them squarely in the middle of the playoff race in an ever-changing Eastern Conference. This was also an especially important game for the Hawks as they head out on a two-week long road trip.
The Nuggets, meanwhile, dropped to 23-29 on the season, which is good for eighth in the Western Conference. They have been hot as of late, but are currently dealing with injuries to Danilo Gallinari and Kenneth Faried, who got hurt in this one.
The Schroder Show
The play of point guard Dennis Schroder continues to be the key to the Hawks' success (or failure) this year. While veteran Paul Millsap is the steady anchor, Schroder has the ability to take over the game or can struggle under pressure. Tonight, he was a catalyst, producing 24 points, 10 assists, and five rebounds on 10-for-19 shooting. Performances like these provide optimism for the Hawks, who let go of Jeff Teague and handed the keys to Schroder this past offseason.
It was another balanced effort for Atlanta, and the aforementioned Millsap filled it up with 23 points, six rebounds, and five assists. He continues to prove why his all-star selection was well-deserved. Tim Hardaway Jr. and Kent Bazemore each added 14 points, while rookie DeAndre Bembry had 10 points. The play of the wings was a concern early in the season, but each of them has found more consistency in 2017. Additionally, Dwight Howard posted another double-double recording 11 points and 13 rebounds.
No Defense, No Win
It is clear that the Nuggets have enough offensive pieces to compete on a nightly basis, but their lackluster defense has been the reason for many of their losses. Coming into tonight, they actually ranked dead last in the NBA in defensive efficiency. Thus was the case against Atlanta, who were able to score 72 in the first half and led by 17, but only won the game by 11.
Wilson Chandler was on fire all night, shooting 4-for-7 from three-point range and scoring 24 points overall. The young big man Nikola Jokic also flashed his unique skillset, scoring 18 points and grabbing 15 rebounds over Howard in the middle. His passing ability is special for someone of his size, and he will be a cornerstone for this Nuggets franchise going forward. Unfortunately for Denver, fellow big Kenneth Faried sprained his ankle early in the game and will more than likely miss time.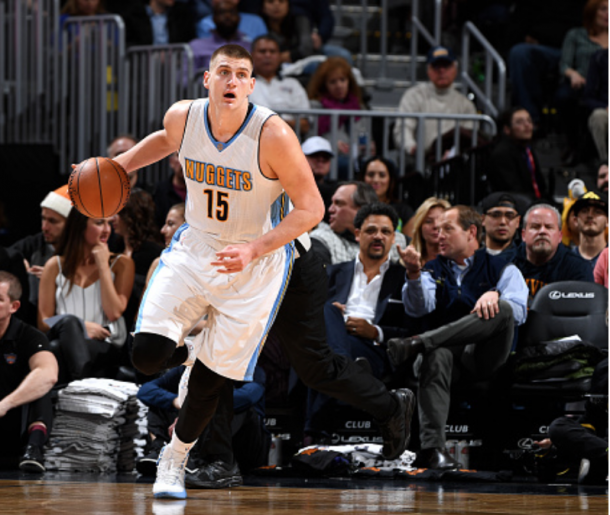 Will Barton ended up with 17 points on the night, but they didn't come without their fair share of misses. He actually shot 0-for-9 from beyond the arc and forced up several bad shots that Denver coach Mike Malone was surely not pleased with. He can flat out score when he's hot, but he tends to overdo things when he's cold like tonight.
Next Up
The Nuggets are back in action on Friday night at Madison Square Garden, where they will face Kristaps Porzingis and the struggling New York Knicks.
The Hawks also start their road trip that will last them two weeks on Friday at the Sacramento Kings.