 A season ago, former Kansas Jayhawks SF/PF Josh Jackson entered the collegiate ranks as one of the most highly regarded high school recruits in the country, with ESPN ranking him second on their top 100 prospects list. After a controversial, but successful stint in Lawrence, Jackson found himself once again near the top of another prospects list. This time, DraftExpress.com slotted him as the fourth overall pick in their 2017 NBA Mock Draft. An athletic two-way player, Jackson has the ability to make an immediate impact on any team that drafts him.
Strengths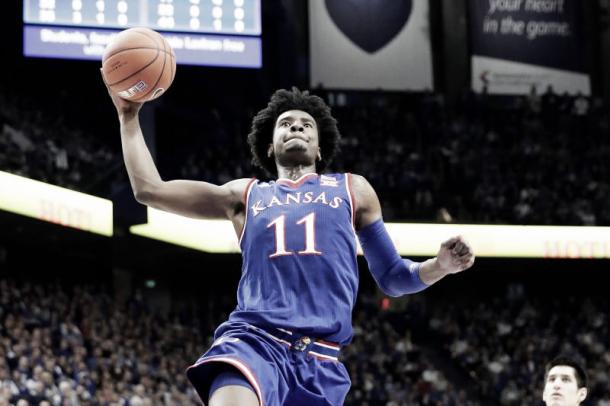 The 6-foot-8 Jackson possesses a diverse offensive skillset. In his lone season for the Jayhawks, he averaged 16.3 points per game and shot 51 percent from the field. Jackson can shoot spot up jumpers, create space off the dribble, and can finish around the basket in both the half-court and in transition. He also has an explosive first step when defenders close out on his jumper; that athleticism serves him well on the fast break as well. Jackson is more than just a shooter; he exhibits good court vision when help defenders close in on him; Jackson had a 19.6 assist rate and averaged three dimes per game last year.
With 2.2 defensive win shares in 2016, Jackson established himself as a great two-way player in college. He has good footwork, quick hands for steals, and enough length and athleticism to close out quickly on shooters. Despite his average wingspan, Jackson's leaping ability allowed him to block shots; he rejected 1.1 per game last year. Jackson's height and athletic ability helped him a great deal on the glass; he grabbed 7.4 rebounds per game at Kansas.
Whichever team drafts Jackson will admire his passion and competitive drive. He doesn't take plays off and fights for loose balls. Teams will also get a versatile player who can slide into the small or power forward positions.
Weaknesses
As manifold as Jackson's offensive game is, he has room to improve. The 20-year-old shot 37 percent from three-point range at Kansas, better than league average in the pro ranks. However, the former McDonald's All-American's shooting form was inconsistent, causing him to leave some shots short. As most players with a developing shot tend to do, Jackson often passed up open looks from downtown and settled for contested two pointers. Those type of shots are not conducive to today's NBA game. His free throw shooting needs to improve as well; 56 percent will not cut it in the pros. While Jackson used his superior athleticism to create space or attack the rim in college, he may find those tasks more difficult against bigger, faster, and savvier NBA defenders. Unfortunately, Jackson does not have the ball handling skills to regularly create his own shot. His limited cache of dribble moves can cause him to stall the offense, leading to poor decisions (2.8 turnovers per game).
At just 207 pounds, Jackson's lack of girth could cause him problems. On offense, opponents can push him around and make it tougher for him to finish at the rim. On defense, larger players can back him down and punish him under the basket. Jackson only has a 6-foot-9 wingspan, not particularly long considering his size. Lankier big men can bother his shot and he will struggle to protect the rim in small ball lineups.
Jackson has also shown that his emotions can get the better of him. It has led to silly unnecessary fouls during games; he collected four or more in 11 of 35 contests in 2016. Off the court, Jackson was charged with a misdemeanor for allegedly kicking the car of Kansas women's basketball player McKenzie Calvert in December after an altercation involving the two and Jayhawks guard LeGerald Vick. The handling of the case was murky and Jackson was not punished publicly for the incident (although Calvert saw her playing time cut). That said, the charges highlight the drawbacks of Jackson's fiery personality.
NBA Comparison: Chicago Bulls Swingman Jimmy Butler
When Jimmy Butler entered the league, he carried a reputation as an excellent defender with a limited offensive skillset. Three seasons later, "Jimmy Buckets" evolved into one of the premier two-way players in the association. Butler can play the isolation game, post up on smaller defenders, play off the ball when needed and has an innate ability to get to the free throw line. On top of that, Butler is an outstanding perimeter defender and can guard multiple positions. Like Butler, Jackson is a great athlete with a high motor who can defend both guards and forwards. His offensive game still needs work, but he is further along than Butler was when he came out of Marquette.
Best NBA Fit
An abundance of teams could use the services of an athletic, all-purpose forward. The Boston Celtics, who just traded down to number three, could use a springy, swiss army knife swingman with Amir Johnson set for free agency this year and Avery Bradley set to hit the open market at the end of next season. He could step in and give the Celtics quality minutes and eventually replace Jae Crowder at the three or play with him in small ball lineups (unless the team signs Gordon Hayward).
The Phoenix Suns, who DraftExpress.com predicts will select Jackon at No. 4, seem like another good fit. Earl Watson's club is loaded with young, raw talent. Jackson may have to compete for playing time with T.J. Warren and Marquese Chriss, but he has the talent to aid a Phoenix defense that ranked 22nd in offensive rating and 28th in points allowed per 100 possessions.
At the end of the day, Jackson might be a team's second choice once Duke's Jayson Tatum comes off the board, but the former Jayhawk is one heck of a consolation prize.
Potential All-Star?
At worst, Jackson will be a good athletic defending swingman with an inconsistent offensive game. He will not be a black hole on offense by any means, but he needs to continue developing on that side of the ball in order to become a top level player. If Jackson can do that, channel his emotions and put on some weight, he could become one of the best two-way players in the NBA. Like the other players expected to get picked in the top five, Jackson has a good chance to blossom into a star.
Prediction
Jackson is a safe bet to be taken in the top five. The Suns seem like the best candidate to pick Jackson at number four. With Eric Bledsoe and Devin Booker in the backcourt, they do not need another young guard. Plus, he has more upside than the aforementioned Warren and Jared Dudley at the small forward position. Jackson may have to wait for Tatum's name to be called first, but he will provide an NBA team with a serviceable role player at worst and a potential All-Star at best.