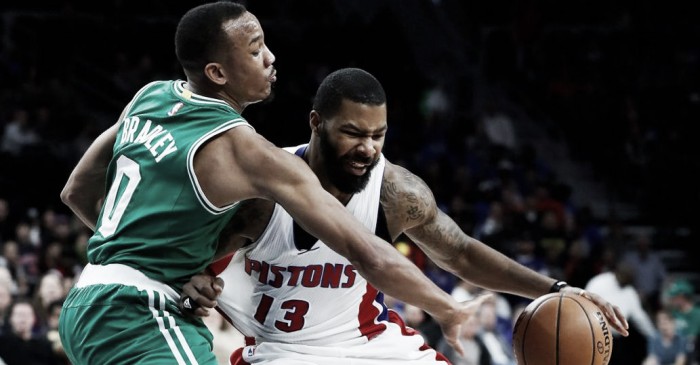 The Detroit Pistons have made their biggest move of the off-season to date, as they have agreed to a swap with the Boston Celtics that sends small forward/power forward Marcus Morris to Boston in exchange for shooting guard Avery Bradley and a 2019 second round draft selection.
Immediate impacts of the trade:
What this trade does for both teams immediately makes sense for both sides. For the Celtics, they free up about 15 million in cap space that allows them to sign Gordon Hayward from the Utah Jazz in unrestricted free agency. Also, after losing Amir Johnson in free agency earlier this week after he agreed to a deal with the Philadelphia 76ers, the Celtics needed a forward to replace him and get arguably an upgrade in Marcus Morris.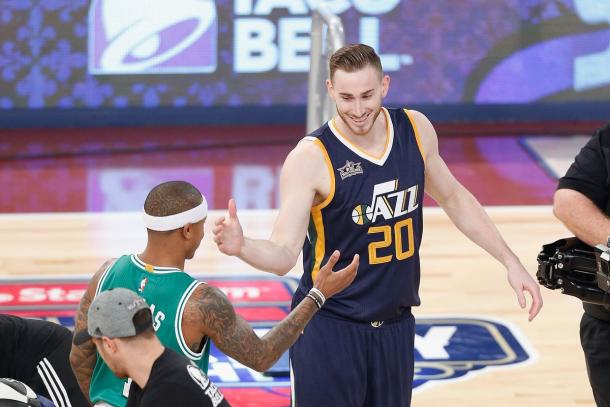 For the Pistons, after signing Langston Galloway to a deal worth $7,000,000 per year average annual value (AAV), they lacked enough space to bring back their starting shooting guard Kentavious Caldwell-Pope in restricted free agency. Acquiring Bradley fixes that problem while keeping them under the cap after the Pistons renounced his salary earlier today to make room.
Short term impacts of the trade:
Heading into the short term, this trade does a couple of key things for each team. Starting with the Pistons this time, the move gives them a new backcourt mate for Reggie Jackson or Ish Smith. Jackson and Caldwell-Pope didn't have the best year together in the backcourt for the Pistons, and that was arguably part of the reason they missed the playoffs this past season. The Pistons are getting a player in Bradley who averaged 2.5 more points per game (PPG), about the same assists per game (APG) and about 3 more rebounds per game (RPG). Bradley's PER of about 14.52 is quite a bit of an improvement over Kentavious Caldwell-Pope's 12.90 from last year as well. He's also a much more efficient shooter at 46.3% from the field with a 39% three-point percentage. About 5% higher than Caldwell-Pope's numbers at 40% and 35% from the three point line.
Bradley doesn't look as good in advanced statistics compared to Caldwell-Pope as he does in regular statistics, however. Bradley's WAR of around 1.89 (found from taking his VORP of .7 multiplied by 2.7) is quite a bit behind Caldwell-Pope's mark of 4.86, in part due to Bradley's playing in only 55 games compared to Caldwell-Pope's 76 last year. His box plus minus is also quite a bit behind at -.5 compared to Caldwell-Pope's .9 figure.
There are still some advanced stats in Bradley's favor though, including true shooting percentage (.548 vs. .519), and his plus minus on the floor per 100 possessions is also much better (1.4 vs. -3.7). Other stats that lean Bradley's way include Effective Field Goal% (.533 vs. .481) and two-point field goal percentage, which leans heavily Bradley's way, with a 50.4% vs. 44.2%.
As for the Celtics side, the move is a bit more monetary based, however Morris does not present that much of a drop off from Amir Johnson, and he's signed to a very team-friendly deal as well. The move keeps them close to the top of the conference and in a position to make another run back to the conference finals once again. Morris can step in and contribute immediately at the 4 spot, but the main objective of the deal was to clear cap space for Gordon Hayward.
Long-term impacts of the trade:
The biggest long-term impact is that Gordon Hayward can now sign his four-year deal, locking him up in Boston for the long haul. They also get Morris signed through the 2018-19 season as well on an inexpensive deal, which allows them flexibility next offseason as well as when his deal expires in the 2019 offseason.
On the Pistons side, there are quite a bit more hidden impacts than what meets the eye. The Pistons have built their best teams based on lock down defense. The "Bad Boys" era and the "Goin' To Work" era were both based mainly on defensive prowess. With the team moving back to downtown Detroit and Little Caesars Arena this year, Stan Van Gundy shaking up the roster and bringing in some defense was a move that will benefit the Pistons all season and should make them a playoff contender at the very least in a conference that's weakened this off-season.
While the Pistons don't figure to challenge the Cleveland Cavaliers quite yet at the top, they can be in play for a middle of the pack playoff seed and win their first playoff series (and game, for that matter) since 2007-2008, ten years ago. Should the Pistons be able to win a playoff game (or possibly even series), it would be a great start to their new future in downtown Detroit, and would get fans excited, bring a new energy to Pistons games once again, and potentially even attract star talent to Detroit for the first time since the Chauncey Billups for Allen Iverson deal.
While it may just be the start for both team's who figure to only be just beginning, it's a promising way for both teams to rebuild themselves while staying in contention this season. Maybe later this season there's a Pistons-Celtics playoffs series in store? While it may not be Larry Bird and Isiah Thomas anymore, history has a chance to repeat itself if both teams continue to play their cards right with Stan Van Gundy and Danny Ainge in charge.