 The Atlanta Hawks improved their frontcourt depth on Tuesday, signing 7-footer DeWayne Dedmon to a 2-year, $14 million deal according to Shams Charania. The contract includes a player option, meaning Dedmon can re-enter the open market next offseason if he chooses.
Hawks' general manager Travis Schlenk recently emphasized the need for more big men, stating that a center was going to be signed along with one or two power forwards. Mike Muscala and Miles Plumlee are the other centers on the Hawks roster, but neither provide the same skills that Dedmon does.
An Underrated Acquisition?
Dedmon started 37 games last season for the highly successful San Antonio Spurs squad, and he provided several qualities that make him a fit in the modern NBA game. His length makes him a solid rim protector on the defensive end, while his agility allows him to run the floor with ease.
He was also key on the glass, where he averaged 6.5 rebounds per game to go along with 5.1 points in 17.5 minutes. He will almost surely see more playing time than that in Atlanta, and his fit in Coach Mike Budenholzer's system should allow him to thrive like he did in San Antonio.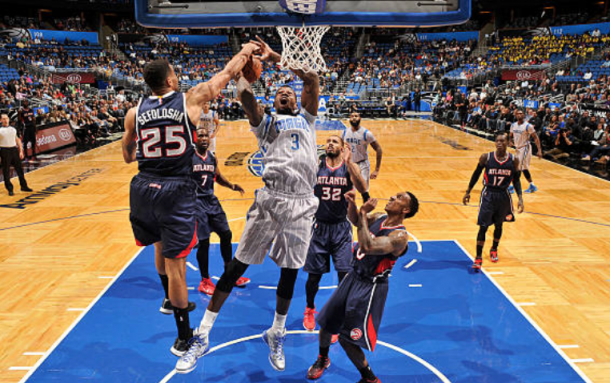 Atlanta's Center Rotation
The aforementioned Muscala and Plumlee will get their fair share of minutes at the center position too, but it is unknown which player will emerge as the eventual starter. Muscala is the best shooter out of the three, so he will garner minutes because of that. Is is also possible that he could see some time at the 4 alongside Dedmon or Plumlee.
Plumlee is the most physical of the three, gaining much of his value through rebounding and maneuvering the paint. The Hawks took on his unsightly $12.5 million contract in order to get Dwight Howard out of town, but he still has some potential value to bring to a thin depth chart.
Dedmon's defensive abilities and athleticism fit the description that Schlenk has been using all summer for his potential free agent targets, so it is no surprise that this deal took place. $7 million will likely be a bargain for the Hawks, and they will maintain financial flexibility next offseason if/when he opts out.