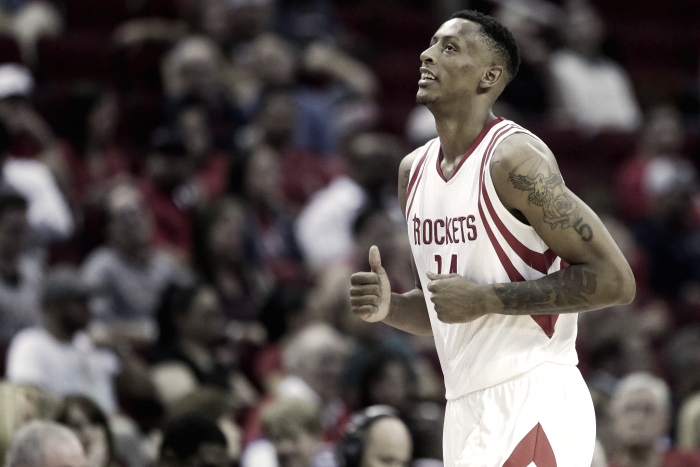 The Houston Rockets just keep making moves. Amid ongoing Carmelo Anthony rumors, they have signed both Troy Williams to a three year deal and Bobby Brown, although the latter's contract length has not yet been disclosed. Williams is an undrafted second year player from Indiana University, while Brown has played seven seasons overseas.
Sources: Troy Williams has agreed to a 3-year deal with Rockets, including a guaranteed first year and trigger dates for second and third.

— Adrian Wojnarowski (@wojespn) July 20, 2017
Williams is definitely deserving of a shot to prove his worth for the Rockets. After his time with the Memphis Grizzlies and their D-League affiliate Iowa Energy, Houston signed him to a 10 day contract. He was immediately put on their D-League team, the Rio Grande Valley Vipers, where he excelled; he averaged 19.8 points and 28.9 minutes per game, while knocking down 35.4 percent from deep. In his six games with the Rockets, he averaged 9.7 points and 23.2 minutes per game, while making 38.1 percent of his three point attempts. 
His summer league averages were also impressive. He scored 22.0 points and got 2.20 steals in 26.8 minutes per game, while shooting 45.3 percent from the field. This long extension is a reward for his contributions to the organization. He has been listed as a summer league standout and can replace Sam Dekker as a young scorer off the bench. His defense is also good for an undrafted player in his second year. 
While he may still be in the G-League at least at the beginning of his contract, he can serve a key role in case Luc Mbah a Moute, Trevor Ariza, or P.J. Tucker goes down with an injury. He can knock down open threes and while he isn't an amazing defender yet, he can develop into one in the near future. 
Another consideration: maybe he will be involved in Melo trade talks? He is a young and interesting piece that the New York Knicks might like adding to their roster. Williams may be the missing piece to convince them to get rid of their star player. At the same time, he is one of the last players on the Rockets with potential to be good, so it might come back to bite them.
Don't worry Brown, I didn't forget about you. He will be fighting for the backup point guard spot with Isaiah Taylor and George de Paula, whom the team signed in late June. They may go with the more experienced Brown while they keep Taylor and Paula in the G-League. He shot 40 percent from deep last season, so that will help him beat out the younger competition.