 It looks like John Wall will remain the centerpiece of the Washington Wizards for the foreseeable future. David Aldridge reports that the point guard agreed to a four-year, $170 million extension to stay in the nation's capital; the final year of the deal is a player option with a 15% trade kicker. Wall's new deal goes into effect starting in the 2019-20 season when Wall's current deal expires. The new pact would run through the 2022-23 season.
A floor general.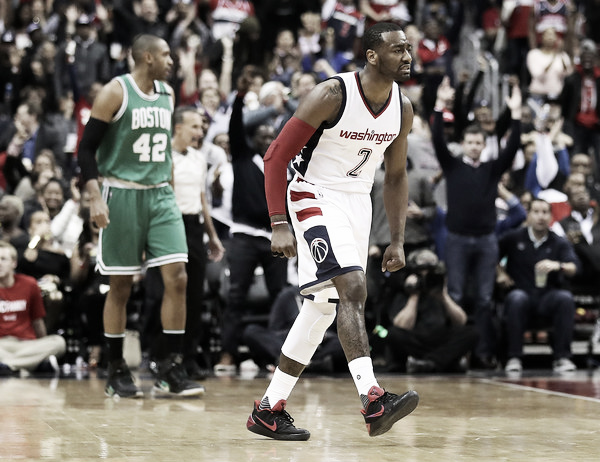 A four-time All-Star, Wall turned in another splendid season with the Wizards. The former first overall pick averaged a career high 23.1 points per game and dished out 10 assists a night for the third consecutive season. Wall also improved his efficiency; his .541 true shooting percentage in 2016-17 was the highest of his career. The former Kentucky Wildcat also set personal bests in PER (23.2), win shares (8.8) and box plus/minus (4.1). Wall's efforts helped Washington overcome a lackluster bench to finish 49-33 last season and return to the playoffs. Ultimately, Washington fell to the Boston Celtics in the Eastern Conference semifinals.
What does this mean long term?
With Wall re-signing, the Wizards have their three best players locked into long term deals. The team retained the services of Wall's backcourt mate Bradley Beal when they agreed to a five-year, $127 million deal last summer, keeping one of the league's best guard tandems intact. They also re-signed Otto Porter Jr. to a four-year, $127 million agreement. With Beal, Porter, and Wall all signed to lengthy extensions, the Wizards now find themselves in a precarious salary cap situation; they will be well over the luxury tax for the second consecutive season in 2017-18. According to ESPN's Bobby Marks, Washington has at least $98 million in guaranteed contracts over the next four seasons. The Wizards' cramped cap space could make it hard to sign complementary pieces in the future, but Wall's extension should keep the team in playoff contention.