The loss of franchise player Paul George will have a major effect on Pacers and their quest for the play offs.
Pacers slightly positive record last season will look to be topped this year, as a slightly weaker eastern conference looks wide open.
Cavaliers are expected to power through the conference, and will most likely top the division, but Pacers rebuild looks as though it could do enough to not finish bottom of Central.
In the draft, Pacers did well for the picks that they had.
NBA Draft
In the draft, Pacers did well for the picks that they had.
T.J. Leaf was drafted for Pacers' first pick, at number 18.
Leaf had a single year at UCLA, where he started at Power Forward and was named in the All-Pac-12 First Team, alongside first draft picks Markelle Fultz and Lonzo Ball.
Leaf has starred in Pacers two early pre-season games, especially against the Cavaliers where he guided Indiana to a narrow victory.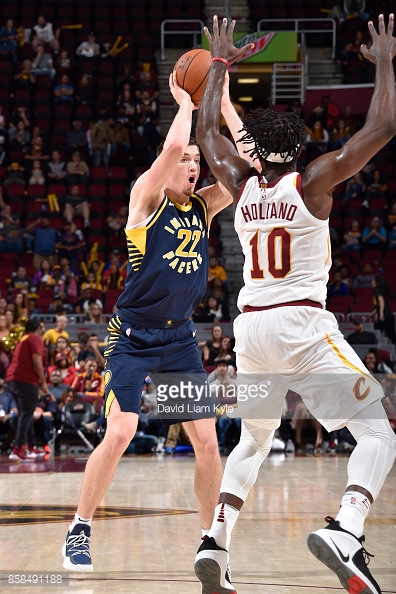 Pacers also had two second round picks, with Ike Anigbogu and Edmond Sumner joining from picks 47 and 52.
Anigbogu was tipped to be a first round pick but a knee injury picked up in a pre-draft camp lowered his stock; he also played at UCLA as a substitute Centre.
Point Guard Sumner finished his college career at Xavier to become Pacers first ever player to sign a two-way contract, after originally being drafted to the New Orleans Pelicans.
It is believed Sumner will participate in the G League, for Pacers affiliate Fort Wayne Mad Ants.
Free Agency Signings/Trade Additions
Pacers have said goodbye to good squad players such as Monta Ellis and C.J. Miles but also added good depth with Cory Joseph joining as well as Victor Oladipo and Domantas Sabonis in the Paul George trade.
Oladipo joined on a 3 year contract worth $21million, as did Sabonis on $2.5million deal.
Bogdanovic is playing in Indiana on a 2 year deal worth $10million.
Late August additions include shooting guard Damien Wilkins and forward Ben Moore, as well as Alex Poythress on a two-way contract.
Depth Chart:
PG: Darren Collison / Cory Joseph / Joe Young
SG: Victor Oladipo / Lance Stephenson / Damien Wilkins
SF: Bojan Bogdanovic / Glenn Robinson III
PF: Thaddeus Young / Domantas Sabonis / T.J. Leaf
C: Myles Turner / Al Jefferson / Ike Anigbogu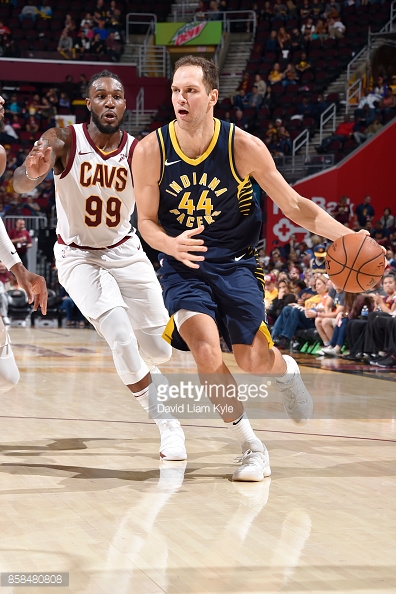 2018 NBA Draft Status
Once this season passes, they do still have a first round draft pick for 2018, which could become important if they enter the Draft Lottery. Their second round pick is protected if it comes between 46 and 60. The draft class looks strong with Michael Porter Jr. highlighted as a possible first pick.
2017-18 Season Prediction
The Pacers squad this year just doesn't have one big stand out name that can win a close game by themselves. Since 2010, the Pacers have been so reliant on the flamboyant and gifted Paul George that when he missed a season through injury, the results showed. Since George's debut at the then Conseco Fieldhouse, Indiana have fallen out of the playoffs just the once, in the season where PG13 featured only six times back in 2014-15. It could be a similar fate this year for Nate Mcmillan's side, with no key franchise player. Myles Turner will look to take over the reigns but he is still a relative rookie at only 21.
The additions of Victor Oladipo, Darren Collison and Bojan Bogdanovic are good moves for the Pacers but realistically would be better if they were supporting a key man, rather than trying to supply Turner and become a big three.
My prediction is that Indiana will fall slightly outside of the play offs in a very competitive conference. Despite George's departure to the West, the Eastern Conference still boasts highlight reel players such as Lebron James of the Cavaliers and recently traded Kyrie Irving of the Celtics. In their division, I expect Indiana to achieve third place behind the Cavaliers and Antenokoumpo's Milwaukee Bucks.
In the conference, it will be a real battle for the play offs, with them only getting in by one win last season. I think they will fall slightly short as Heat move back into the post-season. I predict their record to be a modest 36-46, a 6 game slip on 2016-17. Without George, games around their rivals at the bottom of the playoffs will be vital and without a star name to help them, they could struggle to get over the line in the final quarter.