 Cleveland Cavaliers guard Iman Shumpert is expected to miss six to eight weeks following knee surgery, according to Adrian Wojnarowski of ESPN. Wojnarowski reports that a more concrete timetable on Shumpert's return will be released following the surgery, which is set for Friday, Dec. 1.
An official timetable on Cleveland guard Iman Shumpert's return will come after knee surgery on Friday, but Shumpert could miss 6 to 8 weeks, league sources tell ESPN.

— Adrian Wojnarowski (@wojespn) December 1, 2017
Shumpert is averaging 4.8 points per game, 1.3 assists per game, and 3.1 rebounds per game this season.
ESPN's Dave McMenamin states that Shumpert will undergo arthroscopic surgery on his left knee. According to McMenamin, the left knee effusion which has kept Shumpert out of four of Cleveland's last five games was re-evaluated by the team, at which point the decision was made that Shumpert would need surgery.
Shumpert is a pivotal part of Cleveland's defense, as the swingman is amongst the league's best defenders at his position. The loss of Shumpert, who has only played in 13 of Cleveland's 22 games, has been evident as the Cavaliers are currently amongst the worst defensive teams in the league.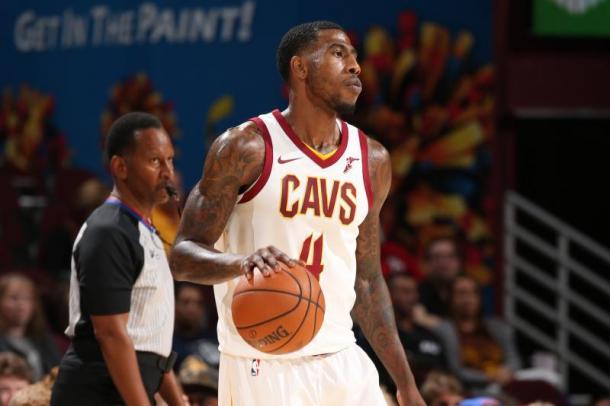 Cleveland's injury problems
This injury only adds to the growing list of players who are currently off of the court for Cleveland. All-Star point guard Isaiah Thomas has yet to play this season because of a hip injury, and while he is expected to return to the lineup in mid-December, there is no exact date slated for his return.
Big-man Tristan Thompson, who has shown significant durability through most of his career, has missed time this year as well. Thompson has only played in eight games this season, and the lack of his defensive presence has also been felt.
Derrick Rose, who signed a veteran's minimum contract this offseason after playing a year with the New York Knicks, is currently mulling his future in basketball following another injury which has once again frustratingly sidelined the former MVP.
The collective impact of this lost talent has made it difficult for the Cavaliers to find consistency this season, as they started off struggling greatly. While they are currently on a nine-game winning streak, Cleveland was at one point 5-7, and Shumpert's absence likely contributed to the rocky start for the Cavaliers.
The current guard rotation for the Cavaliers has involved the starting duo of Jose Calderon and J.R. Smith, with Dwyane Wade, Kyle Korver, and rookie Cedi Osman providing minutes off the bench. 
The Cavaliers will have to continue to be patient as they await the return of their injured rotation players.