In yet another surprising pre-draft move, Atlanta Hawks center Dwight Howard is on the move to the Charlotte Hornets in exchange for veteran swingman Marco Belinelli and center Miles Plumlee, whom the Hornets acquired last season. The teams will also swap picks No. 31 and 41 in Thursday's draft, according to Adrian Wojnarowski of The Vertical.
Howard signed a 3-year, $70.5 million contract with the Hawks last offseason in an attempt to revitalize his career. While he performed at a decent level, it is clear that newly hired general manager Travis Schlenk is ready to go in a completely different direction with this roster.
Howard Brings Size to Charlotte
The Hornets will be getting two more years of the 31-year-old, who will bring some much-needed rebounding and a defensive presence to go alongside Cody Zeller and Frank Kaminsky. He averaged 13.5 points and 12.7 rebounds last season, decent numbers for his thirteenth year in the league.
Just as importantly, general manager Rich Cho has moved the contract of Duke product Miles Plumlee. The Milwaukee Bucks originally signed him to a 4-year, $52 million deal last summer and promptly dealt him to Charlotte for Roy Hibbert and Spencer Hawes. It is not an enticing contract to be committed to considering he averaged 2.5 points and 2.1 rebounds over the campaign.
The Hornets also receive the 31st pick, a particularly valuable selection because it is the first pick where the rookie salary becomes more favorable. There will undoubtedly be several first-round talents who fall to this selection.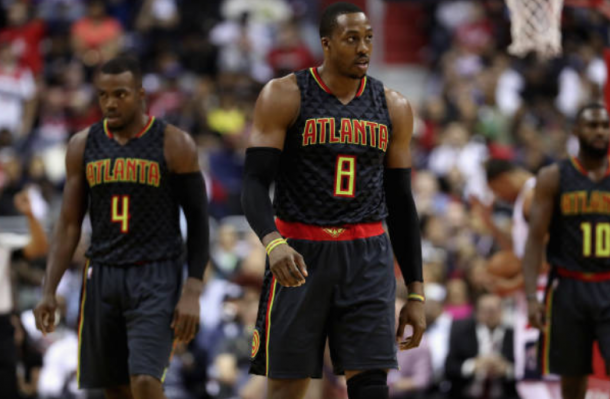 Rebuilding Time in Atlanta?
This deal makes the most sense for the Hawks when put in the context of a possible rebuild under new management. Plumlee will be considered a liability unless he can play at a much higher level than last season, but Belinelli could be a decent fit in head coach Mike Budenholzer's system.
Ultimately, it is looking more and more likely that Paul Millsap will depart in free agency and the Hawks will try to build a young core while maintaining cap flexibility. Tim Hardaway Jr's return is also very much in jeopardy, while Kent Bazemore could be another player on the move in the coming days.
It sure seems like the Hawks sacrificed a lot of value to get rid of Howard, so Schlenk did not see him as a useful member of the rebuild. It will be very interesting to see where the Hawks go in the draft on Thursday and in free agency in July.