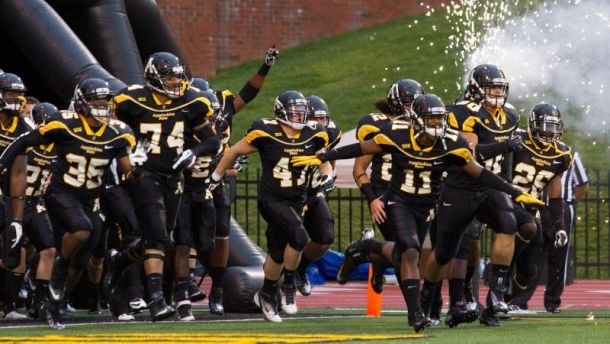 The Football Bowl Subdivision (FBS) has increased the number of participating teams for quite some time now. According to Phil Steele's 2014 College Football Preview, there were 86 schools in the FBS, then known as Division 1-A. Now, 128 teams comprise the FBS. Many schools see the allure of the top level in College Football. Whether or not it is a smart move is a debate for another article. This article will focus on how teams have done on the gridiron in the years following their jump up from the Football Championship Subdivision (FCS) to the FBS. The FCS used to be known as Division 1-AA.
Eleven teams have made the move from FCS to FBS since 2004. Those teams are Florida Atlantic (2004), Florida International (2005), Western Kentucky (2008), Massachusetts (2012), Texas-San Antonio (2012), South Alabama (2012), Texas State (2012), Old Dominion (2013), Georgia State (2013), Georgia Southern (2014), and Appalachian State (2014). Obviously, Georgia Southern and Appalachian State have no data, thus they will not be included. Nine teams remain to help formulate an expectation of how Georgia Southern and Appalachian State might do for the upcoming season.
We will look at each team and how they performed as they moved up from FCS to FBS. The main criterion we will look at is how long it took a team to reach bowl eligibility while playing an entire season of FBS opponents.
Florida Atlantic Owls
Florida Atlantic started their football program in 2001. They were classified as a FCS Independent from 2001 through 2003. In 2004, Florida Atlantic was classified as a FBS Independent. From 2005 through 2012, Florida Atlantic was a member of the Sun Belt Conference. The Owls moved over to Conference USA in 2013.
In the years before the FBS move, Florida Atlantic compiled records of 4-6 in 2001, 2-9 in 2002, and 11-3 in 2003.
The Owls first season in the FBS was surprisingly good. They went 9-3 overall playing seven games against fellow FBS schools. One of those games was against Florida International, another school transitioning from the FCS to the FBS. Florida Atlantic went 4-3 in games against the FBS.
It is worth noting that Howard Schnellenberger coached Florida Atlantic. Schnellenberger won the National Championship in 1983 when he coached the Miami Hurricanes.
Upon moving to the Sun Belt Conference in 2005, Florida Atlantic had a dramatic drop off. They went 2-9 in their inaugural Sun Belt season and followed it up with a 5-7 record in 2006. In 2007, the Owls reached their first bowl game and finished 8-5. The Owls reached another bowl game in 2008 and finished 7-6.
In summation, Florida Atlantic needed 4 years in the FBS before they reached a bowl game. It was not until their 3rd year in the Sun Belt that they reached bowl eligibility and the bowl game in 2007.
Florida International Panthers
Florida International went from the FCS to FBS at roughly the same time as Florida Atlantic. From 2002 through 2004, Florida International was a FCS Independent. Between 2005 and 2012, FIU was a member of the Sun Belt Conference. In 2013, they moved to Conference USA.
FIU went 5-6 in 2002, 2-10 in 2003, and 3-7 in 2004.
Florida International's first season in the Sun Belt was decent. They went 5-6 and the future looked bright. However, things soon went south in a hurry for the Panthers. FIU went 0-12 in 2006 and then 1-11 in 2007. Florida International did not reach their first bowl game until 2010 when they went 6-6 in the regular season. They finished 7-6 overall after winning the 2010 Little Caesars Pizza Bowl. FIU did return to another bowl game in 2012 as well.
It took Florida International until their sixth season in the FBS to play in a bowl game.
Western Kentucky Hilltoppers
Western Kentucky has a storied history during their time in the FCS. They won the 2002 Division 1-AA title under coach Jack Harbaugh. Yes, that Harbaugh family. His sons are San Francisco 49ers head coach Jim Harbaugh and Baltimore Ravens head coach John Harbaugh. In 2008, Western Kentucky became a FBS Independent before joining the Sun Belt Conference in 2009. They remained in the Sun Belt through 2013 and then left for Conference USA beginning with the 2014 season.
It was a rough start to Western Kentucky's time in the FBS. 2008 gave the Hilltoppers a 2-10 record. Their only wins were against FCS teams Eastern Kentucky and Murray State. 2009 was no better for their first season in the Sun Belt. They went 0-12. Things improved marginally in 2009 as they improved to 2-10. 2011 marked the Hilltoppers' first winning season when they went 7-5. They did not receive a bowl bid though. They did play in a bowl game in 2012 when they finished 7-6 overall with a loss in the Little Caesars Pizza Bowl. They went 8-4 in 2013, but once again did not receive a bowl invitation.
For Western Kentucky, it took four years in 2011 to reach bowl eligibility. It took five years to actually play in a bowl game.
Massachusetts Minutemen
Massachusetts experienced success during their time in the FCS. They played in the National Championship game three times in 1978, 1998, and 2006. They won the National Championship in 1998 with Mark Whipple as their head coach. In 2012, Massachusetts made the jump straight from the FCS into the Mid-American Conference. The Minutemen will not be in the MAC long as they will be leaving after the 2015 season.
The two years of MAC play for the Minutemen have not been kind to them. They went 1-11 in both 2012 and 2013. One factor in play for Massachusetts this season is the return of Mark Whipple as head coach.
Will the Minutemen make a Bowl Game in 2014? Given their record of 2-22 over the previous two seasons, that seems a bit unlikely. However, they have a coach that knows the school and certainly is known for improving the team in a short time. Whipple took UMass from 2-9 in 1997 to the National Championship in 1998. 1998 marked the first year that Whipple was head coach of the Minutemen.
Texas-San Antonio Roadrunners
Texas-San Antonio has a short football history. Their first season was in 2011. They were classified as a FCS Independent for the 2011 season. In 2012, the Roadrunners moved to the Western Athletic Conference (WAC). That would only last a year after the WAC stopped sponsoring football, as the conference was a frequent target of conference realignment. The Roadrunners found themselves in Conference USA starting in 2013.
In 2011, UTSA went 4-6 in their first season. They played an easy schedule against FCS, Division II, Division III, and NAIA teams. Their only season in the WAC led them to an 8-4 record in 2012. They played eight games against FBS competition going 4-4 in those games. 2013 was their first season in C-USA and they went a solid 7-5. Under NCAA rules, they were not eligible for postseason consideration due to their transition from FCS to FBS.
As with Florida Atlantic, UTSA has a former National Championship winning coach at Miami (FL) to guide them in their transition. Larry Coker has been the only coach at UTSA and he won the 2001 National Championship with the Hurricanes.
It took just three years for UTSA to achieve a winning record against a full schedule of FBS teams. While they have not reached a bowl game yet due to NCAA rules, it is only a matter of time until they do.
South Alabama Jaguars
South Alabama is another team that has only just started their college football program. The Jaguars were an unclassified NCAA team in 2009 and 2010. In 2011, they were classified as a FCS Independent. Beginning in 2012, South Alabama moved to the Sun Belt Conference where they still reside.
Their first season was in 2009 against where they faced very small schools including Junior Colleges and Military Academies. They went 7-0 in 2009 and followed that up with a 10-0 record in 2010. They faced four FCS teams in 2010 and the rest were from smaller divisions. 2011 marked their first season as a FCS team. They ended up going 6-4 including two games against FBS teams. The Jaguars lost both of those games. 2012 was South Alabama's first season against a full slate of FBS teams. They ended up with a 2-11 record, which was expected, as the competition was much tougher. The Jaguars went 6-6 in 2013, but did not receive a bowl invitation.
It took only two seasons for South Alabama to reach bowl eligibility. The expectations for South Alabama are raised in 2014. They are expected to contend for the Sun Belt title and have a great shot at making their first bowl game.
Texas State Bobcats
Texas State spent about 25 years in the FCS before deciding to make the move up to the FBS. Texas State was a member of the FCS Southland Conference from 1987 through 2010. In 2011, Texas State was a FCS Independent followed by being a WAC member in 2012. The Bobcats joined the Sun Belt Conference in 2013.
Their last season in the Southland Conference produced a 4-7 record. 2011 was a bit better as the Bobcats went 6-6 facing mostly their former foes from the Southland Conference. 2012 was the first season in the FBS for Texas State and their record dipped to 4-8. However, 2013 was a slight rebound as they got back to 6-6.
Texas State was eligible to be selected for a bowl game in 2013, but were not invited. Their head coach is Dennis Franchione, who had previously been the head coach at Texas State from 1990 to 1991. Franchione has also had stops at TCU, Alabama, and Texas A&M before coming back to the Bobcats.
It took only three seasons for Texas State to reach bowl eligibility under Franchione's second stint. In fact, they are expected to reach bowl eligibility again in 2014.
Old Dominion Monarchs
Old Dominion appears to have a young football history, but it goes further back than 2009. From 1930 through 1941, Old Dominion played as the Norfolk Division of the College of William & Mary. Ultimately, the team ceased playing due to costs. Upon their comeback, Old Dominion was a FCS Independent in 2009 and 2010. They moved to the Colonial Athletic Association (CAA) in 2011 and 2012 where they made the FCS Playoffs both times. In 2013, they returned to be a FCS Independent. The Monarchs now move to Conference USA for 2014.
They began in 2009 with a schedule mostly against FCS teams. In fact, nine games were against FCS opponents and they finished with a 9-2 record. In 2010, they went 8-3 against an entire schedule of FCS teams. The amazing restart to the program continued into 2011 and 2012 as well. In 2011, Old Dominion went 10-3 and followed that up with an 11-2 record in 2012. As previously stated, Old Dominion made the FCS Playoffs in both 2011 and 2012. They reached the Quarterfinals in 2012, but crashed out in a loss to Georgia Southern. 2013 was another good year for the Monarchs as they went 8-4 and played five teams from the FBS (1-4 record).
It has been a wonderful start for Old Dominion in their return to College Football. Bobby Wilder has compiled a 46-14 record in his first five seasons and will look to give them another winning season as they start their journey in C-USA. Interestingly, C-USA has stated that Old Dominion will be eligible to play in the C-USA title game should they make it. They are not, however, eligible to play in a bowl game under NCAA rules.
Georgia State Panthers
Georgia State began their football program in 2008 with their first season in 2010. They were classified as a FCS Independent in 2010 and 2011. In 2012, they spent a season in the Colonial Athletic Association. Beginning with the 2013 season, Georgia State moved into the Sun Belt Conference.
2010 was the Panthers first season and they faced a variety of opponents from FBS (Alabama) down to NAIA (Shorter University). They finished with a record of 6-5. In 2011, they had a similar schedule and ended up with a record of 3-8. 2012 was their only season in the CAA and they finished at 1-10 in one of the toughest FCS conferences. With the move up to FBS and the Sun Belt Conference in 2013, Georgia State went 0-12. They did play three games against FCS teams in 2013 as well.
Georgia State has seen their record trend downward since their beginning in 2010. It has gone from 6-5 in 2010 to 0-12 in 2013. Bill Curry took the team through their first three seasons before Trent Miles took over before the 2013 season.
Bringing It All Together
We have nine teams that have spent at least one year in the FBS. Florida Atlantic started their FBS journey in 2004, Florida International in 2005, and Western Kentucky in 2008. Massachusetts, Texas-San Antonio, South Alabama, and Texas State all began their FBS lives in 2012. Old Dominion and Georgia State joined the FBS in 2013.
There is enough data to see patterns emerge in how long it takes to be competitive in the FBS. Florida Atlantic took four years to reach bowl eligibility for the time with a FBS schedule. It took Florida International six years to do the same. Western Kentucky was on par with Florida Atlantic as it took them four years of FBS play to reach bowl eligibility. Things changed after that though.
Massachusetts has not reached bowl eligibility yet and it will be a minimum of three years if they reach six wins in 2014. Texas-San Antonio, South Alabama, and Texas State all reached bowl eligibility within two seasons of their move to the FBS.
Old Dominion and Georgia State both have a chance to reach bowl eligibility in their second season as well. Remember, these teams have to play a full season against FBS opponents to be considered bowl eligible. It appears that Old Dominion has the better chance, but anything is possible in College Football.
So now that we know all this, what does it mean? It means that teams have a great chance at success early in their FBS history. Appalachian State and Georgia Southern are making their first year of the transition in 2014.
Next, we will explore how teams do well and why certain teams do not perform as well.
How Do We Account For How The Teams Perform?
The first thing to consider when viewing teams moving from the FCS to FBS is the talent level. This is intuitive, but is quite an important factor. Overall, it is safe to say that teams in the FBS have more talent are better as a whole than FCS teams. Yes, there are many examples FCS teams beating FBS teams. In fact, there were sixteen games in 2013 that ended up with a FCS team beating a FBS team. In addition, FCS teams are closing the talent gap compared to FBS teams. It is safe to say that FBS teams are simply better than FCS teams overall.
After looking at the teams that have made the jump, it appears that coaching experience was an important factor as well. Howard Schnellenberger (Florida Atlantic) coached at Miami (FL) and won a National Championship, as did Larry Coker (Texas San-Antonio). Dennis Franchione (Texas State) had multiple stops at different levels as well. He coached in NAIA, Division II, FCS, and FBS including stops at Alabama and Texas A&M.
There is an exception to the experienced head coach rule. Bill Curry (Georgia State) coached at Georgia Tech, Alabama, and Kentucky before heading to Georgia State. The Panthers went 10-23 in his three seasons at the helm.
On the other side, Don Strock (Florida International) and David Elson (Western Kentucky) had no previous head coaching experience. Neither of those two lasted long enough to see their school make bowl eligibility. The same fate applied to Charley Molnar (Massachusetts) as he only last two seasons. Those three programs struggled in their first seasons in the FBS.
Interestingly, Bobby Wilder (Old Dominion) and Joey Jones (South Alabama) had little or no prior head coaching experience. Jones coached one season at Division III Birmingham-Southern in 2007 before accepting the head-coaching job at South Alabama. Jones did lead South Alabama to a 6-6 record in their second season in the FBS. Wilder could lead Old Dominion to a winning record in 2014 in their first full season in C-USA.
Expectations For Georgia Southern and Appalachian State
Georgia Southern begins their FBS life with Willie Fritz. Fritz coached at Division II Central Missouri from 1997 through 2009 and then FCS Sam Houston from 2010 through 2013. Fritz made the FCS Championship twice in 2011 and 2012. He lost both times to North Dakota State. There is the foundation for Fritz to succeed at Georgia Southern immediately.
Appalachian State will take their chances on head coach Scott Satterfield. He took over at Appalachian State for the 2013 season after legendary Jerry Moore had coached the Mountaineers from 1989 through 2012. Satterfield has no previous head coaching experience. Can Satterfield lead the Mountaineers to bowl eligibility within the next two or three years? He sure can, but history says it will difficult without any previous head coaching experience.
All of this is something to keep in mind as these schools continue in the FBS over the next few seasons. It will also help set some type of expectation for Charlotte as they move to C-USA in 2015.