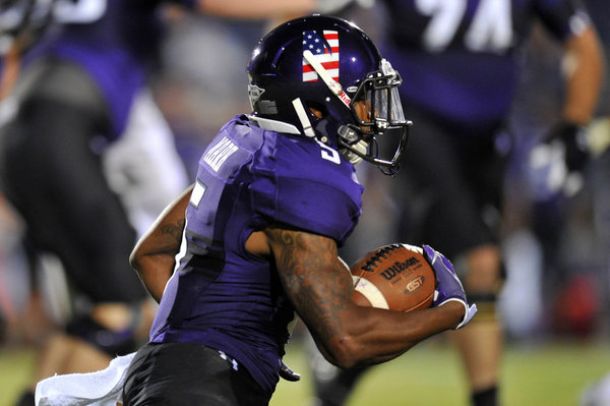 College Football begins in 40 days and that means hopes are high for every team. It is a chance to put a subpar 2013 season behind them for good and come back better than ever. Below are six teams that will improve compared to their 2013 season. All six teams had a losing record last year and only one made a bowl game. The teams will be listed in alphabetical order. Florida will NOT appear on this list, as they seem to be the most logical team to improve.
Air Force Falcons (2-10 in 2013)
Air Force was almost too bad to be true in 2013. The Falcons went 2-10 last season with only ten total starters returning (four on offense and six on defense). In addition, the Falcons were decimated by injuries in 2013. The Falcons went through four different quarterbacks before finding a healthy Nate Romine. Air Force lost their best receiver in Ty MacArthur for the rest of the season after three games due to a concussion. On top of all that, the defense was porous giving up an average 490 yards a game and 40 points!!
For 2014, Air Force is returning 16 sixteen starters with seven on offense and nine on defense. The defense should be vastly improved, as should the offense with a settled backfield.
It would be a stretch to think Air Force could contend for the Mountain West title, but they should do well enough to get back to a bowl game.
Army Black Knights (3-9 in 2013)
This may truly be a surprise selection because of how difficult it has been for Army to succeed in the FBS. The Black Knights have only reached one bowl game since 1997. That occurred in 2010 when they went to the Armed Forces Bowl and beat SMU 16-14 to reach 7-6 overall. It has been downhill since then with records of 3-9 in 2011, 2-10 in 2012, and 3-9 last year.
Army has sixteen returning starters with nine on offense and seven on defense. They also have to contend with a new coach in Jeff Monken. Luckily for Army, Monken has spent many years under Georgia Tech coach Paul Johnson so there will not be much of a learning curve for the players.
The factor that puts Army on this list is the schedule. They face three teams from the MAC conference (Buffalo, Ball State, and Kent State), two teams from the FCS (Yale and Fordham), and two beatable big conference opponents (Wake Forest and Connecticut). Army has a decent shot at making a rare bowl game appearance.
Central Michigan Chippewas (6-6 in 2013)
This is the year that Central Michigan is poised to make a run at a MAC Championship appearance. This team has ALL eleven starters back on offense and eight starters back on defense. Surprisingly, the offense only averaged 23.3 points and 341 yards per game. The defense was poor giving up 28.6 points and 405 yards per game. There are no excuses this year except if a huge rash of injuries occur.
Central Michigan started poorly in 2013. They opened the season 1-4 with their only win to that point over FCS New Hampshire. Things came together in the last seven games as finished 5-2 with their losses to Northern Illinois and Ball State. That momentum should carryover to 2014.
They do have three winnable games early against non-MAC competition. They open with FCS Chattanooga, and then go on the road to Purdue. The Chippewas third games is at home against Syracuse and finish up on the road at Kansas. It is possible to see CMU go 3-1 or even 4-0 if they can pull an upset of Syracuse. They do have to go on the road to Northern Illinois, which is the team they will have to beat if they want to win the MAC West. All signs point to a big year in Mount Pleasant, Michigan.
Northwestern Wildcats (5-7)
Northwestern came off a 10-3 season in 2012 and hopes were high in 2013. They were expected to have a chance at another ten win season. However, injuries hurt the team as quarterback/running back/wide receiver Kain Colter suffered a series of concussions throughout the year while running back Venric Mark suffered lower body injuries throughout the season. Colter has graduated but Mark returns to the offense. Trevor Siemian has spent plenty of time behind center so there should not be much of a drop off at quarterback.
While the offense returns nine starters, the defense returns eight starters of their own. They will be led by the secondary that returns all four starters from a season ago. Ibraheim Campbell will be the leader back there as he recorded 73 tackles, one sack, and four interceptions in 2013.
There is little doubt that Northwestern can return to good form in 2014. This team, should they avoid the injury bug, can get to eight wins easily. If they can pull a few upsets against Wisconsin, Nebraska, and Notre Dame, they could see ten wins again.
Texas Christian Horned Frogs (4-8 in 2013)
Gary Patterson had a fantastic run from 2005 through 2011. Only his 2007 team won fewer than 11 games (8-5). 2012 was TCU's first season in the Big 12 and they struggled going 4-5 in conference and finishing 7-6 overall. 2013 was even worse with a 2-7 Big 12 record and 4-8 record overall. Despite that 4-8 record, the defense was incredibly solid last year as we can come to expect from a Gary Patterson team.
Both sides of the ball return eight starters, which should bode well for TCU in 2014. The issues are with the offense for the Horned Frogs. Texas A&M transfer Matt Joeckel and incumbent Trevone Boykin will battle for the right to lead the offense. It would not be surprising to see both players used throughout the season to cause teams to plan for two quarterbacks.
TCU should open up 3-0 after games against Samford, Minnesota, and SMU. They have struggled in the Big 12, but the defense will keep them in nearly every game. If the offense sorts themselves out, TCU could easily see an eight to ten win season.
Washington State Cougars (6-7 in 2013)
2014 will be Mike Leach's third year in Pullman. It should produce his best offense yet with Washington State as eight starters return. All the starters return at the skill positions with the three new starters coming on the offensive line. Connor Halliday returns to throw passes to his top eight receivers from 2013. There is little concern on this side of the ball.
Defense has always been an issue under Mike Leach and his first two seasons with the Cougars were no exception. The 2012 defense gave up an average of 33.7 and 426 yards per game. 2013 was more of the same with the defense giving up 32.5 points and 458 yards per game. Six starters return from 2013 and the Cougars have to replace three defensive backs. The three projected starters in the secondary have a standing of either freshman or sophomore.
Washington State will need to outscore opponents this year if they want to have a winning record. If the defense comes together, as well as an upset or two, the Cougars could have a chance to reach eight wins.