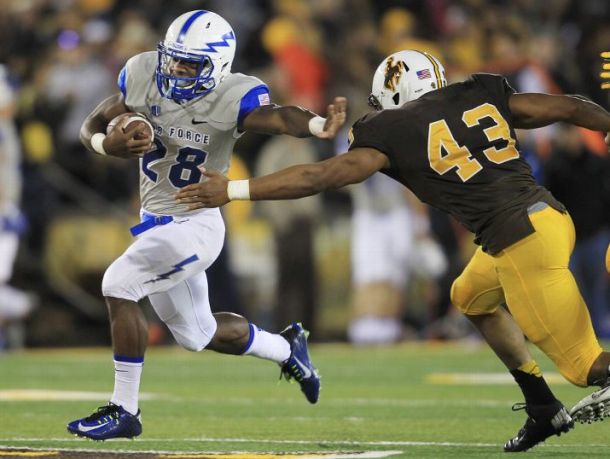 Heading into Saturday's game, the Wyoming Cowboys were searching for their 300th win in the football program. Between Air Force and Wyoming, the schools have a rich history with each other. Meeting for the 53rd time, both teams hoped to come out with a win to begin their season 2-0.
The Cowboys ultimately got that 300th win in a thrilling finish that saw them score a touchdown in the final minute to win 17-13 over Air Force.
The Falcons started the game off hot, with three big pass plays. Defense has been one of the more concerning topics heading into this season for the Cowboys. After a shaky start, Wyoming forced Air Force to kick a 50-yard field goal that put the Falcons up by three with 11:49 left in the first quarter.
With a strong backfield between D.J. May and Shaun Wick, the Cowboys struggled to do much on the ground throughout the first quarter as they rushed for a combined total of five rushing yards. Air Force relied on their receivers as they hauled in 105 yards in the first quarter. Quarterback Kale Pearson completed all six of his passes, and looked sharp in the opening quarter.
In the second quarter, Jacobi Owens walked in for Air Force after a 10 play, 54 yard drive that put them up 10-0 with 7:41 left in the half. The Cowboys responded well as Colby Kirkegaard completed a 41-yard pass to Dominic Rufran that set up a touchdown to put Wyoming on the board. Jalen Claiborne was able to bring in Kirkegaard's 11 yard pass to end a 3:30 drive.
Going into halftime, Wyoming had given up too many receiving yards and failed to tackle well. As for Air Force, they played a decent half of football, both offensively and defensively.
Both teams came out flat to start the second half on their opening drives. Wyoming had improved their tackling, but Air Force was finding success with the sweep play.
Kirkegaard and the offense found light at the end of the tunnel when Rufran caught a bomb to put the Cowboys in Falcon territory. That did not alter the Falcon defense as the Cowboys came up short on fourth and one, and turned the ball over on downs.
Neither team was able to put points up in the third. The Cowboys' rushing game could not find its rhythm. Air Force was able to move the ball fairly well, but they found themselves punting the ball often.
Wyoming began the fourth quarter with a bang. On fourth and one, the ball was knocked loose and recovered by Patrick Mertens. That play gave Wyoming the spark they needed. Six plays later, Stuart Williams kicks a 33-yard field goal to tie the game up 10-10.
After Williams' field goal, Air Force embarked on an 18 play, 60 yard drive that ate up 7:50 off the clock. It culminated with Will Conant hitting his second field goal of the game, this time from 32 yards out. Air Force held a 13-10 lead with 3:25 remaining.
Wyoming started their ensuing possession from their own 25 yard line after the touchback. Kirkegaard was on fire during the drive, quickly leading the Cowboys down the field. He completed his first six passes to Wyoming down to the Air Force 5 yard line. Kirkegaard completed his seventh pass of the drive with a wonderful play action pass over the oncoming rusher to J.D. Krill for a 3 yard touchdown, as Wyoming took the 17-13 lead.
Air Force had one last chance, but they were up against it having to pass from the triple option based attack. Pearson led the Falcons down to the Wyoming 31 yard line before, but the Falcons' last gasp effort did not work, as Wyoming recovered the attempted lateral by Garrett Griffin and held on for the 17-13 victory.
Pearson ended up with 226 yards on 17 of 32 passing. That is an extremely high amount for a triple option team. Pearson also had 22 yards rushing. Jacobi Owens led the Falcons with 76 yards and a touchdown on 18 carries. The Falcons had only 151 yards rushing as a team. Jalen Robinette led the Falcons with 5 catches for 96 yards.
Colby Kirkegaard had a good game, going 23 of 37 for 282 yards and 2 touchdowns. Dominic Rufran was his favorite target in the game with 6 catches for 119 yards. Tanner Gentry caught a game-high 8 passes for 91 yards. The Cowboys had only 51 yards rushing on 26 attempts. Shaun Wick had 14 carries for 37 yards while D.J. May added 12 yards on 11 carries. Rufran add the final two yards on his lone carry of the game.
Air Force (1-1, 0-1) will travel to Georgia State next week. Wyoming (2-0, 1-0) will travel to Oregon next week to face the high-flying Ducks, who beat Michigan State earlier on Saturday.