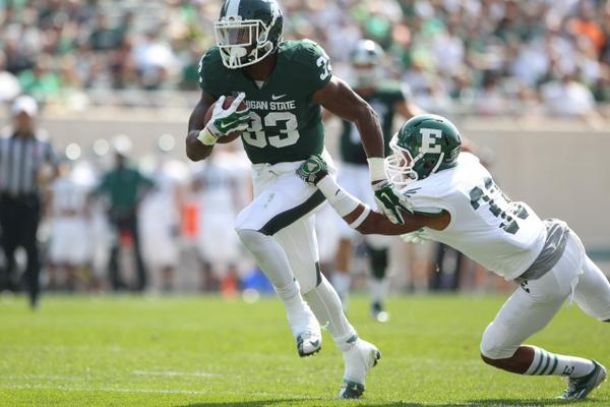 The Michigan State Spartans dominated the Eastern Michigan Eagles 73-14 on Saturday at Spartan Stadium in Eastern Lansing, Michigan in what will likely be the most points scored by the Spartans this season.
The 73 points scored is the most points by MSU since 1989 when the Spartans beat Northwestern 76-14. The Spartans finished with 498 total yards - 338 of them coming on the ground - compared to just 130 total yards and just 14 rushing yards for the Eagles.
Former Penn State and LSU quarterback Rob Bolden finished 10-29 with 116 yards and two touchdown passes for Eastern Michigan.
Connor Cook played only in the first quarter, completing 5 of 6 pass attempts for 83 yards and 2 touchdowns. Delton Williams ran for 103 yards on 10 carries.
This game was not close from the start, as Michigan State led 28-0 after the first quarter while scoring on all four of their drives. Second and third string quarterbacks Damion Terry and Tyler O'Connor even got some snaps in during the first.
Eastern Michigan recorded just 1 total yard in the first half and did not pick up a first down. The Spartan's defense was that dominant, but the Eagles were that bad on offense at the same time. It was 49-0 in favor of Michigan State at the half - the most points scored in a first half by MSU in the modern-day era.
Things rolled much more smoothly for Eastern Michigan in the second half, as they scored 14 points and even outscored MSU 14-7 in the third quarter.
Michigan State dug deep into the depth chart today. Five quarterbacks got in the game, 11 players had at least one carry, and nine players had at least one reception. Eastern Michigan turned the ball over 6 times with 5 of them coming by way of lost fumbles.
The 2-1 Spartans host Wyoming at home next weekend.
Eastern Michigan falls to 1-3 with this loss and will look to bounce back at Akron next week in their MAC opener.