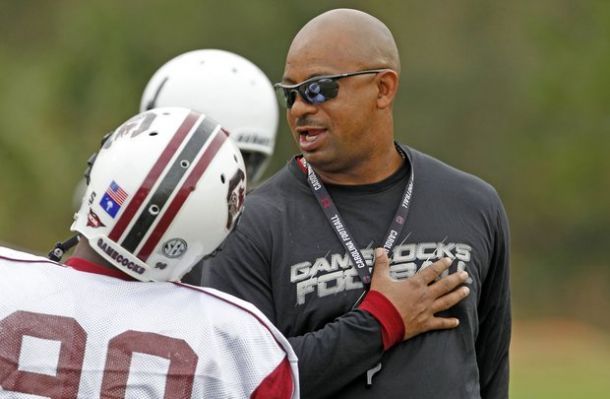 The Gamecocks' defense has been the unit which has let them down more than anything this season. Ranking dead last in defensive sacks (8, tied with San Jose State), tied for 107th in interceptions (with 5) and 108th in defensive efficiency has the fans (and prominent boosters) baying for the defensive staff's blood. They'll be satisfied with just taking away their jobs. Head Coach Steve Spurrier is very loyal to his assistants, but he's also had a consistent track record of firing non-performing ones, no matter his personal feelings towards them. And Lorenzo Ward has one big thing working in his favor: he has an amazing recruiting class of defensive players coming in and several defensive recruits from last year - who were non-qualifiers - eligible. However, where does the fault lie? What is Ward's blame for this disaster?
What Is Ward's Fault:
1 - During spring ball and throughout the summer, the Gamecocks toyed with a change of defense to a 3 front with a BoB OLB (basically an oversized OLB to act as a DE/OLB hybrid). This was a major shift away from the 4-2-spur defense that Ward cut his teeth on and had been coaching throughout his entire time in South Carolina. Why was this change even considered, much less implemented? The Gamecocks were extremely thin on the defensive line talentwise. In three straight springs, they lost three previous season's DL starters to the NFL and the cupboard was a bit bare. However, Ward made this change while also continuing to run the Spur defense and without a proper NT/0 gapper so valuable practice and development time was wasted. And after three to four games where this 3 front defense showed to be an utter disaster, Ward has relegated it to a matchup sub package that is used 10% of the time now.
2 - One of the major issues in the secondary has been the consistently poor play of the starting safeties Chris Moody and TJ Gurley. Both have failed equally at playing the pass and run and neither will be a starter headed into next season unless injuries give them a second chance. Where Ward's fault comes in is that he had two clearly superior players that he could have used. Brison Williams was the best returning DB on the roster, but due to a void of talent at CB he had been moved there a lot. Highly touted freshman FS DJ Smith did see the field during the Kentucky game and showed that he could be trusted with the role, but after a targeting penalty which netted him an ejection, the coaches haven't shown much trust in him to play under control. Which is a shame considering that the defense looked superior when he was on the field. It is understandable that Ward and the defensive staff thought that they were trying to make the best of a bad situation that they had talentwise in the defensive backfield, but after three 4th quarter collapses and Auburn scoring at will on them, it's hard to give them a pass for not putting their top talent where it plays best.
3 - One common tactic to compensate for a lesser talent defensive line is to rotate the players on a regular basis on the premise that the difference between the #1 guy and the #8 guy is so small that keeping the fresh makes a difference. Ward has taken this concept to an absurd level and is now rotating between defensive line shifts much like you'd see on a hockey team. This has kept the players on the defensive line fresh, but it's also had the negative effect of preventing any of the players from getting hot or getting into a rhythm.
What Hasn't Been Ward's Fault:
1 - The execution on the field by the defensive players has been awful. Specifically, bad attempts at tackling and angles taken by the defensive front seven. The author saw this first hand against Tennessee with just about every player in the front seven and both starting safeties arm tackling power runners (and failing) or letting the runner get outside of them even when they had a faster player helping them. The coaches are telling them to take bad angles or to not wrap up on their tackles, and while it may be fair to criticize them for not benching ineffective players, they literally are throwing the kitchen sink out there personnel-wise and all of the players at these positions are making the same mistakes.
2 - The second biggest problem (and perhaps the biggest cause of their late game blubbers) is the lack of the pass rush coming from their front 7. This falls squarely on the utter failure of Darius English and Bryson Allen-Williams to generate any pass rush. Allen-Williams started at OLB and has been moved to DE(for now) to generate some pass rush, but he's a true freshman being asked to carry a section of the defense by himself. English has been a project since he came to Columbia and never has lived up to his potential. There was some thought that he could bulk up (he was 230 lbs in 2013) and try to replace Clowney. Now it looks doubtful that he keeps his scholarship after the season.
3 - The USC defense, their standard Spur front, is dependent on the Spur LB/SS being a major force against the outside run and short passing attack. The Spur has to be fast enough to cover a slot WR and tackle a larger RB coming around the edge. The Cocks have one in Sharrod Golightly and over the last couple seasons he's shown himself to be apt for this role. However, either by coaches' design or players' request (Gamecock sources are split on who is to blame, but this author's first hand observations have seen Golightly asking out a lot), Golightly has been splitting his playing time with Jordan Diggs and other LB/SS hybrids. This has had a deleterious effect on the defense and led to a lot of jekyll and hyde performing. Hyde, being the East Carolina win where Golightly had an INT and held down his spot greatly. Jekyll being when he split time in any number of games and the Gamecocks defense became freshly mowed grass.
4 - While USC had a good recruiting class of defensive talent in 2014, they had a number of defensive line prospects that they were counting to contribute fail to qualify. Is it mildly on the recruiters to go after talented prospects with bad grades? Absolutely. However, for so much talent to disappear when you were counting on it is something that couldn't have been anticipated. And the South Carolina defensive line is so bad that a couple talented freshman could have made a major difference, especially when one sack or one tackle would have made the difference in a number of losses.
What Is Ward's Future In Columbia?
A source with knowledge of the situation tells VAVEL USA the following: "Ward is safe as long as he has those recruits coming in next summer. He'll make some staff changes and try to get Brad Lawing back from Florida if Muschamp is canned. If those '15 recruits start decommitting, it's only a matter of time when Spurrier can find a proven recruiter and coordinator to come in and fix the mess." One name that has been thrown around as a potential replacement in Gainesville and Columbia has been Will Muschamp. Sources also tell VAVEL USA that this is extremely unlikely since Spurrier doesn't want a guy who'll come in for a year or two then try to find a head coaching opportunity. He wants his final defensive coach for his last run as the USC coach.