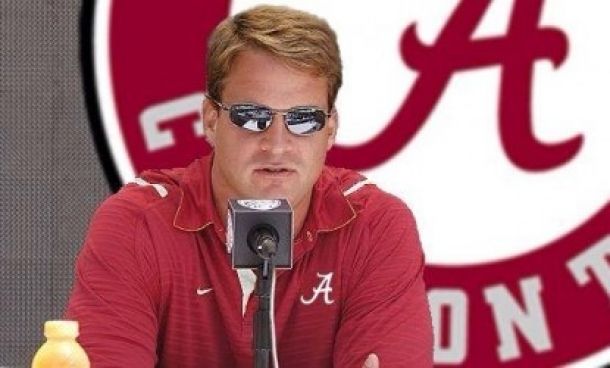 After four seasons at the University of Florida, Will Muschamp is done and the search to replace him is on. Muschamp will coach the remainder of the season, before packing up and leaving his home town on Gainesville, Florida. His 27-20 record (4-8 in 2013 and 5-5, so far in 2014) was not enough to keep the Gator faithful at bay following his team's 23-20 OT loss to Steve Spurrier's South Carolina Gamecocks on Saturday.
So, now the search begins for the next UF head football coach. Here's the list that Gator Nation will be going over and hoping that they get their guy. This is a most-likely candidates list (in that order), not a wish list (in that order).
10. Dan Quinn-Seattle Seahawks DC: Dan Quinn took current Jags HC Gus Bradley's job in Seattle and is looked upon as one of the leagues best and brightest. He was an assistant at UF in 2011-12. Only problem is UF AD Jeremy Foley doesn't want to hire someone who's a defensive guy without head coaching experience (see the Muschamp era).
9. Bob Stoops- Oklahoma HC: Before he took over The University of Oklahoma's program in the late '90s, Bob stoops was the defensive coordinator for the Florida gators in the Steve Spurrier era. Realistically, he would be the dream hire for the University of Florida. But, the Gators have gone after him each time there has been a vacancy, and he has always turned them down. Life is pretty good in Sooner Country, and Stoops is unlikely to leave for the pressure cooker in Gainesville.
8. Steve Spurrier-South Carolina HC:
Nostalgia sets in for Florida gator fans when you speak the name Steve Spurrier. He would be a hire that all would embrace, but few would have high hopes for. Spurrier has seen better days in coaching, and the game has passed him bye. He is likely to continue to swing for a title in Columbia, for a few more years. After that, he'll swing for a birdie or bogey in the sands of Carolina.
7. Gary Patterson-TCU HC: He has no ties to Florida, but what an opportunity. Patterson has built a powerhouse in Texas for the last decade and a half. It may be hard for him to turn down the resources of the University of Florida and the SEC. He definitely wants a championship, and that could be the driving factor. A significant pay raise may not hurt either.
6. Hugh Freeze-Ole Miss HC: This is the buzzword name that is all over the state of Florida, as I write. He has built a nationally prominent program in a short period of time at Mississippi. A great recruiter, Hugh Freeze would be able to do the same in a short time in Gainesville. The big question is whether he would want to leave a campus in which she is looked upon as a savior, to go to one where he would just be another name in a line of recent successes. It may be intriguing for him to get out of the SEC West to have a real shot at the national title.
5. Doc Holliday-Marshall HC: Holliday is a former associate UF head coach, and has turned Marshall back around to what they once were in the days of Randy Moss and Chad Pennington of the late '90s. Marshall is one of only two remaining undefeated FBS teams this year. Holliday's teams put up points, and that's what Gator Nation craves. He is the best fit by far, we'll see if Foley sees that too.
4. Rich Rodriguez-Arizona HC: A high-scoring, no-huddle, spread offense would be the anti-Muschamp and that is what Rodriguez brings to the table. Rich-Rod failed miserably at Michigan, but has shined in West Virginia and Arizona. It's a risk, so Foley may be too gun-shy because another fail would mean Foley's job as well.
3. Art Briles-HC Baylor He has a wide open offense that would translate well in the swamp. The writing is on the wall at Baylor, no matter how well they play, the Bears will rarely have a chance at the national picture. Briles knows that would all turn with an address change to the South-East.
2. Dan Mullen-Miss State HC: As a coordinator under Urban Meyer at the University of Florida, Mullen has the pedigree to be the odds on favorite. He has built Mississippi State into a contender for the SEC and national title this year. The only questions the Gator fans might have is: Why did it take so long? and Is this a flash in the Dak Prescott pan? He may also be reluctant to leave a situation at Mississippi State, in which, he has resurrected a program. That kind of job security is hard to find.
1. Lane Kiffin-Alabama OC: This is the names that will make some Florida fans cringe, but it is a real possibility. Kiffin is an offense of guru, that can not be argued. He is leading Alabama to another run at another national title this year. A ring would probably mean the end of his road at Alabama. Kiffin definitely wants back in to the head-coaching circuit in the SEC is the cream of the college football crop. He would bring offense and then un-likability to the Florida job once again. Steve Spurrier and Urban Meyer have paved the way for a Lane Kiffin to succeed in Gainesville.