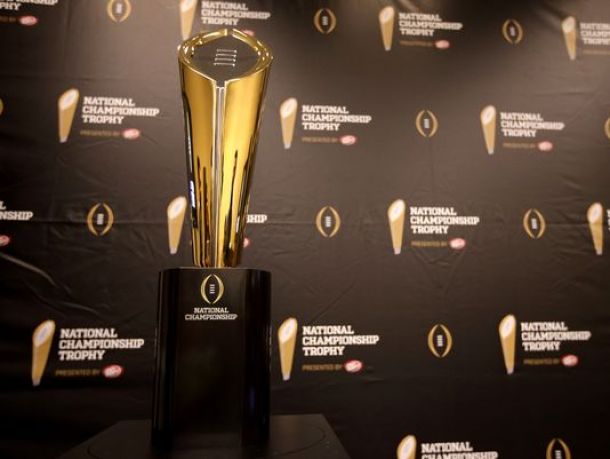 College Football finally has a playoff and the scene is the most exciting the college football world has ever seen. It's no longer just two teams in the title game, and a month and a half of who-cares bowl games. College football has a final four with two games on New Year's Day, and the winners meet eleven days later for the championship. Now, it's time to fix the playoff system, and how the NCAA chooses the teams that will participate.
An eight-team playoff makes the most sense. There is no need for 16 teams, since conference championships take care of that round by itself. One week should be given off in between the conference championships and the first round. That would make it December 20th this year. The NCAA could then follow the current schedule of the semi-finals on New Years Day and the title game on Monday January 12th.
Each round would have plenty of time off in between for fans and schools to schedule trips to the next sites. First round sites could also host bowl games on New Year's Day/Eve. So, the traditional sites of Atlanta, Jacksonville, Dallas and San Diego bowl games could be the host cities in the first round.
As for the way they choose the playoff teams, that should be changed as well. There are 5 power conferences right now: ACC, Big 10, Big 12, Pac 12 and the SEC. Each conference champion should get an automatic playoff berth, providing there is a championship game in your conference. Sorry Big 12, but add two more teams and have a title game, or be happy with an at-large bid.
That would leave the playoffs with three at-large/wild-card bids assuming the Big 12 becomes eligible. Those three can then be voted on by a committee. Yet, the way it is decided should have a set of standards.
Like the Bowl Championship Series, there should be a computerized ranking for all of the teams, with strength of schedule coming into play as well. The AP Poll (sports writers) should have a say too. The committee should then have their vote as well making it 1/3 of the equation. And the fans should be able to see all of these numbers. There us no need to reveal what the voters are thinking until the week before the conference championships. This would let the voters digest the season as a whole. The committee would also seed the teams in conjunction with the AP Poll.
So, for argument sake, this is a look at the new play-off system if it were implemented today. The conference leaders are slotted in. Obviously, there is still a lot of football to be played.
Here are the seeds and sights if the eight team playoff started tomorrow.
December 6th:
ACC, Big 10, Pac 12 and SEC title games with automatic bids.
(All sites would rotate with other cities involved too)
1. Alabama (SEC) vs. 8. UCLA (at-large)- Peach Bowl Dec. 20th
2. Oregon (Pac12) vs. 7. Baylor (at-large)- Fiesta Bowl Dec. 20th
3. Florida State (ACC) vs. 6. Ohio State (Big10)-Orange Bowl Dec. 20th
4. Miss State (at-large) vs. 5. TCU (at-large)- Music City Bowl Dec. 20th
Semifinals:
A. 1/8 - 4/5 Rose Bowl Jan. 1st
B. 2/7 vs. 3/6 Sugar Bowl Jan 1st
Title Game:
A winner vs. B winner Jan 12th Dallas Texas
The fans of this great game must act now. This sport is known to get stuck in their ways with a 'it's not broke, leave-it-alone attitude'. Pressure needs to be applied now before this happens again. Once the ratings and dollar roll in this January, that is all the pressure that will be needed to get the greatest playoff in all of sports. Oh, and bring back the crystal football trophy, the new one is boring and looks like a bowling award.